This book came from the library, and I will never give you less than an honest review, no matter its source. I do provide informational and purchase links to make it more convenient for you to access the book. I also receive a percentage of the sale if you use one of my links to buy it. And that's not enough money to be less than truthful *grin*.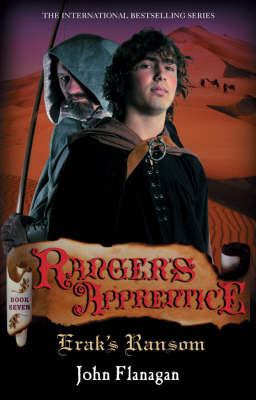 Erak's Ransom
Series: Ranger's Apprentice #5
Other books by this author that I've reviewed include The Sorcerer in the North, The Siege of Macindaw, The Kings of Clonmel, Halt's Peril, The Emperor of Nihon-Ja, The Lost Stories, The Outcasts, Invaders, The Hunters, The Royal Ranger, Slaves of Socorro, Scorpion Mountain, The Tournament at Gorlan, The Ghostfaces.
Genres: Action & Adventure, Fantasy
This Paperback has 441 pages and was published by Philomel Books on November 1, 2007. Discover more about it at Goodreads. You can also buy it at Amazon
This is actually #5 in the Ranger's Apprentice fantasy series for middle-grade readers. I do not know what Flanagan is thinking. In Erak's Ransom, Will is still an apprentice who doesn't graduate until the end of the book when the Rangers decide to christen him as Will Treaty. Um…does Flanagan not remember Sorcerer of the North? The story where Will is a full-fledged Ranger on his first assignment? The one where he is introduced as Will Treaty??? Hullo…??
Maybe I have the numbering wrong…1, 2, 3, 4, 5, 6, 7…no, "7" definitely comes after "5". Anyone…??? Any ideas???
Having got that bit of snark off my chest, Erak's Ransom is a good story with all sorts of future possibilities. I enjoyed Flanagan's use of the Arab culture to create the country to which the royal delegation travels with the insertions on coffee, the traditional greeting, and their sense of honor. He also demonstrates that there are good and bad in all cultures.
Related Posts