I received this book for free from the library in exchange for an honest review. This does not affect my opinion of the book or the content of my review.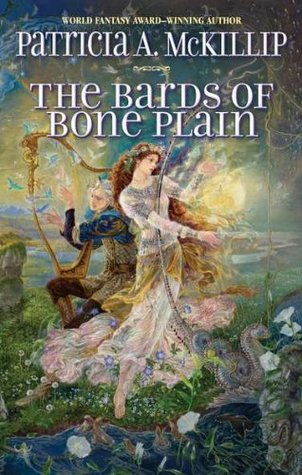 The Bards of Bone Plain
by
fantasy
that was published by
Ace Books
on December 7, 2010 and has 329 pages.
Explore it on
Goodreads
or
Amazon
.
Other books by this author which I have reviewed include
Solstice Wood, In the Forests of Serre, Ombria in Shadow, Alphabet of Thorn, Od Magic, Harrowing the Dragon, Song for the Basilisk, Wonders of the Invisible World, Kingfisher, Winter Rose
A standalone fantasy that was nominated for the Mythopoeic Fantasy Award for Adult Literature in 2011.
My Take
I would read Patricia McKillip if only to enjoy the poetic lyricism of her writing. She so effortlessly brushes in the atmosphere and thoughts of the scenery and her characters that one can't help but be enchanted with her words. And, eventually, her words make sense. I'm not denying that she can be rather confusing to start. Just enjoy the beauty of her words and you are soon engrossed and unable to put the book down until you discover all the mysteries she unleashes with The Bards of Bone Plain.
It's a very odd world that McKillip has created…a tiny bit steampunk, mostly fantasy and myth with a rather hard look at one's priorities after living for a 1,000 years of so. The ending felt just a bit weak although I suspect she's leaving open the possibility of a sequel…PLEASE…I wanna know what happens with Beatrice, Phelan, Jonas et al… Does "he" come back? What is his deal??? What is the queen's response to Beatrice's new lover? McKillip, you've left too many questions unanswered for me!
The Story
A conflicted princess fascinated with an archeology dig, a student bard without focus, and a disenchanted immortal unite to fight off a bardic evil.
The Characters
Phelan Cle is a scholar; her father, Jonah, is an archeologist. Princess Beatrice, the king's youngest daughter, is one of Jonah's disciples.
Bone Plain is much like the City of Troy had been. Studied for the last 500 years, though no one has been able to locate it as a real place.
The Cover
It's a cover rich in color, detail, and texture in its blues, greens, and yellows, of gold and silver and diaphanous silks and sumptuous velvet. White morning glories blossom along the rushing deep royal river while the background is of a wide-spreading green plain with a meandering river and a sky that clashes in yellows and blues as turquoise and royal birds flit through the air. The author's name and title are in shadowed white.
Related Posts