This book came from the library, and I will never give you less than an honest review, no matter its source. I do provide informational and purchase links to make it more convenient for you to access the book. I also receive a percentage of the sale if you use one of my links to buy it. And that's not enough money to be less than truthful *grin*.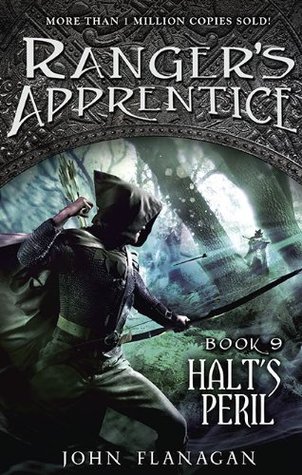 Halt's Peril
Series: Ranger's Apprentice #9
Other books by this author that I've reviewed include The Sorcerer in the North, The Siege of Macindaw, Erak's Ransom, The Kings of Clonmel, The Emperor of Nihon-Ja, The Lost Stories, The Outcasts, Invaders, The Hunters, The Royal Ranger, Slaves of Socorro, Scorpion Mountain, The Tournament at Gorlan, The Ghostfaces.
Genres: Action & Adventure, Fantasy
This Hardcover has 386 pages and was published by Philomel Books on October 5, 2010. Discover more about it at Goodreads. You can also buy it at Amazon
The ninth in this middle-grade fantasy-adventure series, Ranger's Apprentice.
My Take
Each of them has something to overcome in varying degrees and it is only with help from an unexpected quarter that they have a chance.
While granting adult responsibilities to the two boys, Flanagan permits them to doubt their own abilities even as he sets them up for success with Halt's subtle guidance. This series continues to impress me with Flanagan's exposing his readers to the world's realities with his gentle lessons on honorable behavior.
The Story
Halt, Will, and Horace are on a continuing assignment for the king, pursuing a charismatic charlatan of a pseudo religious leader. After his assassins have killed Halt's brother, King Ferris of Clonmel, Tennyson has fled by back ways (and the help of a vicious smuggler) into an isolated area in Araluen where he had set up a fallback position.
Halt, Will, and Horace must track Tennyson down, force the assassins to act, and take down Tennyson and his core group once and for all…without making a martyr of him.
Related Posts