This book came from the library, and I will never give you less than an honest review, no matter its source. I do provide informational and purchase links to make it more convenient for you to access the book. I also receive a percentage of the sale if you use one of my links to buy it. And that's not enough money to be less than truthful *grin*.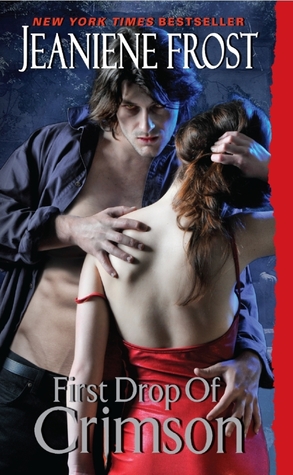 First Drop of Crimson
Series: Night Huntress World #1
Other books by this author that I've reviewed include Halfway to the Grave, Death's Excellent Vacation, One Foot in the Grave, At Grave's End, Jeaniene Frost, Destined for an Early Grave, Unbound, This Side of the Grave, One Grave at a Time, Once Burned, Eternal Kiss of Darkness, Twice Tempted, The Beautiful Ashes, Bound by Flames, Into the Fire.
Genres: Urban Fantasy
This Paperback has 371 pages and was published by Avon Publications on February 9, 2010. Discover more about it at Goodreads. You can also buy it at Amazon
This is the first in a spin-off urban fantasy series, Night Huntress World, from Frost's Night Huntress series featuring Cat's best friend, Denise MacGregor, with Bones' best friend, Spade.
In 2010, First Drop of Crimson was nominated for the Goodreads Choice Award for Romance.
My Take
I enjoyed the history and the characters although the writing itself is not up to the standards Frost set in Halfway to the Grave, 1. I'm rather disappointed here. Oh, there's plenty of action and Frost has one heck of an imagination. It's more that the writing feels juvenile in parts; she can do so much better.
The Story
Family is dying all around Denise and no one will believe what she says she saw when Paul is murdered in front of her. She barely believes it until the demon catches her. Threatens her. With what remains of her family. So she turns to the only person who can help her NOW. Spade. With all the horrors of which he reminds her as they set out together on her quest to save her family. As she falls deeper in love with Spade.
The Cover
Oh please. The look on the cover model's face is just too ick. He's either about to defend his food from some rash creature or he knows it's not going to taste very good.
Related Posts