I received this book for free from the library in exchange for an honest review. This does not affect my opinion of the book or the content of my review.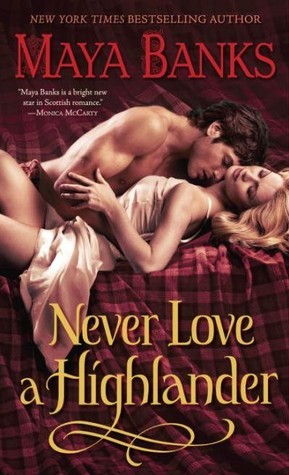 Never Love a Highlander
by
historical romance
that was published by
Ballantine Books
on October 25, 2011 and has 305 pages.
Explore it on
Goodreads
or
Amazon
.
Other books by this author which I have reviewed include
Sweet Surrender, Colters' Woman, Sweet Persuasion, Sweet Seduction, In Bed with a Highlander, Darkest Hour, Seduction of a Highland Lass, Colters' Lady, No Place to Run, Hidden Away, Men Out of Uniform, Red-Hot Summer, Brazen, Sweet Temptation, Whispers in the Dark, "Colters' Wife", Colters' Promise, Echoes at Dawn, Undone By Her Tender Touch, Four Play, Cherished, The Tycoon's Pregnant Mistress, Never Seduce a Scot, Highlander Most Wanted, "Softly at Sunrise", Shades of Gray, Rush, Fever, Forged in Steele, Burn, Colters' Daughter, Colters' Gift, Be With Me, When Day Breaks, After the Storm, Taking It All, Keep Me Safe, Darkest Before Dawn, Enticed by His Forgotten Lover, Sweet Possession, Sweet Addiction
Third and last in the McCabe Triology historical romance series set in a medieval Scotland. The couple focus is on Rionna McDonald and Caelen McCabe.
My Take
Essentially this is about a couple forced to marry who actually do want each other but are too prideful and worried to let the other know. Yes, their reasons are good. Rionna kept being betrothed. First Ewan who ended up marrying Mairin, then she's about to say "I do" with Alaric who marries her best friend instead so Rionna is not exactly feelin' the love. Caelen has a bad history with loving a woman after Elsepeth ended up betraying him which led to the deaths of family members and the destruction of their castle.
Caelen does screw up a lot. He could be using Rionna to cement relations with the McDonalds but at every turn, he gets angry when she tries to be supportive. I just wanna smack the boy!
It irritated me that Rionna starts off feeling like she has to ask permission to do anything. That's not her character. Why doesn't she simply go off and do what she wants?
As for the romance part of it. It's oddly different. In a good way. Especially when it seems as though the bedroom is the only place in which Caelen and Rionna can communicate as equals.
The Story
It's Rionna's wedding day and it is definitely not what every girl dreams of with Caelen more concerned with getting the "I do's" over with and none with his bride. It only gets worse when Caelen refuses to allow Rionna to don her regular clothes or continue her training. Instead he wants a soft, gentle woman who will rule the kitchen and maintain the castle while acceding to his every statement. It doesn't help that Caelen is riding the McDonald warriors into the ground with his derisive comments.
'Tis a shameful thing it is when the best fighting man the McDonalds have produced is their lady.
The Characters
Rionna McDonald must marry a McCabe to strengthen the clan her father allowed to weaken. While it's not as much of a hardship as it could be, she still isn't happy with this man who believes he can order her around, forbid her training as a warrior, and make no attempt to treat her with civility. Gregor McDonald, her father, the former Laird, attempts to talk Rionna into abandoning her husband and allying herself with the Cameron. The men of Clan McDonald include Simon and his son James; Nate; Seamus; Oren; and, Arlen. Sarah is the McDonald equivalent of Maddie who herself has a brief cameo for the wedding.
Caelen McCabe is the last McCabe brother unwed and it falls to him to wed the McDonald and firm up the alliance. It's not a hardship as he has been attracted to the lass since he first saw her. Gannon stays with Caelen at the McDonald castle to help train the men and guard Rionna.
Ewan and Mairin McCabe with his son Crispen and their daughter Isabel and Alaric and Keeley McCabe are in and out of the story with both women being as supportive as they can of Rionna.
Duncan Cameron is plotting war against the King and the McCabes. The destruction of the McCabe castle all those years ago wasn't enough for him and over the years he has continued to attack them and their women.
The Cover and Title
The cover is a background of red and black plaid with a satin peach chemise-clad Rionna arching in ecstasy as a naked Caelen covers her, about to kiss her neck. If this cover is consistent with the other two, the red-black is not a MacDonald color.
The title is confusing. From the stories in this series, I should have thought Always Love a Highlander would have been more appropriate.
Related Posts