I received this book for free from the library in exchange for an honest review. This does not affect my opinion of the book or the content of my review.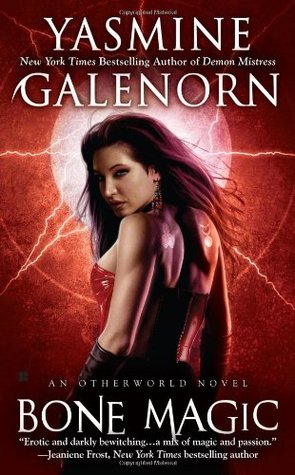 Bone Magic
by
that was published by
Berkley
on January 5, 2010 and has 281 pages.
Explore it on
Goodreads
or
Amazon
.
Other books by this author which I have reviewed include
Hexed, Witchling, Changeling, Never After, Darkling, Demon Mistress, Dragon Wytch, Night Huntress, Harvest Hunting, Blood Wyne, Courting Darkness, Shaded Vision, Shadow Rising, Haunted Moon, Night Myst, Night Veil, Night Seeker, Autumn Whispers, Night Vision, Night's End, Priestess Dreaming, Panther Prowling, "Flight From Hell", Flight From Death, Souljacker
Seventh in the Otherworld / Sisters of the Moon urban fantasy romance series revolving, literally, amongst three sisters and the family they have accumulated in Seattle. The perspective this time is with Camille.
My Take
Mmmm, I like the idea of the d'Artigo sisters' old Victorian being a real home and not just a temporary place where they wait out their exile. They've certainly picked up a number of housemates from Maggie to Iris, the girls' various lovers, a few demons, and a cousin.
Delilah has this problem where the least bit of fright or overwhelming curiosity overcomes her and she automatically shifts into puddy-tat mode. She also leaves her human brain behind. Sometimes it's cute; most of the time it's just irritating.
It's a lot of personal growth for Camille in this one while we learn more about the history of different races in Otherworld. Including who dear old dad is romancing!
Although I don't understand why Camille is whining on about it. She's been training for years in her craft. Surely she understands that this is necessary. Even I can see that it has to be done as part of the cycle. Yeah, I get that it's hard, but, gimme a break, Galenorn, this whining just ain't believable!
Then there's the touching, romantic scene at the end with Camille and her three lovers. I still can't figure out how the mechanics of that one works…
The Story
The dead are rising all over town. Partly due to Harold Young and his boy gang's murderous torturing, partly due to the lamia.
Then there's Smoky's little problem. Seems he has a very angry fiancée and daddy dearest is here to force the issue. With Smoky forced off to the Northlands, it leaves only Morio and Iris to accompany Camille to Otherworld to meet Trillian and bring him home.
Part of that trip is a visit with her father which leads to a command invitation to Darkynwyrd forest which is ruled by the Raven Mother, an Elemental Lord, and a command sacrifice.
That requirement however pales next to what Camille learns the kings and queens of Otherworld along with the Kerraastar Knights intend to do.
The Characters
There are three d'Artigo sisters who have emigrated to our world and they are at the forefront of protecting Earthside from a powerful demon lord.
A Moon Witch, Camille has been practicing death magic with one of her husbands (I suspect part of the reason is to help her get the rest of her magical talents under control), Morio Kuroyama, a youkai-kitsune demon and Rodney, the bone-man golem given to Morio by Grandmother Coyote, is not impressed. He is pretty funny in a gross way. Her other husband is a very possessive silver-white dragon, Smoky, a.k.a., Iampaatar, from the Emperor caste of dragons. Trillian is a third lover, Svartan, and still lost in Otherworld. Camille owns the Indigo Crescent bookstore, but has been leaving the running of it up to Henry Jeffries, a retiree who will do anything to escape his mother.
Delilah is a werekitty/panther/Death Maiden and Chase Johnson, chief of detectives, is one of her boyfriends; Zachary Lyonnesse, a werepuma, is the other.
Menolly is the third and a vampire who runs the Wayfarer Bar & Grill. Nerissa Shale, a werepuma belong to the the Rainier Puma Pride is her female lover. Nerissa is also running for city council as a bisexual Were. Roz has been in Mennolly's bed as well.
Shamas ob Olanda is the girls' full-blooded fae cousin and he has been working for the Earthside police. Sephreh ob Tanu is their father and an adviser to the queen. Aunt Rythwar has helped their father put the house back together after its ransacking. Leethe and Kayla are part of the household staff and Camille is happy to learn they have survived.
Rozurial, an incubus, and Vanzir, a turncoat demon, both live with Shamas in the new studio in back. Iris Kuusi is a Talon-haltija (Finnish house sprite) and a Priestess of Undutar who keeps house and cares for Maggie, their baby calico gargoyle. Vikkommin, a snow sprite, was Iris' fiancé until he was murdered. She is cursed to not bear a child to term until he is avenged. Bruce O'Shea, the leprechaun, has asked her to marry him, but he wants children.
Lethe and Finias are two Otherworld Fae assigned to help out the Faerie Human Crime Scene Investigation team. Queen Asteria is the Elfin Queen the girls delivered the seals to when they could acquire them. Trenyth is her personal assistant. Now she and Tanaquar, the new queen of Y'Elestrial are trying to repair the damages from the war. Grandmother Coyote is one of the Hags of Fate and Morio's grandmother. Feddrah-Dahns is the crown prince of the Dahns Unicorns and his father, King Upala-Dahns, wants to talk to Camille. The Black Unicorn is the father of the Dahns Unicorns and Raven Mother is his lover. The nine Kerraastar Knights, a.k.a., the Knights of the Portals, are humans with the proper energy signature who have touched the heart of the seals: Venus the Moon Child of the Rainier Puma Pride and Tam Lin are two of them. They must all be trained as guardians in Otherworld.
Morgaine is the Queen of Shadow and Dusk and is threatening the girls to forsake Otherworld and join her court. Aeval is the Queen of the Unseelie Court while Tatiana has taken back the Seelie.
Wilbur is a new neighbor and a powerful necromancer. Andy Gambit is a yellow journalist for the Seattle Tattler and has been promoting the Freedom's Angels candidate, Taggart Jones, for city council. Carter is a demon researcher who recently purchased Harold Young's house. Derisa is the High Priestess and emissary of the Moon Mother.
Stacia, a.k.a., the Bonecrusher, is a lamia and a necromancer. She's also the latest in Shadow Wing's generals sent to crush the girls. Shadow Wing is a demon lord determined to acquire the seals that will unlock the gate between Hell and Earthside. Once he has Earthside, it's an easier path to Otherworld. Telazhar is an extremely powerful Fae necromancer and he has trained Stacia. Trytian is the son of a powerful daemon ordered to seek an alliance with the girls.
Hotlips is Smoky's hot gold dragon fiancée with fewer manners than a pig. Then there's his father, Hyto, a white dragon, who is, if possible, even ruder and more vicious.
The Cover and Title
The cover is red from the pink-tinged full moon radiating out a star-shape of crackling lightning onto a textured stone wall of reds forming a background for Camille from her red-tinged sable hair to the red vinyl bustier she's wearing, glancing back at us over her shoulder.
I suspect the title was one of those "oh, what the hell" moves. Sure there are bones in this: Young's leavings, the disgusting Rodney, and, at a stretch, the Black Unicorn. But none of them, in my opinion, are strong enough to carry the Bone Magic.
Related Posts