I received this book for free from the library in exchange for an honest review. This does not affect my opinion of the book or the content of my review.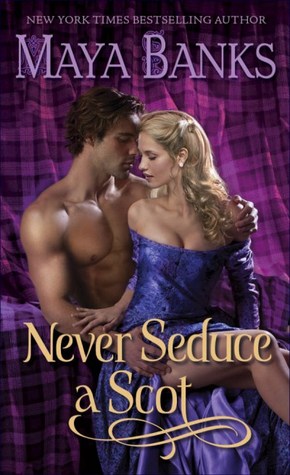 Never Seduce a Scot
by
historical romance
that was published by
Ballantine Books
on September 25, 2012 and has 372 pages.
Explore it on
Goodreads
or
Amazon
.
Other books by this author which I have reviewed include
Sweet Surrender, Colters' Woman, Sweet Persuasion, Sweet Seduction, In Bed with a Highlander, Darkest Hour, Seduction of a Highland Lass, Colters' Lady, No Place to Run, Hidden Away, Men Out of Uniform, Red-Hot Summer, Never Love a Highlander, Brazen, Sweet Temptation, Whispers in the Dark, "Colters' Wife", Colters' Promise, Echoes at Dawn, Undone By Her Tender Touch, Four Play, Cherished, The Tycoon's Pregnant Mistress, Highlander Most Wanted, "Softly at Sunrise", Shades of Gray, Rush, Fever, Forged in Steele, Burn, Colters' Daughter, Colters' Gift, Be With Me, When Day Breaks, After the Storm, Taking It All, Keep Me Safe, Darkest Before Dawn, Enticed by His Forgotten Lover, Sweet Possession, Sweet Addiction
First in the Montgomerys and Armstrongs historical romance set in a medievalish Scotland. The couple focus is on Graeme Montgomery and Eveline Armstrong.
My Take
Cute with a different approach with the deaf issue. Banks does a nice job of combining history with an enlightened male.
The whole brouhaha Graeme whines on and on about having heirs was specious. He still has brothers. What's wrong with their blood? Why does it specifically have to be his?
Obviously the two fall in love, and it's the journey that can be such fun to read. I did enjoy this journey even if it was incredibly obvious. I liked the characters. The women were so strong and independent, determined to have their way. The men were more along for the ride than anything else. Well, it is hard to kiss without a partner…
I did enjoy Banks' interpretation of how Eveline survived her accident and her disability. A nice bit of insight that I discovered at the end of the story came from personal experience.
Give. Me. A. Break. How stupid is Eveline? Surely she observed something in her first fifteen years about running a castle? I doubt very much she ever saw her mother scrubbing floors.
What they discover at the end makes me wonder how much of the reason for the entire feud was maneuvered?
Overall, Banks managed the balance between the overly melodramatic and typical historical romance fairly well. Despite the obviousness and the overdone bits, there was a brightness to it.
The Story
The Scottish king needs the Montgomerys and Armstrongs to cease and desist from their feud and decides that marriage between the clans is the way to enforce his desire.
Both families are appalled: Eveline has been daft ever since her accident — and those brutal Montgomerys. Why, she'll be lucky if she lives out the week! As for Graeme. He's heard the rumors. There's no way he'll be taking her to his bed. His line will die out; the king has "ended any chance for Graeme to pass the mantle of leadership on to his heirs".
But it's not Graeme that the Armstrongs should be concerned with.
The Characters
Eveline Armstrong almost died running away from home. As it is, she lost her hearing and took refuge in a deception. Tavis Armstrong is laird and Eveline's father; Robina is his headstrong wife and Eveline's mother. He has the typical view of women held by most men of the day, although he does love his daughter. Brodie and Aiden are her protective brothers.
Graeme Montgomery is the head of the family and had planned to pick his own bride! Not to take one from this most hated family! Bowen and Teague are his brothers and equally appalled. Rorie is their very independent sister, anxious to learn to read and write. A task with which Father Drummond will help. Kierstan is one of the serving women with eyes above her station. Nora is the senior woman in charge of staff. Nigel is the young healer for the clan.
Patrick McHugh hates the Montgomerys and had sought an alliance with the Armstrongs with a marriage to his son, Ian. A charming man on the outside, not on the inside.
King Alexander II of Scotland needs his two most powerful allies to be at peace with each other. The Earl of Dunbar is the king's representative for the wedding.
The Cover and Title
The cover has a purply pink plaid background draping furniture which Graeme uses as a support as he holds Eveline on his thighs. I guess Eveline is wearing the equivalent of historical romance lingerie with the purple satin brocade of the dress' skirt slit to above her thigh.
The title is a typical romance come-on, Never Seduce a Scot, and the reverse of it goes both ways, for Eveline seduces Graeme and in turn he must seduce her back to his bed.
Related Posts