I received this book for free from in exchange for an honest review. This does not affect my opinion of the book or the content of my review.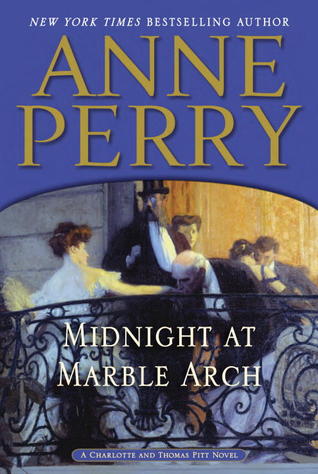 Midnight at Marble Arch
on April 9, 2013 and has 353 pages.
Explore it on
Goodreads
or
Amazon
.
Twenty-eighth in the Charlotte and Thomas Pitt Victorian mystery series.
I was provided an ARC from the publisher.
My Take
It's been awhile since I've read this series, and I've recently started back up, to catch up with events because I just adore Charlotte and Thomas. Two people who hold to a sense of morality and justice no matter what. It doesn't hurt that I enjoy reading an historical mystery!
This particular story was an odd combination of melodrama, what I consider overly twisted clues — the times when everyone sat down to go over the clues and conjecture was both over the top and lazy *eye rolling moments*, lacking in the warmth I was expecting, and more about Lord Narraway than the Pitts. They had more of a guest appearance in this.
The premise of this story is an exploration of rape, how people treated women who suffered through such a brutal crime. Sad to say, we haven't changed much. The story uses this to leap into a discussion of the duty of people to step forward, to prevent such miscarriages in future. Sadly, we haven't made a lot of progress in this either.
Considering how Angeles kept reacting in public, I don't understand why her mother kept bringing her to events.
I do like how Perry personalizes this subject by bringing in Jemima. Poor thing, she's at that awful stage when she veers from one end of the spectrum to the other:
"Jemima is furious about clothing choices and insists that she wants to be interesting, different, grown up. She doesn't want to look 'nice'! Of course, she's also leery of being too different!

Partly because she's attracted to Robert Durbridge."
Perry uses Thomas' love for his children to bring it home to those involved, to persuade them to step up, and increase the chances for justice.
The way it's written, I can't understand how anyone can possibly think Angeles was at all to blame. Watching that little shit, push her and push her, seeing her terror, how can people not question what's happening?
I don't know if the way in which the beating was investigated is typical for that time period, or if it's simply poorly done, but I could identify a number of lines of inquiry that no one pays any attention to. It's just lom onto the most likely, easiest choice and not be bothered to investigate further.
Ooh, a possible romance for Vespasia…!? I so want her to be happy.
The Story
With Thomas' promotion, the Pitts are required to attend more social events than previously — luckily, the extra money means Charlotte can buy her own dresses now! Unluckily, it finds the two of them present at several social events in which a bullying toad is persecuting a young girl.
The Characters
Charlotte is forty now and Thomas has been promoted to head of Britain's Special Branch — Commander Thomas Pitt. He's taken over from Lord Narraway after the Irish scandal. Charlotte feels a bit frustrated because she can't help him with his cases anymore. Jemima is fourteen and at that age when she either in angst or alt, depending on the minute; Daniel is eleven. Minnie Maude is the maid who took over from Gracie, who has gotten married to Sergeant Tellman. Julia is a young friend of Jemima's.
Lady Vespasia Cumming-Gould is Emily's great-aunt by marriage but both girls and Lady Vespasia consider her a relative. Emily, Charlotte's sister, is married to Jack Radley who is now a Member of Parliament.
Victor, Lord Narraway, is bored and frustrated. Booted from Special Branch because he was unable to present a defense when he was betrayed, he's at loose ends. Inspector Knox is in charge of the rape/beating. Dr. Brinsley is their pathologist. Stoker is Pitt's assistant at Special Branch. He has a similar outlook to Pitt's.
Rawdon Quixwood is a financial adviser with a merchant bank whose beautiful and intelligent wife, Catherine, is concerned with morality. Mr. Lucket is the butler; Mrs. Millbridge is the housekeeper; and, Flaxley is Catherine's lady's maid. Alban Hythe is an intelligent young man at the Treasury whose company Catherine enjoys. Maris Hythe is his loving wife.
Isaura Castelbranco is the wife of the Portuguese ambassador, Rafael Castelbranco, to Britain. Angeles is their sixteen-year-old daughter. She had been engaged to Tiago de Freitas of Brazil. Frederick Townley's daughter Alice was also raped. Elmo Crask is a private inquiry agent whose name Pitt passes on to Castelbranco.
Neville Forsbrook is the son of Sir Pelham Forsbrook, "one of London's foremost bankers" with a great deal of influence. Eleanor is Pelham's deceased wife, dead in a carriage accident. Dr. Leander Starr Jameson led an ill-conceived raid to take over South Africa. Joe Chamberlain may lose his position as a result of Jameson's actions. Sir Hercules Robinson is the Governor-General of the Cape Colony.
Aubrey Delacourt is a lawyer experienced in rape cases. Peter Symington is the lawyer Narraway talks into defending Hythe. Algernon Bower is the Queen's Counsel for the prosecution.
The Cover and Title
The cover is terrifying in its lighthearted display of manners — an older gentleman is kissing a lady's hand as she negligently sits near a balcony railing. Could it be the same railing Angeles encountered?
I believe the title is a metaphor for Society's head-in-the-sand avoidance of rape. That any woman who is raped must be asking for it. An attitude that truly is Midnight at Marble Arch.
Related Posts