I received this book for free from in exchange for an honest review. This does not affect my opinion of the book or the content of my review.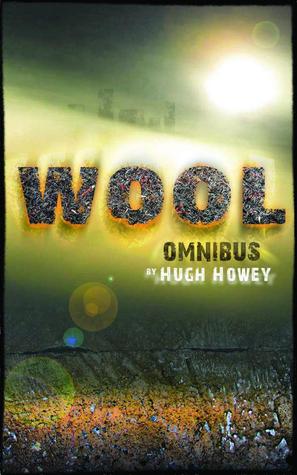 Wool Omnibus
on January 25, 2012 and has 509 pages.
Explore it on
Goodreads
or
Amazon
.
Stories:
Wool, #1
Proper Gauge, #2
Casting Off, #3
The Unraveling, #4
The Stranded, #5
I do recommend getting the omnibus if only because you won't want to stop.
The Wool Omnibus was nominated in 2014 for the Tähtivaeltaja Award. In 2013, it won the Bookworm Best Award for People's Pick, and in 2012 it was nominated as the Goodreads Choice for Best Science Fiction.
My Take
Brilliant! Absolutely brilliant! The things Howey can do to a stair tread! Taking every day things and describing them in a completely new way, making us feel and see everything. Just start to read that first page and you will fall into this story.
Howey slowly pulled me into the truth of Wool. A truth that will shock, appall, and cause you to weep. And yet, it's a familiar plot of hope, acceptance, and gross betrayal. And an impressive story that still finds me crying. Howey gives this small twists with great betrayals, a deep sense of loss with some characters and yet other characters' deaths avoid that impact. A bit of a conundrum in some ways. The majority of Wool is subtle and made me think, and then there are the chunks here and there that feel too simplistic, too obvious. I don't know if it was Howey's intention to ensure I didn't miss his point, or to ensure my anger.
There is a disconcerting back-and-forth — some of them are flashbacks while others, well, technically I think they are flashbacks, but they don't feel that way.
The rebellion felt rather fake, although I suppose when you don't have access to books on history, war, tactics, or even fictional ones of action and suspense that it would make sense they'd screw things up. They just don't think that way.
Okay, I'm missing just what war this will be if a cleaning fails. How will anyone know a cleaning failed? Is it simply not scrubbing?
Reading of Juliette's underwater ordeal was amazing. I love how he used her natural ignorance of what would happen when she entered the water, how he caught the feeling of submerging, of feeling trapped. Like the lack of battle planning, I wanted to scream at Juliette about why she's feeling this confusion even though I know she can't possibly know when there's never been enough water for even a bath.
Why are the rebels blowing up staircases behind them?
Be sure to read all the way to the absolute end of the book. For some reason there's an epilogue after the page titled "Q&A with Hugh Howey". …I dunno…
The Story
Grief can do horrible things to a person's mind with a need to dig, to discover what could possibly have set another off. It's this curiosity that sets off a chain of events as the true powers-that-be scramble to protect their sense of order. No matter who or how it hurts.
The Characters
Juliette Nichols is happy in her chosen element, Mechanical, and she hasn't seen her father, Dr. Peter Nichols, for twenty years, since it happened. It's her help over the George Wilkins murder that has brought her to Marnes' attention.
Holston is the sheriff when we start the story. A good and decent man who misses his wife, Allison, a researcher in IT, terribly. Deputy Marnes has held that position for years and, yes, he has a reason for that. Mayor Marie Jahns is the ruler of the silo. As they say, the buck stops here. At least, so we think.
Peter Billings is not Jahns or Marnes' first choice for sheriff, although he is for Bernard. Hank and Marsh are deputies.
Knox is huge and very capable as head of Mechanical. Walker is brilliant with electrical, but a hermit while his former protégé, Scottie, has moved onward and upward into IT. Shirly is married to Marck, and she sees to it that Walker eats. Megan and Ricks, "Jinks" Jenkins, Caryl, Courtnee, Rachele, Pieter runs the refinery crew, and Harper all work in Mechanical. Jove McLain is in charge of Supply.
Lukas works in IT, but at night he carefully watches for the stars and plots them. Nelson is the head of the cleaning lab. Good with lies. Bernard Holland is the head of IT; a man too big for his britches. Sims is in charge of security for IT.
Pam works in the cafeteria in the upper forty-eight.
Solo, Jimmy that was, has been alone for decades. Rickson, Elise, and four others have been hiding out.
The Cover and Title
I adore the cover of the version I read! It's the tweedy look of the wooly letters with the feel of flame behind them against the greyish yellow-green background and a few eaten skyscrapers poking up beyond the top of the hill and that flaring sun that grabs me.
The title will cause you to dig, to learn the truth, to try and decide if you should pull the Wool back from everyone's eyes.
Related Posts