I received this book for free from in exchange for an honest review. This does not affect my opinion of the book or the content of my review.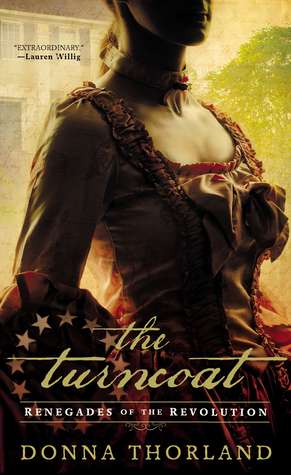 Turncoat
It is part of the
Renegades of the Revolution
series and is a on March 5, 2013 and has 395 pages.
Explore it on
Goodreads
or
Amazon
.
I'm guessing it's the first in the Renegades of the Revolution historical fiction series revolving around a female spy and a noble British major. (Thorland appears to be promoting this as if it were part of a series, but I can't find any other information about it…)
My Take
This was just excellent. And interesting to read right after C.C. Humphreys' Jack Absolute (Jack Absolute, 1) revolving around the exact same time period, place, and those characters who were not fictional! Do read Jack Absolute and then The Turncoat if only for Humphreys' read on Benedict Arnold's character.
It's not a deep story, but well filled with drama and tension and no little wit…
"André says you would make a fine Kate," Peggy offered…

"My parents are no longer taking suggestions on the subject of my name, Captain André."
The unexpected start is of an unscrupulous major bent on seduction whom we can't help but like, although the seduction scene between Tremayne and Kate isn't believable. I don't see a woman with her background being so amenable, whatever the reasons that may be presented for her compliance while Tremayne is very believable. I do love how very subtle Thorland is in creating this unscrupulous man while retaining our sympathy. And she continues to bat our sympathies back and forth between Kate and Tremayne so that we can't help but read on to discover the next exchange in their relationship.
And it's a relationship fraught with danger. The threat of discovery. The challenges to Tremayne's honor. Kate's own responsiveness to Bay but her preference for Tremayne, both of which form the gauntlet she must run in her loyalties.
Nor is Kate's sudden transformation from country mouse to sophisticated lady believable. It happens too fast and she's too perfect in her role. Although Kate is all too human in other aspects: her anger with André and her susceptibility to Bay and Tremayne.
What drives this story is the tension of Kate's role and Tremayne's in trying to protect Kate while being true to his own country. Their interactions, the British attempts to discover Mrs. Ferrers and her agents.
The feel of the time period that Thorland brings to this of amateur performances, of painting, of epigrams and military tactics of the ancients. The casual relating of rape and pillage in the countryside as if it were normal, expected actions. Yes, it's revolting, but it's also typical of the time, not something unexpected, and that's how Thorland conveys these events, as if she were a contemporary of that time.
I love the following exchange as it shows Bay with a fair skill but with sybaritic intent while Kate displays her education and grace under fire:
Bay has done a sensual sketch of Kate as a classical goddess with nymphs and satyrs drilling in military formation in the background. There is some conversation before Bay asks if he can "color it in for you?"

"I'm not certain I've brought enough pink for all the nipples," is Kate's reply.
Bay follows this up with a drawing technique to help Kate with her own drawing.
It's not a deep tale, but it is filled with drama and tension, bringing a very human quality to the nonfictional characters as well as to the story itself.
The Story
Arthur Grey has chosen to join the Revolutionary War on the side of the Rebels, and it's up to Kate and Mrs. Ferrers to slow Caide's battalion down. To prevent their catching up with Grey and the wagon train carrying supplies.
It's what the dragoons do to Millie, her family, and her home that sets Kate down this road. It's the disgrace behind losing the letters that force Tremayne on his.
The Characters
Kate Grey is a proper Quaker, but a fierce patriot with a fiercer desire to never wed. Well-educated and encouraged to debate by her father. He's known as the Grey Fox, Arthur Grey, who married a Quaker, but he's ready to head back to war for his country. Sara and Margaret are the servant girls at Grey Farm. Silas Talbert is a patriotic neighbor. Millicent Ashcroft is Kate's pregnant friend and nearest neighbor. Her husband Andrew is part of the Congress.
Mrs. Angela Ferrers, a.k.a., the Widow, is a Rebel spy. Mr. Sims is her lawyer.
Major Peter Tremayne, Viscount Sancreed, carries Howe's plans against Philadelphia. The trick played creates problems, but of a different sort from the problems created by meeting Kate. Phillip Lytton is caught in Tremayne's disgrace but makes a recovery.
Colonel Sir Bayard Caide commands a battalion of His Majesty's Horse. He's also a brutishly ruthless pervert and addict, Tremayne's cousin, and luckily for Tremayne, one of Howe's favorites. Lieutenant Dyson is a brute and a toady.
Lydia Dare, an heiress, has recently become engaged to Caide. She is staying with the Valbys while her "father" is away. The incredibly stupid and undiplomatic Peggy Shippen and Peggy Chew are Tory daughters in Philadelphia whose names are connected with André's. Anstiss Black is the best dressmaker in Philadelphia. Mr. Du Simiti&eagrave;re is obsessed with his Indian museum.
The Royal Army
The hesitating General Sir William Howe is accompanied by his mistress, Mrs. Elizabeth Loring, and her accepting husband, Mr. Joshua Loring, the Commissioner of Prisoners. Captain John André is Howe's spymaster. A very intelligent and acute man with no scruples. General Clinton and General John Burgoyne are mentioned.
The Hessian allies
Colonel Carl Emil Ulrich Von Donop of Hesse-Cassel is in disgrace over his relationship with an enemy spy. Captain Ewald and Sergeant Bachmann are some of his Jaeger troops.
The Colonial Army
General George Washington and Alexander Hamilton accept Kate's decision. Mrs. Washington aids Kate after her striping. Greene is defending Fort Mercer. General Benedict Arnold has a small part to play with Andr&eacue;.
The Cover and Title
The cover is perfect: a golden glow with a close-up of Kate's torso in her fancy colonial dress with a haze of a Philadelphia street scene behind her.
The title is true on several levels from the compromises made by Major Tremayne and others to the turning of an individual's coat in order to deceive. Yes, Turncoat is so appropriate on so many levels.
Related Posts