I received this book for free from in exchange for an honest review. This does not affect my opinion of the book or the content of my review.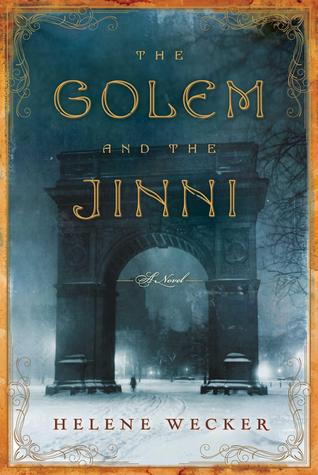 The Golem and the Jinni
on April 23, 2013 and has 486 pages.
Explore it on
Goodreads
or
Amazon
.
It's fiction with the magic of the Kabbalah and Arabic myths complicating the lives of immigrants in New York City in 1899.
In 2014, The Golem and the Jinni won the Mythopoeic Fantasy Award for Adult Literature, the Harold U. Ribalow Prize for Jewish fiction and the VCU Cabell First Novel Award. It was nominated for the World Fantasy Award for Best Novel. In 2013 it was nominated for the Nebula Award for Best Novel James Tiptree Jr. Award, and the Goodreads Choice for Debut Author, Best Fantasy.
My Take
It's a very subtle romance between two unsuitable, but well-matched people and absolutely brilliant! A look at humanity and life, of the individual's needs, dreams, and desires as seen through the eyes of immigrants arriving in America. It's kindness and evil, care and frustration, and lastly the need to connect with another.
It's cause and effect that twists around and about, over and over, affecting everyone with whom each comes in contact. Wecker has taken a classic plotline of immigrants trying to find their place in this new world and given it such a twist. Including the hopes and worries of the individual, creating complex characters. Characters I could identify with, cry for, and have ambitions for; layers and layers of interconnections between characters of today and those of the past.
Everyday problems take on a new slant when the supernatural is inserted into the story, when they too take on human desires. It's through their eyes — and Chava's mindreading — that we gain this insight into humanity.
I adored the artwork Ahmad created — it sounded so beautiful…
At first it irritated me how Wecker flipped back and forth between today and Ahmad's distant past, but within a few chapters, her purpose became clear — a building of the why of Ahmad's imprisonment and Schaalman's life, giving Wecker time to create an empathy for Ahmad, an understanding and sympathy for what he caused, his atonement, his future. Along the way, she builds a background for the characters critical to this story's resolution while creating a well-rounded tale you won't want to put down.
There was a sense of the real about Wecker's history of the jinni, as well as her back history for Schaalman. It's enough to wring a sympathy for Schaalman even when you know how evil he is. Heck, Wecker does this with all her characters, making them real with good and bad qualities.
Each character is his or her own person with a back history and personality: Maryam's compassion, Saleh's depression, Matthew's curiosity, the truths Chava and Ahmad learn from each other, and Michael's loss of faith in God and his crusading friends which made such sense to me. Especially when it came to funeral practices.
Wecker seemed about to link Sophia with Fadwa, but it didn't go anywhere, which was disappointing, and her assessment of Fadwa's problem was vague, although — intentional or not — the flashbacks and Saleh's experiences do provide enough information to piece it together. Then there was Schaalman's belief that he was damned. I still don't understand where he picked that idea up from.
It makes the ending…interesting. I was deeply involved in the characters and their lives; I wanted good things for them. I wanted their happiness. And Wecker certainly tidied things up quite efficiently when the end came, I think I cried more over one supporting character's loss than any of the others. If only for the promise of life and happiness that character regained only to lose it in sacrifice.
That said, it was a quietly satisfying ending with its promise of hope.
The Story
It's a life filled with people as they revolve around Chava and Ahmad. Humanity at its worst and best.
Rotfeld's desire is just one of those steps through history. But it's enough to set events in place as Rotfeld sails off to America with his new "bride" in tow. Luckily for the Golem, Rotfeld's list of what he wanted of his "woman" and Schaalman's brilliance creates a creature who can survive on its own, who can reason.
Ahmad has his own brand of luck, and the opportunity to understand his actions. Both Ahmad and Chava are restless in this new life: unable to sleep, not requiring food, and needing to understand this brave, new world.
The Characters
The Golem is Chava, so named by Rabbi Avram Meyer, himself a man of great compassion. A very human acting woman, she was commissioned by Otto Rotfeld, an arrogant but useless young man as his wife. Michael Levy was raised by his uncle, Rabbi Meyer. He is in charge of the Hebrew Sheltering House, a way station for Jewish immigrants. A very decent man. Moe and Thea Radzin run a bakery where Chava gets a job; Selma and Abie are their two daughters. Anna Blumberg is one of their baking assistants. Irving is Anna's boyfriend. Estelle, Phyllis, Jerry, and Stanley are Anna's friends at the dance.
Ahmad is not his real name, but the one Boutros gave him when he fell to earth. He has no memory of how he came to be imprisoned, but he knows he is a Jinni. Restless and frustrated, he walks the night. I love the name he takes at the end. William Conroy is the fence where Ahmad buys his gold and silver to create his small beauties.
Boutros Arbeely is a tinsmith to whom Maryam brings a copper flask for repair. Maryam Faddoul and her husband, Sayeed, run a coffeeshop in Little Syria. A popular gathering place due to Maryam's compassion. The former Dr. Mahmoud Saleh was too compassionate and has paid for that with his ability to cope. He now sells the best ice cream in the neighborhood. Matthew Mounsef is the young boy who becomes fascinated by Ahmad; his mother, Nadia, is dying. Ahmad creates beautiful necklaces for Sam Hosseini.
Fadwa al-Hadid is a young Bedouin girl who lived many, many years ago. Abu Yusuf is her highly respected father; Fatim, her mother.
Sophia Winston is the daughter and heiress of one of the wealthiest men in New York City. And she's bored. Charles Townsend is her fiancé.
Yehudah Schaalman is an old man around whom stories abound, all with a slight bit of truth to it, an evil but brilliant man, who is desperately searching for immortality. As Joseph Schall, he wreaks havoc. Wabn ibn Malik is also evil. A man with great power, the tribesmen only seek his aid when things are truly desperate, for his price is, at times, too high.
The Cover and Title
The cover is a night scene in the snow with park lamps lighting up the arch which Ahmad doesn't understand, a pointless erection that goes nowhere and does nothing, but which Chava adores. The warmth comes from a thin band of golden brown leather and corner flourishes in gilt connected by a pair of narrow lines. The same narrow lines that outline the outer borders of the letters in the title. Nice choice of font for the title, lending a feel of the Arabic.
The title is to the point, for this story is, ultimately about The Golem and the Jinni.
Related Posts