This book came from the library, and I will never give you less than an honest review, no matter its source. I do provide informational and purchase links to make it more convenient for you to access the book. I also receive a percentage of the sale if you use one of my links to buy it. And that's not enough money to be less than truthful *grin*.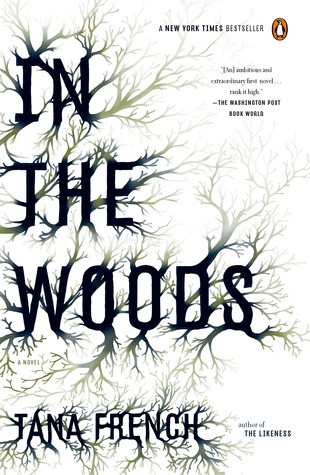 In the Woods
Series: Dublin Murder Squad #1
Other books by this author that I've reviewed include Faithful Place.
Genres: Suspense
This Hardcover has 429 pages and was published by Viking Adult on May 17, 2007. Discover more about it at Goodreads. You can also buy it at Amazon
First in the Dublin Murder Squad psychological suspense story.
In the Woods won a number of awards in 2008: the Barry Award for Best First Novel, the Macavity Award for Best First Mystery Novel, the Anthony Award for Best First Novel, and the Edgar Award for Best First Novel by an American Author.
My Take
Oh. My. God. Talk about depressing and incredible. Of course, that's gotta explain all the awards: the Edgar Award, the Barry, the Macavity, and the Anthony.
It's a psychological exploration of traumas. Being a survivor. Memory loss. Psychopathic behavior. Denial. Being so messed up even as you want so desperately to know.
I can remember running through the creek and the fields near my own childhood home. The freedom and fun of it, hoping our parents wouldn't see us. For we were forbidden crossing the creek, exploring those fields, the cliffs. We wouldn't have understood the fears of parents, of adults. It was simply a control issue, preventing our having fun. And we snuck and escaped into it daily. Just as Adam, Peter, and Jamie escaped into their own magical world in the woods. A woods that would have been like home for Katy, a young girl whose world was just beginning to open up for her.
Now, especially when I read something like In the Woods, I empathize with those adult fears, and I'm so grateful that nothing ever happened in my childhood in those forbidden zones. And I cry for those whose children never do come back.
It's a revelation for Rob as well as he begins to see his parents' actions and reactions from an adult perspective as opposed to his child's self-centered viewpoint.
There are two layers to this story: Adam/Rob Ryan and the never-remembered events that resulted in the trauma of the day he lost his childhood playmates, and Katy's murder. Adam has survived and Katy's murder, in the same woods, possibly by the same killer, has rekindled Adam's need to know what happened, and he doesn't inform his boss of his conflict. It's a conflict that will play havoc with his mind, his behavior, the case itself, and ultimately the friendship he treasures, and we will relive all of Rob's life as he thinks back to that day along with the possibilities that may complicate today's murder of a young girl.
French spends several chapters on the set-up, normally considered a no-no for writers, but it is essential for the reader to truly learn how deep this friendship goes so the ending has the desired impact. The filling around the layers are the actual investigation and unit interaction, personal reflections on what brought Rob to this state from his first-person POV, and the farther we read, the more Rob remembers of his friends.
Parts of this irritated me because it seemed as though French was deliberately ignoring some of the idiocies. But I also suspect that it's because the results were not what I wanted to happen. Such tragedies that destroy a person. However, there are all the bloody loose threads that waved all over the place! Why weren't they investigating everyone involved? Why didn't Cassie warn Rob of the one person he needed to be aware of? Even if he wouldn't have believed her, perhaps he would have been a little more aware. That he kept accepting statements made by one person without checking a second source was just idiotic. Why was the site exploration so incomplete? The dumb mistakes Rob makes.
Ahh, I just want to cry over the mess he's made. And he deserves it…
The Story
It's happening again. Another child murdered. Only this one, the parents do have a body to bury. The question is why. Why would someone do this?
There's the Move the Motorway campaign pushing to relocate the highway construction away from the historical site. Is it a cover-up of familial disturbances? There appear to be connections with an older case involving children. A hint of corruption opens yet another line of investigation.
Then there's the conflict in Detective Ryan being involved in a case which may reach back to his own traumas.
The Characters
Twelve-year-olds Adam Robert Ryan, Jamie Rowan, and Peter Savage were playing one summer afternoon in the woods in Knocknaree. Only Adam ever came out again. An Adam who became Detective Robert Ryan on the Murder Squad in Dublin. Heather is Rob's obnoxious roommate. Alicia Rowan is Jamie's single mother with a secret she protects to this day; Angela and Joseph Savage were Peter's parents; and, Adam's parents who had to move away.
Detective Cassie Maddox was newly assigned to the Murder Squad, a unit that rarely saw women enter it. It didn't actually take long before Rob and Cassie became friends and then work partners. Best friends. The friend you've always wanted.
Other cops on the Murder Squad
O'Kelly is their supervisor; Quigley is the unit joke; Costello is one of the old-timers; McCann; Sam O'Neill was a newbie brought in amid rumors of nepotism; and, Bernadette is the squad administrator. The floaters called in include O'Gorman and Sweeney. Kiernan and McCabe are the detectives who investigated the disappearance of Peter and Jamie back in 1984.
Cooper is the forensic pathologist, and Sophie Miller and Helen are crime-scene techs. MacSharry is a prosecutor.
The archeology dig participants include:
Dr. Ian Hunt leads this dig. Mark Hanly says he was with Mel Jackson that night, and he's passionate about the dig and its history. Damien Donnelly, who lives with his disabled mother, and does most of the tours of the dig site along with Mark; Sean Callaghan; and, George Macker.
Twelve-year-old Katy Devlin was serious about her ballet and had won a place at the Royal Ballet School. The entire town was proud of her and helped in raising funds to pay for her education. Rosalind is her older sister who plays violin; Jessica is Katy's twin. Jonathan and Margaret are the distraught parents. Jonathan has secrets in his own past and a cause he's currently championing that could lay him open to threats.
Auntie Vera Foley is Margaret's sister, and Valerie and Sharon are the Devlin girls' cousins. Katy's best friends are Christina Murphy, Elisabeth McGinnis, and Marianne Casey.
Sandra Scully is one of the girls that Cathal Mills dated; he, Shane Waters, and Devlin were the very best of friends as teens.
Simone Cameron is Katy's ballet instructor. Redmond O'Neill is Sam's uncle and an honest politician on the Council that approved the motorway. Karen is the girlfriend to whom Rosalind ran away. Kiely is the reporter with the in-depth information Sam is looking for. Terence Adams is one of the businessmen owning the land in question. Mrs. Pamela Fitzgerald is one of the original witnesses.
The Cover and Title
The cover is stark and eerie mixed in with sunshine as the sun is so hot that it blurs the naked branches of the tree even as the title oppresses the greenness of the tree with its black, the letters merging into the branches.
The title is what it's all about, playing In the Woods.
Related Posts