I received this book for free from in exchange for an honest review. This does not affect my opinion of the book or the content of my review.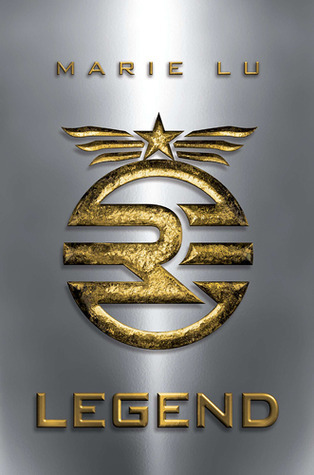 Legend
on November 29, 2011 and has 305 pages.
Explore it on
Goodreads
or
Amazon
.
First in the Legend dystopian series for young adults and revolving around the "traitorous" Day and the child prodigy, June. Based in Los Angeles in the Republic.
Legend was nominated for the Rebecca Caudill Young Reader's Book Award in 2015, the Abraham Lincoln Award in 2014, the Milwaukee County Teen Book Award in 2013, and the YALSA Teens' Top Ten and was the Goodreads Choice Nominee for Young Adult Fantasy and Science Fiction in 2012.
>My Take
This was good — gruesome and disgusting — but good. Lu didn't hold back on the action or the characters whom I liked. They are exaggerated as is the situation, but it does help the story move forward quickly as Lu paints a picture of an awful world. Lu did fall into cliché on several points, but she does give a wee twist on each. Some aspects aren't particularly believable: climbing the sides of buildings for one! Even if it was fun to imagine doing it!
The point-of-view switches back and forth between Day and June, and it's easy enough to slide into their heads. It was frustrating not knowing who the Patriots/Colonials were or why the country split. Why they're fighting, although I suspect it's a Republic hang-up.
There are two levels of society. The usual haves and those who have not. Can you imagine having to pay to be able to enter the hospital? A score on a test taken when you're 10 that dictates your place in society? And he police and soldiers treating the have-nots like dirt.
I'm awfully suspicious that the slum-sector kids are almost universally the failures. And it was too easy when June decides that the Boy's unconscious gesture automatically makes him Day just as Day is too quick with his assumptions, however accurate, about the plague. Too bad June's so naive about her society, about the people around her, about people's motivations.
For such a smart boy, Day certainly goes off the rails when his family is taken. I hated how slow his family was when he tried to warn them. Even if it was a reasonable response.
I'm surprised that Thomas, Captain Jameson, and Chian all seem to think June will simply accept what they're doing as all right. Seems rather naive of them! Including Thomas' romantic pursuit of June. Lu's writing style could use a step up as it's all too easily assumed and obvious, but perhaps it's intentional for her target audience. Which would be a shame to write down to her readers.
Based on what happened to the Iparis siblings' parents and Day, I'm curious as to the truth behind Day's father's disappearance.
I don't like this Republic…in case you haven't figured it out yet! The soldiers are cruel and leap too quickly to hurt. What they did to the protestors when Day was arrested…jesus. Why does Jameson suddenly turn and make that change? Why does Thomas arrest her? I have too many questions about Lu's choices in this…
For all my whining, I did cry at the end, and I do want to know what happens next!
The Story
The ultimate is a 1500 score in the Trial, a test you take when you turn ten years old. In spite of Daniel's confidence, he failed. Spectacularly, and then he "died". Once he escaped, he kept an eye on his family. Leaves small luxuries for them when he can steal them. Boots. Goggles.
It's the important luxuries, like a plague vaccine, that are difficult to come by. And it's worse when soldiers mark his family's door as a plague house. Day won't let them die. He refuses to accept it. And it's that desperate need that leads to everything.
The Characters
Day, a.k.a., Daniel Altan Wing, is a renegade created by the Republic, living day to day, moment to moment. Harassing the powers-that-be, stealing to survive. Slowly working it out, the reasons, the truth, behind the Republic. John is his older brother who works at the friction stoves. Eden is his younger brother; he'll turn ten and have to face the Trial. Tess is an orphan who took to following Day around until they became a team.
Fifteen-year-old June Iparis scored a 1500 and great things are expected of her. That score of hers certainly does allow her to get away with a number of forbidden pranks! As for the great things, her opportunity comes much sooner than she could have expected. Ollie is her dog. Captain Metias Iparis is her brother; he's cared for her since their parents died. Thomas is Metias' subordinate.
Elector Primo is essentially dictator-for-life in the Republic; his son, Anden, is following in his footsteps. Arisna Whitaker is the dean secretary at Drake University. Commander Jameson is Metias' boss—I simply can't say superior! She's a sadist with a stick up her. She's perfect for the Republic. Chian was Metias' mentor earlier, and Metias did everything he could to switch to someone else.
Kaeda tends bar in the Alta sector and does street fighting in her off hours.
The Republic is at war with the Colonies—I think they are the rest of what was the United States. The Patriots are how they refer to the enemy and are seen under every rock.
The Cover and Title
The cover is spare, like life in the Republic. A pale gray background with a vertical brightish center and an aged golden badge surmounted by a star with wings.
I suspect the title refers to Day, for he's a Legend amongst the poor.
Related Posts