I received this book for free from in exchange for an honest review. This does not affect my opinion of the book or the content of my review.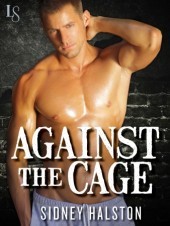 Against the Cage
on May 27, 2014 and has 256 pages.
Explore it on
Goodreads
or
Amazon
.
First in the Worth the Fight romance series. The couple focus is on Chrissy Martin and Jack Daniels and is set in Tarpon Springs in Florida.
I received this eArc from the publisher in exchange for an honest review…and ooh, boy…
My Take
The description is accurate enough, but it's also more exciting than the story itself, which is full of clichéd tropes and melodrama — and most of the drama is caused by Chrissy leaping to judgment. It's a good idea Halston has, but the superficiality, the lack of development, the rush to get the story written, and the overwhelming lack of show does not help. Chrissy's character is too stupid for words while Slade's character is so one-sided and brimming with arrogance. It's only fair since his sister is also full of it.
There are a lot of subplots going on in this, and it's like reading a rough outline that Halston started to fill in but was in too much of a hurry to actually connect the dots. I do wish Halston had done a better job of tying them together. Instead they feel like separate blocks dropped in.
As for my individual niggles in the story:
First off, if Slade has the money, why is he calling his sister for help? For someone who spends all her time in third world countries, I'm kind of surprised she even has stilettos. And why would she get so incredibly nervous around a cop after her experiences overseas? Having lived in Africa for a few years, I can't imagine that an American cop would hold any horrors. Again, all that overseas experience and Chrissy is too clueless to have a water bottle in the car? She buys herself a charger for her phone and can't be bothered to charge up her phone?
How can anyone ignore — and drive on — a flat tire? So, after growing up with these two fighting in cage fights, she never picked up on the word sparring?
For the itty bits of fun Halston had with Jack's name, she missed so many opportunities to really have fun with it. If you can bring yourself to waste the time to read this, you'll understand exactly what I mean.
Halston portrays Chrissy as a prissy, do-no-wrong tattle tale, but she doesn't bear this out with much in the way of examples. To get labeled like that, I expected a lot more naughtiness. LOL, the Tweedle Dum and Tweedle Dee story was cute, however I get the impression that this sort of tale-bearing was rare. Halston also claims that she's the "town darling" and yet she has no friends. Um, how does that work? How does everyone in town love you and yet you have no friends?
Okay, we get the explanation as to why Chrissy is such a wuss about how her brother treats her, and if she's gonna be this stupid, she deserves his treatment of her. Of course, I think Slade is a major jerk as well.
I like Jack. Slade can form a scab and fall off the earth. He may have what he considers a good explanation for how Chrissy perceives his phone calls, but why is it he always gets through to her when he does need money? Chrissy? Her I'd drop kick into the ocean if I could. She insists on going to the fights — because she can handle it — and totally freaks out about it. Over and over. *eye roll*
Okay, I'm guessing that all these losers the women in town are trying to throw at Chrissy is intended to be comic relief. Too bad Halston didn't make good use of this.
So, Chrissy will suck up and let Slade walk all over her, except when it impinges on her personal terrors. I suppose that does make sense since humans so rarely do make sense. I've just realized that one of the things I hate about Chrissy is all the whining she does.
She shows up after being gone for years and immediately expects Slade and Jack to fall in with her view of fighting. I guess we need to redefine Chrissy as arrogant as well.
What kind of wimp is Jack that he suddenly does an about-face with Slade on the topic of fighting? Jack would have looked better if he had done some soul searching or had thoughts about it before Chrissy showed up and started laying down her law.
Explain this to me. Chrissy is terrified of Jack and his fighting, yet she "secretly rejoiced that she was able to snap his control". Then there's that sudden 180-turnaround about how she perceives Jack fighting, comparing it to her hospital work. Where is this coming from?
What is with that paragraph about "…a small reception in your honor…" *shakes her head in disgust* At least it is consistent with the rest of the writing in this.
If you're bored and having absolutely nothing else to do, borrow this from the library. If you have errands to run, dishes to do, laundry to fold, do that instead.
The Story
She's barely home and already getting a call for help from her n'er-do-well brother, and Chrissy feels guilty enough she leaps to his rescue. Unluckily, or is it luckily?, she slams into Jack and sets her heart to pitter-pattering.
Until she learns what he and her brother are doing in their free time.
The Characters
Chrissy Martin giggles, leaps to judgment, and is paying off her medical school loans by working overseas in third world countries. She had the hots for Jack when they were kids. Slade Martin, a professional mixed martial arts fighter, is the older brother who hates her and whom she rarely sees. Richard Martin is their now-deceased father, the reason Chrissy never comes home.
Jack Daniels was her brother's best friend who lived [and still lives] next door when they were children; now he's a cop. Drogo is his vicious, anti-people Chihuahua. Abbot and Joan Daniels are his parents, who have retired to a retirement community.
Veronica had been her best friend in high school until Jack screwed it up. Roger and Nick were wrestlers on the varsity team. Jeff is her now ex-boyfriend. Chief Lyon is Jack's boss. Mr. Robertson is the town bail bondsman. Melinda is one of the town clerks; her brother, Miles, just got divorced. Esther and her husband, Earl, still run the café. They have a son, Jeffrey. Dennis is the abusive nephew of Mayor Stavros. Jessica Cross is his girlfriend, and she's in denial. Brian Harris is an ex-boyfriend who was very abusive.
Fellow fighters
Marcelo runs the gym where Slade and Jack work out; Francesca is his daughter. Jas is another fighter. Travis is Jamie Lynn's twin brother. The monosyllabic Cain whom I'd be willing to bet is slated to be one of the future "heroes". Marcus.
The Cover and Title
The cover definitely has a hunky, well-muscled guy on the front. A well-oiled chest, that curious stance, and the title fulfills itself, up against his chest.
The title is where Chrissy is in this story, Against a Cage, one of her own design as well as the one in which Slade and Jack fight.
Related Posts