I received this book for free from in exchange for an honest review. This does not affect my opinion of the book or the content of my review.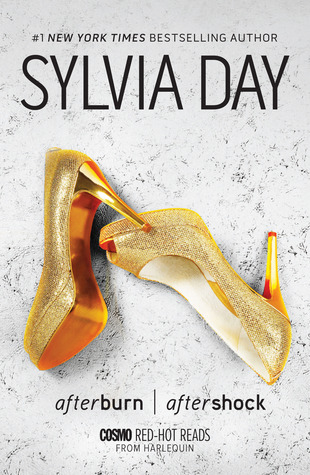 afterburn | aftershock
on March 11, 2014 and has 400 pages.
Explore it on
Goodreads
or
Amazon
.
The complete story in this two-parter: afterburn | aftershock with the couple focus on Gia Rossi and Jax Rutledge.
My Take
I had read afterburn when it first came out and have re-read it here to remind myself. I still like that Gia is working so hard to keep Jax in the only-sleep-with column. And, lol, I like that Jax is so desperate for her that he's honest.
He's so honest that you begin to see through his self-hatred. But he's also good at the non-answers. Gia is determined on what she wants too. She wants someone who will love her, support her. She won't accept his behavior.
"Well, now you can have your life and me — when I'm in the mood."
I can't help it. I love Gia. She won't accept bullshit nor will she suffer fools or bitches.
It's an interesting and exciting read, and while I love the HEA ending, it also pushes it back into that particular trope. I know, I'm being a weaselly hypocrite, except that Day was doing so very well in creating a strong yet honest woman. I guess I shouldn't complain since the ending does have its own slight twist.
The Story
The love of Gia's life comes back into her life like a storm, blowing Gia off course, even as he screws her over in every way you can imagine.
The Characters
Gianna "Gia" Rossi is doing what she loves best: helping people achieve greater than they desired in the cooking world. Denise — she's pregnant and has her own beauty parlor — is married to Gia's brother, Angelo. Vincent and Nico are her other brothers; they and their parents, Giovanni and Mona Rossi, are very involved in the restaurants.
The wealthy Jackson "Jax" Rutledge is his family's troubleshooter, fixing their problems. Parker is his demanding father, although surprisingly, he appears to be a faithful husband. Regina is his second wife. Allison Rutledge is Jax's bitch of a cousin-in-law, a real deal-breaker who's married to Ted, and he's making a mayoral bid.
Lei Yeung is Gianna's boss at Savor, Inc. where chefs are turned into name brands. Chad Williams, Inez, and David Lee are the chefs with whom Lei and Gia made the deal with Mondego.
Ian Pembry is Lei's ex-boyfriend, the guy who screwed her over — and we do learn what happened.
Deanna Johnson is a news reporter with whom Vincent had once slept. Lynn is Gia's friend from her Vegas days, the one who consoled her throughout their first break-up. Gretchen is the Rutledge family stylist.
The Cover and Title
The cover is a spattered black and white background with glittering golden platform heels with a peep-toe and orange soles.
The title is both the afterburn they both feel as well as the aftershock they reel through in the second half.
Related Posts