I received this book for free from the library in exchange for an honest review. This does not affect my opinion of the book or the content of my review.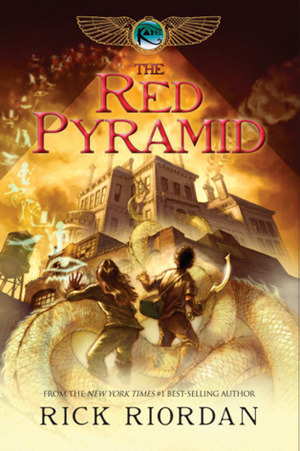 The Red Pyramid
by
fantasy
that was published by
Disney-Hyperion
on May 4, 2010 and has 516 pages.
Explore it on
Goodreads
or
Amazon
.
Other books by this author which I have reviewed include
The Sea of Monsters, The Titan's Curse, The Battle of the Labyrinth, The Last Olympian, The Lost Hero, Cold Springs, The Throne of Fire, The Son of Neptune, The Mark of Athena, The Serpent's Shadow, House of Hades, The Blood of Olympus, The Hidden Oracle, The Sword of Summer, The Hammer of Thor, The Ship of the Dead
First in the Kane Chronicles middle-grade fantasy series about Egyptian gods.
In 2012, The Red Pyramid won the Pennsylvania Young Readers' Choice Award for Grades 6-8 and the
New Mexico Land of Enchantment Award for Young Adult; in 2011, it won the Premio El Templo de las Mil Puertas for Mejor novela extranjera perteneciente a saga and was nominated for the Carnegie Medal; and, in 2010, it was nominated for the Goodreads Choice Award for Favorite Book, Young Adult Fantasy.
My Take
This was good! Someone had told me that this was simply the Percy Jackson and the Olympians but with Egyptian gods…and they're wrong. For one thing, the Kane Chronicles is less juvenile in its writing approach and, yes, there are parallels. There is interaction with gods, children are the hero and heroines, and there is a bloodline involved. Oh, yes, and they have adventures.
This is not a story of good and evil, but of balance between chaos and order. Get your kids to read it for the adventure and magic, and they'll learn about ancient Egyptian culture and its stories (I learned a lot which made more sense of what I had known). They'll learn geography through monuments (I want to Google "obelisks" and find out where more are as well as what the links are between Egyptian and ancient Mexican cultures). They'll learn about a version of afterlife. And they'll learn that we have the ability to make good choices.
I am so looking forward to reading the next in the lineup! Oh, and did I mention, it's funny?
Related Posts