I received this book for free from the library in exchange for an honest review. This does not affect my opinion of the book or the content of my review.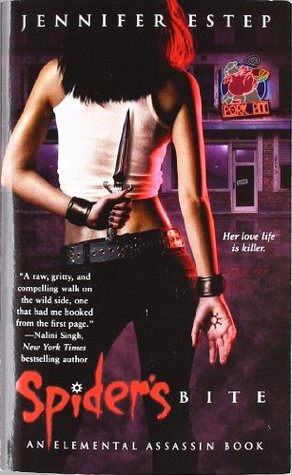 Spider's Bite
by
It is part of the
Elemental Assassin #1
series and is a
urban fantasy
in
Paperback
edition that was published by
Pocket Books
on January 26, 2010 and has 395 pages.
Explore it on
Goodreads
or
Amazon
.
Other books by this author which I have reviewed include
Web of Lies
,
Jennifer Estep, Venom
,
Karma Girl
,
Tangled Threads
,
Touch of Frost
,
Spider's Revenge
,
Kiss of Frost
,
Hot Mama
,
By a Thread
,
Dark Frost
,
Widow's Web
,
Crimson Frost
,
Deadly Sting
,
Midnight Frost
,
Heart of Venom
,
The Spider
,
Killer Frost
,
Tan­gled Dreams
,
Tangled Schemes
,
Spider's Bargain
,
"Poison"
,
Spider's Nemesis
,
"Wasted"
,
Web of Death
,
"Web of Deceit"
,
Black Widow
,
Poison Promise
,
Cold Burn of Magic
,
The Spider's Trap
,
Dark Heart of Magic
,
Bitter Bite
,
Unraveled
,
"Nice Guys Bite"
,
Bright Blaze of Magic
,
Snared
The first in the paranormal romance Elemental Assassins series set in Ashland, Tennessee.
In 2010, Spider's Bite won the Romantic Times Reviewers' Choice Award for Urban Fantasy Protagonist and was nominated for the Goodreads Choice Award for Paranormal Fantasy.
My Take
I like Gin! As assassin with a heart who only kills bad guys, and she's willing to do pro bono work on those who hurt women and children. She's quite skilled at her night work, and I didn't expect her to be working as a waitress in a greasy spoon. Nor did I expect to read that she loves taking classes in literature and cooking at the local community college.
There's a recipe for a peanut butter-pumpkin sandwich that's just weird enough to sound good!
Do be prepared with some barbecue and coleslaw before you start reading, because you will get hungry for it!
And…be prepared with some tissues…you'll need it.
The Story
An unknown Air Elemental is killing people important in Gin's life and messing with her rep. She won't rest until she's found the bitch.
Needing Caine as an ally in this particular fight, Gin promises to help him find the traitor within the police force and confirms some information for him. Information that will have him on her back when this is done. And, at the end, there's a time bomb waiting for her…the answer to Gin's ultimate question as well as a tease to a hunt.
The Characters
Gin Blanco is the assassin whom very, very few know as "the Spider". She works, by day, at the Pork Pit, a greasy spoon serving up the best barbecued pork and beef anywhere.
The people important in Gin's life include…
…Fletcher, the man who rescued her and taught her the trade. Finn is Fletcher's son with whom she grew up and on. Sophia and Jo-Jo are dwarf sisters with particular [and useful] talents. Roslyn Phillips is a vampire hooker who made good. Donovan Caine, one of the very few honest cops left has a hard-on for the assassin who killed his partner and to whom Gin is damned attracted.
The Cover and Title
The cover is perfect. So very Gin with its reflections on her life. I can't wait to read Web of Lies.
Spider's Bite is a very accurate title and starts off with a bang in the middle of Gin Blanco's career as the assassin.
Related Posts