I received this book for free from the library in exchange for an honest review. This does not affect my opinion of the book or the content of my review.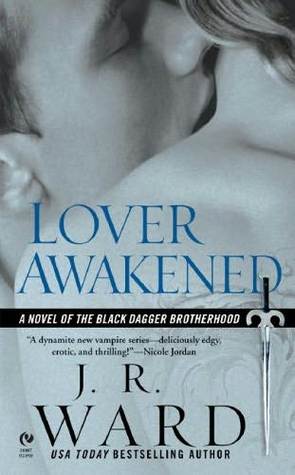 Lover Awakened
by
paranormal romance
in
Paperback
edition that was published by
Signet
on September 5, 2006 and has 434 pages.
Explore it on
Goodreads
or
Amazon
.
Other books by this author which I have reviewed include
Dark Lover
,
Lover Eternal
,
Covet
,
Crave
,
Lover Revealed
,
Lover Unbound
,
Lover Enshrined
,
Lover Avenged
,
Lover Mine
,
Lover Unleashed
,
Envy
,
An Irresistible Bachelor
,
His Comfort and Joy
,
Lover Reborn
,
Rapture
,
Lover at Last
,
Possession
,
The King
,
The Shadows
,
The Bourbon Kings
,
Blood Kiss
,
The Beast
,
Blood Vow
,
The Chosen
,
Blood Fury
Third in the paranormal romance series, Black Dagger Brotherhood, which is located in the state of New York.
In 2007, Lover Awakened won the All About Romance (AAR) Annual Reader Poll for Best Romance of the Year AND Best Paranormal AND Most Tortured Hero AND Strongest Heroine AND Best Villain AND Most-Hanky Read; in 2006, it won the Romantic Times Reviewers' Choice Award for Vampire Romance.
My Take
I do so enjoy the dialog between the brothers, which Ward creates. There is such a street, male feel to it. I guess that one of the more surprising [and attractive] aspects of this series is Ward's portrayal of these hard, fighting-mad men with such tender and caring natures — a real treat to read.
One of the subplots involve Mr. O's maddened pursuit of Bella which results in total tragedy for one of the brothers…I kept hoping the Scribe Virgin would show up and do a rewind… Then there's young John — what he learns of his bloodline, how he copes with a particularly bad past trauma, and the future to which he can look forward.
We learn more about the vampire culture, specifically, the needing experienced by its women and its effect on the men.
The Story
It's six weeks since Bella was kidnapped by the Lessening Society and, while all hope for her survival is gone, the Brotherhood, particularly Zsadist, is still actively searching for her.
The Characters
The Black Dagger Brotherhood is…
…composed of a small group of handsome, extremely well-developed, black leather-wearing vampires lethal with fighting skills and, I think, there must be a height requirement of at least 6'4″-plus. Wrath, the Blind King, is the vampire king mated to Beth, Darius' half-human and half-vampire daughter. Rhage, aka "Hollywood" for how incredibly beautiful he is, is mated to Mary, a human granted a long life span by the Scribe Virgin. Vishous gets visions and has a very lethal, tattooed right hand, which he keeps safe in a glove.
Phury is known for his gorgeous hair and vow of celibacy who is addicted to a street drug known as red smoke and, along with Butch, indulges himself in a love for designer clothes. Zsadist is his twin whom Phury rescued from being a blood and sex slave over a hundred years ago. Zsadist is feared even amongst the brothers for his sadistic approach to all, but especially toward women. Z's cruelty is particularly aimed at himself. Tohrment alone does not live on the estate and is happily married to Wellsie who is pregnant. Tohr and Wellsie have taken in John Matthew, a vampire orphan found on the streets in Lover Eternal, 2.
Butch O'Neal is a human and former homicide cop who fell in with the Brotherhood and lives with V in the Pit on the estate. He's also deeply in love with Marissa who wants nothing to do with him. Fritz is the doggen or human servant for the Brotherhood and handles all the housekeeping, cooking, and other daylight-required chores for them.
Marissa is Wrath's former mate and Havers' sister. Havers is a medical doctor (as well as a vampire) researching constantly as he cares for the medical needs of the vampire community. Bella, like Marissa, is a member of vampire aristocracy with its own rules and expectations of behavior. Bella moved out of her family home and became Mary's neighbor which exposed her to the attention of the lesser resulting in her kidnapping (Lover Eternal). Rehvenge (not a brother) is Bella's brother with deadly secrets.
The Lessening Society is…
…a group of humans who have given up their souls to the Omega, a godlike being from another plane of existence, in order to destroy all vampires. Each member, each lesser, gives up their full name being known only by the first initial of their last names and is supported by the Society for the rest of their almost-immortal lives. This installment's primary lessers are Mr. X, the Fore-Lesser or leader of this band of lessers, Mr. O, a psychopathic nutjob who kidnapped Bella for his own desires, and Mr. U, Mr. O's partner.
A new species crops up as well — a symphath, a.k.a., sin-eater, a species which feeds on feelings and can read your mind. Usually, symphaths are either killed or run out of town when they're discovered.
The Cover
The metallic-sheen on the cover is consistent with the two earlier ones: one of dreamy romance with two heads in a romantic entwining.
Related Posts