I received this book for free from the library in exchange for an honest review. This does not affect my opinion of the book or the content of my review.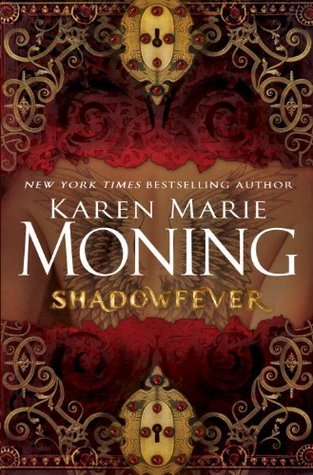 Shadowfever
by
urban fantasy
in
Hardcover
edition that was published by
Delacorte Press
on January 18, 2011 and has 608 pages.
Explore it on
Goodreads
or
Amazon
.
Other books by this author which I have reviewed include
Tapestry
,
Iced
,
The Highlander's Touch
,
Feverborn
Fifth in the Fever urban fantasy series set in Dublin and focusing on MacKayla Lane, an American sidhe-seer reeling from grief.
In 2012, Shadowfever won the DABWAHA Romance Tournament for Best Romance of the Year & Best Novel with Romantic Elements/Crossover. In 2011, it won the Romantic Times Reviewers' Choice Award for Best Urban Fantasy Protagonist and the Goodreads Choice Award for Best Paranormal Fantasy.
My Take
Whipsawed. That's how I felt. Whipped from tether to post, in alt and in despair. Oddly enough, the sour note was in how easily Barrons succumbed to actually telling Mac how much he wanted her. After all the pushing away he does, he fell very quickly…it ends on the most suburban note!
Nor was I the only one torn and whipped by outside sources, for Mac is even more torn with the bombshells dropped on her throughout the story. Could she be the Unseelie King's concubine simply because she can pass through the great Silver? Is it possible she is the Unseelie King, as she only ever sees his concubine when she is wandering the White Mansion? Why is she recognized by Hunters, Fae, and others? Who are her parents? Is Isla O'Connor her mother or not? She only had the one daughter when she fled the Abbey, how could she be her daughter? Who is Tellie, and why hasn't Barrons told her of her existence?
MacKayla fights her way through every thing that fate throws in her path: the truths, trickieries, and temptations various Fae place before her; the revival of the unexpected; surviving the hostility of Chester and Barrons' men; dealing with Rowena and her betrayals…especially that of Dani.
Don't plan on doing anything else but reading this tale as it whips you and twists you up just as it twists MacKayla. You'll learn more than you ever expected to discover about Mac, Alina's demise, and Jericho's life.
Moning has one last trick to play on us…at the end. Thank god it's not.
The Story
The story opens at the worst possible place…Jericho Barrons is dead! Killed by MacKayla who finally realizes the truth of what she felt about him. When it's too late, and he sacrificed himself to keep her alive.
A sacrifice she must honor no matter how it kills her, and so she follows the path that Darroc has laid out for her. This time she is prepared to combat him.
The Cover
Oh, I adore the cover! It is incredible!! I'd buy the hardcover just for its cover. The transparency of the dust jacket with its vivid coloring makes the whole cover float as though it were in fairy itself. I love that the publisher paid attention to the back and spine and not just the front.
Related Posts