I received this book for free from my own shelves in exchange for an honest review. This does not affect my opinion of the book or the content of my review.
This book may be unsuitable for people under 17 years of age due to its use of sexual content, drug and alcohol use, and/or violence.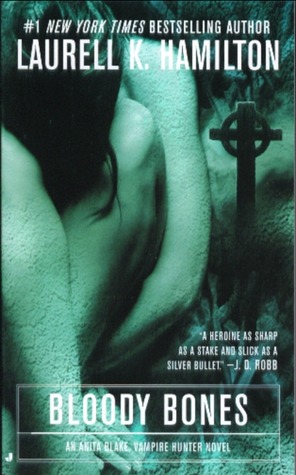 Bloody Bones
by
erotic romance
,
urban fantasy
that was published by
Jove
on September 26, 2002 and has 384 pages.
Explore it on
Goodreads
or
Amazon
.
Other books by this author which I have reviewed include
Hit List, Killing Dance, Burnt Offerings, Narcissus in Chains, Obsidian Butterfly, Bite, Incubus Dreams, Micah, Danse Macabre, The Harlequin, Blood Noir, Skin Trade, Flirt, Bullet, Never After, Kiss the Dead, The First Death, Affliction, Guilty Pleasures, The Laughing Corpse, Circus of the Damned, "Shutdown", A Kiss of Shadows, Lunatic Café, A Caress of Twilight, Seduced by Moonlight, A Stroke of Midnight, Mistral's Kiss, A Lick of Frost, Blue Moon, Dead Ice, Jason, Crimson Death
Fifth in the Anita Blake, Vampire Hunter urban fantasy series set in a contemporary St. Louis, Missouri.
My Take
I'll give Jean-Claude points for persistence. I suppose being alive for several hundred years helps you take the long view. It's interesting that Jean-Claude doesn't have the power he has later in the series. It's also interesting going back, re-reading and discovering where the various pivotal moments occur. Such as Anita finally giving into her desire to touch Jean-Claude. Aur first encounter with the rotting corpse effect…ick!
Then there's the respect Dolph has for Anita's abilities and the support he gives her.
Pullin' in a bit of the old sod and mixing it in with native beliefs…whoa… I am curious about the Rags and Bloody Bones boogey. Sure, our parents (the royal "our") told us that if we didn't behave… But I don't recall hearing about this one. Could be interesting to explore this.
Theoretically, I've known that Richard is a junior high science teacher. But when Anita goes to the school to tell him she can't make their date this weekend for this out-of-town job, it really sinks in when Hamilton describes Richard's interactions with his students.
Larry certainly grows up with all the action going down between the child murders, the encounter with Serephina and the fairy boogey, Rags and Bloody Bones. He's got some nice reactions.
We learn more about the character of Jason's wolf and his laissez-faire approach to life. I can definitely see the benefits of being a beta as it takes the hard choices away.
Excellent as always. It blows my mind how Hamilton manages to pack so very much into only one book!
The Story
Trust Bert to take any job that pays a lot of money, so Anita is not surprised to learn she'll be heading out of town to raise the 200-year-old or more dead of a graveyard for a resort developer.
Taking Larry along as both furtherance of his education and the use of their conjoined power, Anita runs into a lot more than she expects. Something is using a sword to murder people. A young girl is dead by vampire hands and her young brother kidnapped, and the cop in charge is more interested in gaining the credit for solving the case.
An unseelie fairy both entices and rejects Anita. And Jean-Claude shows up with Jason to help Anita rescue the young boy from a pedophilic vampire.
There is also talk of turning the existing vampire hunters into federal marshals. A move Anita has her doubts about although after her encounters with federal and state investigators, she's beginning to reconsider.
The Characters
Anita Blake is an animator, well, more of a necromancer, dating the Master of the City of St. Louis and a wolfwolf. Not exactly how she saw the white picket fence and 2.5 children coming about.
Animator's, Inc. is…
…where Anita works. Bert Vaughn is her greedy boss with no conscience. He and Manny started the company. Larry Kirkland is a sort of an apprentice animator, working weekends.
Jean-Claude is the Master of the City of St. Louis and will do most anything to be with Anita. He was an aristocrat boy's whipping boy. Jason Schuyler is his current wolf pet and snack. Richard Zeeman, the werewolf, works as a teacher at Seckman Junior High School.
Beadle, Beadle, Stirling, and Lowenstein is…
…a law firm that wants to hire Anita . Lionel Bayard is a junior partner who likes the sound of his own voice. Raymond Stirling. Oops, sorry, Mr. Raymond Stirling is one of the partners and practically bludgeons Anita. Ms. Harrison is his seemingly cowed secretary. Beau is the construction foreman who finally realizes which side he needs to be on.
Bloody Bones is…
…the roadhouse owned by Magnus Bouvier an Unseelie half-breed fairy with a love of power and his sister, Dorrie. Friday night is lover's night. Llyn Bouvier is their ancestor, the first European in the area way back when.
Regional Preternatural Investigation Team (RPIT) in St. Louis,
…a division of the PD. Detective Sergeant Rudolf Storr is in charge.
Law enforcement in Branson includes…
…Sergeant Freemont with the Missouri State Highway Patrol, who is eager to garner all the credit. Officers Granger and Wallace are more staties. Sheriff David St. John and his wife, Beth, are trying to comfort the Quinlans. Zack Coltrain is one of St. John's deputies. FBI Special Agents Bradshaw and Elwood show up since it's now a vampire serial killer case. Even though Bradshaw has attended Storr's lectures at Quantico, he behaves poorly with Anita.
Ellie Quinlan bought the spiel and then the farm. Raven is the Quinlans' protective dog. Jeffrey and Sally are the parents; Jeff, Junior, is the younger brother. Andy was Ellie's boyfriend. Lisa and a braver, somewhat smarter woman are a couple of young women who get caught up in it all, simply because they wanted a good time.
Xavier likes young boys; Seraphina is the Master who can call ghosts; she and Jean-Claude have past issues; Kissa is well-known to Jean-Claude; Ivy is one of her people with a stupid, mean streak; Bruce; Janos is an old foe of Jean-Claude's and is one of the rotting vampires along with Pallas and Bettina.
Rawhead and Bloody Bones is a fey boogeyman who eats naughty children.
The Cover and Title
Well the Celtic gravestone is certainly appropriate while the green haze over the cover feels like I'm looking at it with night vision goggles. I don't really see the point of the nude Anita sitting on the ground with her knees pulled up to her chest and her head down. The title is the center of it, the Bloody Bones roadhouse.
Related Posts