I received this book for free from the library in exchange for an honest review. This does not affect my opinion of the book or the content of my review.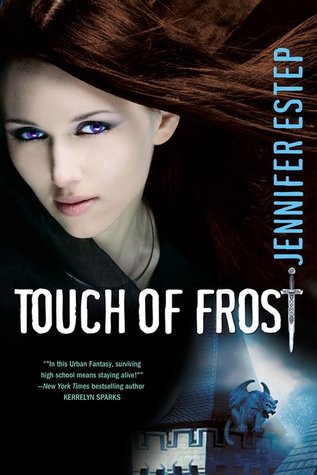 Touch of Frost
by
urban fantasy
that was published by
K-Teen
on August 1, 2011 and has 350 pages.
Explore it on
Goodreads
or
Amazon
.
Other books by this author which I have reviewed include
Spider's Bite, Web of Lies, Jennifer Estep, Venom, Karma Girl, Tangled Threads, Spider's Revenge, Kiss of Frost, Hot Mama, By a Thread, Dark Frost, Widow's Web, Crimson Frost, Deadly Sting, Midnight Frost, Heart of Venom, The Spider, Killer Frost, Tan­gled Dreams, Tangled Schemes, Spider's Bargain, "Poison", Spider's Nemesis, "Wasted", Web of Death, "Web of Deceit", Black Widow, Poison Promise, Cold Burn of Magic, The Spider's Trap, Dark Heart of Magic, Bitter Bite, Unraveled, "Nice Guys Bite", Bright Blaze of Magic, Snared
First in a new urban fantasy romance series for young adults, Mythos Academy is based in an elite and very posh boarding school just outside Asheville, North Carolina, for the descendants of "mythical" heroes.
My Take
The school has all the usual drama of any other high school with a strong hint of Mean Girls and a bit of Percy Jackson and the Olympians. The most important message I see in this story is of being kind and decent to others. None of the "mean girls" is very happy and Daphne is pretty quick to notice this—some interesting bonding occurs in the run up to Homecoming.
Certainly an interesting blend of boarding school and the warrior mystique. I am anxiously looking forward to Kiss of Frost when it comes out in December 2011. I certainly want to know what Logan's problem is! I also think Oliver Hector, another Spartan, has an interest in Gwen. I mean, the way he's acting in Gwen's private tutoring sessions…
Part of the students' reactions to Jasmine's death is explained by Carson…too sad and, yet, so very reasonable sounding. By the end, we do learn just why it is so important to Professor Metis and Grandma Frost that Gwen attend the school.
The Story
The most popular girl in Gwen's class is killed and the Bowl of Tears, an ancient artifact used by Sigyn, Loki's wife, to prevent some of the pain suffered by her husband as punishment for the first Chaos War, is stolen.
Gwen is appalled at the lack of interest by the other students. It's just not right. So even though the victim barely acknowledged Gwen's existence, Gwen pursues her own investigation using her gift of touch breaking into dorms and computers, spying. And what she learns…oh lordy…
Then there's Logan Quinn. No one wants to bug him for fear of his killing them and, yet, everywhere Gwen turns she seems to be bumping into him…and he's responding to her.
The Characters
Gwen Frost, the latest in a long, looonnng line of Gypsies blessed with a gift — hers is psychometry, loves her comic books. That gift makes dating difficult as she knows everything he's thinking, if she's touching his skin. Grandma Frost, a psychic reader and excellent baker, is Gwen's last living relative; her mother, a police detective, was killed a few months ago by a drunk driver.
Mythos Academy is…
…a school that provides the standard educational subjects and includes pertinent ones as well. Myth-history with Professor Metis, who has her own personal history that crosses with Gwen. Coach Ajax teaches weapons training. Nickamedes runs the Library of Antiquities where Gwen works several nights a week to help pay her tuition. He doesn't seem to like Gwen and constantly gives her crappy jobs. Of course, Gwen is usually 10 minutes late to work every time…
The students are a combination of Spartans, Valkyries, Vikings, Amazons, Romans, ninjas, and more. Some of whom are of the Pantheon while others are secretly Reapers. One of the students, Logan Quinn is the "very sexy, very dangerous" Spartan who keeps track of the girls he beds by signing their mattresses; he has a mixed message for Gwen. The reigning high school princesses are all Valkyries: Jasmine Ashton, Morgan McDougall, and Daphne Cruz. Carson Callahan, a Celt with an affinity for music, and Samson Sorenson, one of the Vikings with a lousy sense of honor, are two of the male students.
There are two sides in their world: the Reapers of Chaos (bad guys who follow Loki) and the members of the Pantheon.
The Cover and Title
The cover has a very clean look to it: the school and a gargoyle provide a base with Nike's sword pointing the way to Gwen of the heart-shaped face and glossy, deep brown hair as she slants a look out at us. The title is perfect as Gwen Frost does have a Touch.
Related Posts