I received this book for free from the library in exchange for an honest review. This does not affect my opinion of the book or the content of my review.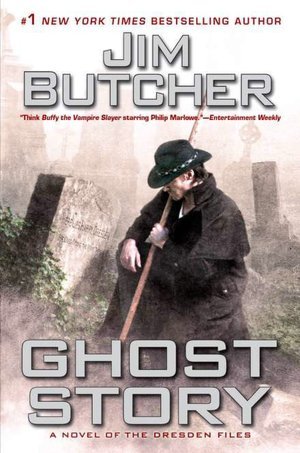 Ghost Story
by
It is part of the
The Dresden Files #13
series and is a
urban fantasy
that was published by
ROC
on July 26, 2011 and has 481 pages.
Explore it on
Goodreads
or
Amazon
.
Other books by this author which I have reviewed include
Mean Streets, Changes, Side Jobs, Dark and Stormy Knights, Aftertaste, Hex Appeal, Welcome to the Jungle, Dangerous Women, Storm Front, Grave Peril, Summer Knight, Fool Moon, Cold Days, Skin Game, Blood Rites, Death Masks, Proven Guilty, White Night, Small Favor, Shadowed Souls
Thirteenth — how appropriate is that!! — in the Dresden Files, an urban fantasy set in Chicago. The focus is on Harry Dresden, professional wizard. If you're interested, there is a chronological listing of The Dresden Files books on my website.
If you can, read Changes and then the short story, Aftermath, in Side Jobs before reading Ghost Story. The first is referred to constantly throughout Ghost Story and the second helps provides some supporting background for what Harry's friends have been suffering through.
My Take
Oh, I just hated this one. I want Harry back!! I felt so helpless following Harry around although Harry did learn quite a bit about his value as well as his kindnesses. Not that they were always the best. He/we also learned a lot about his style of battle and he began to learn from it. It will be interesting to see how many of his lessons carry on with him into the next installment.
I did like the reference to Crombie&#8230that Anthony sure gets around!
The Story
Harry's dead. Isn't he?? All the police or Murphy found are bullet holes and blood aboard Thomas' yacht where Harry was staying. But then Harry finds himself in Between with the option to return to Chicago. Find his killer. Being Harry he takes it. Even though he can only come back as a ghost without his power. Without the ability to interfere or help.
And even as a ghost, Harry finds a way to kick ass.
The Characters
Detective Carmichael and Captain Murphy [nope, not that Murphy!] are both encountered in Chicago Between.
Mortimer Lindquist is an ectomancer and is Harry's first hope of communicating with his friends but first Harry must get past Sir Stuart, an hundreds-of-years-old ghost bent on protecting Morty.
Bob has been inherited by Butters and they seem to make a great pair in the fight to keep Chicago safe. Will (formerly known as Billy) and Georgia Borden and Marci of the Alphas along with Karrin Murphy, Father Forthill, Molly Carpenter and her brother Daniel have formed an alliance with Marcone and his people to fill in for Harry and protect Chicago. Abby represents the Paranet. Even Felicia of the White Court seems to be providing information.
Karrin is falling apart under the stress and firmly believes that Harry is still alive (she's also taken in Mister) while Molly has become the Ragged Lady after cracking under the stress of the battle at Chichén Itzá.
The enemies are the Fomor who are thrilled that Harry Dresden is no longer protecting Chicago and they are testing its defenses…and them defenses ain't doin' too hot. There's also the Grey Ghost who controls wraiths and lemurs while treating with the Fomor.
Fitz appears to lead the gang which fired at the people meeting at Karrin's house. He doesn't seem to be particularly happy about their leader, Baldy who is a minor league wizard.
Nick Christian is Harry's old mentor when he was first breaking into the PI biz.
Leanansidhe is Harry's godmother and has taken over Molly's training; Harry learns that being kind when he was training his apprentice was, in the end, very unkind.
Kincaid, a Hellhound who protects Ivy, the Archive, also plays a minor but important role. He's also Murphy's old boyfriend.
The Cover and Title
The cover and title are very appropriate to the story: Harry is in his trademark hat and leather coat with his staff kneeling at his gravestone and, well, it is his Ghost Story.
Related Posts