I received this book for free from the library in exchange for an honest review. This does not affect my opinion of the book or the content of my review.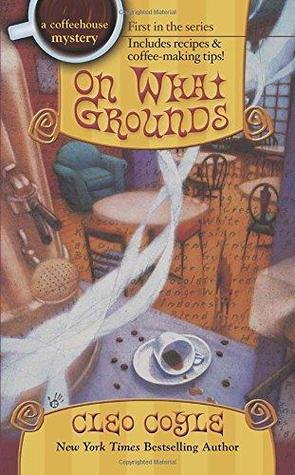 On What Grounds
by
cozy mystery
in
Paperback
edition that was published by
Berkley
on September 2, 2003 and has 275 pages.
Explore it on
Goodreads
or
Amazon
.
Other books by this author which I have reviewed include
Through the Grinder
,
Latte Trouble
,
Murder Most Frothy
First in the Coffeehouse Mystery series set inside an historic coffeehouse in Greenwich Village in New York City.
My Take
Clare is obsessed with telling us all about coffee. Now, I don't like drinking coffee unless I've added so much milk, sugar, and/or flavorings that there is not much coffee left, but I do adore the smell of it! And the history and culture behind it is fascinating.
What I did not enjoy was Clare's clumsy detecting nor Coyle's clumsy writing; she's got more finesse in writing the creation of an espresso than in moving through a scene. That said, I did actually enjoy the story as a whole. The tension between Clare and her ex- is too obvious, but I am curious as to where Coyle is taking it. Especially with Quinn's reticence and seemingly taken state.
The Story
Madame has convinced Clare to come back to her old job as the manager for the family coffeehouse, Village Blend, in Greenwich Village. Part of the incentive is a 15% ownership in the coffeehouse and free housing — the top two floors of the townhouse above the coffeeshop. Only, Clare quickly discovers that Madame has made the same offer to Matteo, Madame's son. Clare's ex. Seems Madame is up to her old tricks trying to reunite Clare and Matt.
Of course, she finds this out after she discovers Anabelle, her day manager, barely breathing at the foot of the basement stairs. An incident the police label as an accident when Clare knows it isn't. Anabelle is just too graceful to take a header like that!
The Characters
Clare Cosi is Matteo's ex-wife, and she's going back to work for his mother, Madame, at Village Blend, the family's historic coffeehouse in Greenwich Village. Matteo Allegro is the coffee buyer for Village Blend and rarely in town. He's also a hunk and into anyone's bed; the reason for their divorce. Joy is their 19-year-old student-chef daughter who brings her new boyfriend, Mario Forte (also a chef), to dinner with her parents where he proceeds to alienate both of them.
Tucker Burton is their gay night barista; Anabelle is the new day manager with some unexpected issues with her boyfriend — everyone else refers to him as The Dick. Her venal stepmother, Darla Branch Hart, is in town and threatening Village Blend's obviously poor employee safety situation. Eduardo Lebreux used to work for Madame's deceased husband and recommended Moffat Flaste, the last, extremely incompetent manager of VB with secret instructions and some evil plans.
The police called in to investigate Anabelle's accident include Detective Mike Quinn who seems to be unwillingly attracted to Clare — and doesn't that just piss Matteo off! — and Officers Langley and Demetrios who gain an immediate appreciation for a good Greek coffee.
The Cover and Title
The cover is rather fun with its lighthearted depiction of a cozy sitting area, Java the cat posed on all fours in the middle of the floor. A floor covered in the names of coffee beans. In the foreground, is a huge, copper espresso machine all focusing on an espresso cup on its side in a saucer. Steam from the espresso machine twines up towards the signboard displaying the title.
I do like the title as it suggests so many things. On What Grounds could refer to Clare and Matteo's relationship or whether Annabelle's death is an accident or homicide or simply a reference to this first novel in the Coffeehouse Mystery series.
Related Posts