I received this book for free from the library in exchange for an honest review. This does not affect my opinion of the book or the content of my review.
This book may be unsuitable for people under 17 years of age due to its use of sexual content, drug and alcohol use, and/or violence.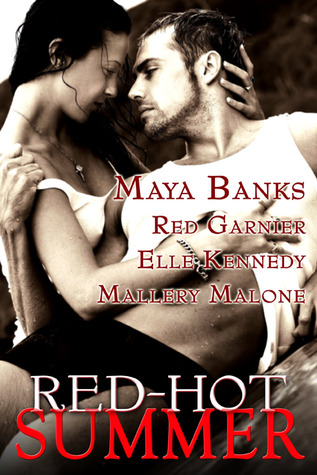 Red-Hot Summer
by
erotica
in
Paperback
edition that was published by
Samhain Publishing
on April 1, 2009 and has 267 pages.
Explore it on
Goodreads
or
Amazon
.
Other books by this author which I have reviewed include
Sweet Surrender
,
Colters' Woman
,
Sweet Persuasion
,
Sweet Seduction
,
In Bed with a Highlander
,
Darkest Hour
,
Seduction of a Highland Lass
,
Colters' Lady
,
No Place to Run
,
Hidden Away
,
Men Out of Uniform
,
Never Love a Highlander
,
Brazen
,
Sweet Temptation
,
Whispers in the Dark
,
"Colters' Wife"
,
Colters' Promise
,
Echoes at Dawn
,
Undone By Her Tender Touch
,
Four Play
,
Cherished
,
The Tycoon's Pregnant Mistress
,
Never Seduce a Scot
,
Highlander Most Wanted
,
"Softly at Sunrise"
,
Shades of Gray
,
Rush
,
Fever
,
Forged in Steele
,
Burn
,
Colters' Daughter
,
Colters' Gift
,
Be With Me
,
When Day Breaks
,
After the Storm
,
Taking It All
,
Keep Me Safe
,
Darkest Before Dawn
,
Enticed by His Forgotten Lover
,
Sweet Possession
,
Sweet Addiction
,
Legally Hot
Four short stories revolving around love and romance in the summertime.
Series:
"Reckless" (Brazen, 2)
The Stories
Maya Banks' "Reckless" is a cute story about a young woman who will not let her brother's best friend off the hook. Nikki has loved J.T. since she was 12 and now that she's graduated from college there's no reason they can't take it to a more heated level.
Red Garnier's "Color My Heart" is an execution of abstract art and emotion for a young woman who refuses to tie her heart to one man. And the best way to get one man out of her heart is to take up with another hunk. But Billy doesn't care, he wants Hannah and if it takes letting another man in her bed…he doesn't mind watching.
Elle Kennedy's "Heat of the Moment" is pretty revealing when Shelby and Garrett find out they've spent the past year misinterpreting each other's signals the night Shelby takes him and Carson to her apartment above the bakery for some decidedly non-vanilla sex.
Mallery Malone's "Lady Sings the Blues" is an exploration of the senses when the hot and sexy Miss Scarlet discovers just how very tactile the blind blues singer can be with his hands and his lips.
The Cover and Title
The cover is definitely sexy with the dark-haired beauty in the white tank top curled up in a cozy moment with the unshaven artsy type.
As for the title, oh yeah, it is a "Red-Hot Summer" for all four ladies and their men.
Related Posts