I received this book for free from the library in exchange for an honest review. This does not affect my opinion of the book or the content of my review.
This book may be unsuitable for people under 17 years of age due to its use of sexual content, drug and alcohol use, and/or violence.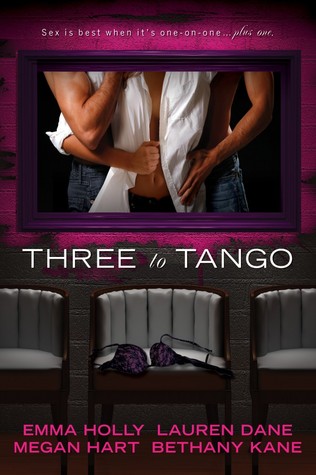 Three to Tango
by
erotica
,
short stories
that was published by
Berkley HEAT
on May 3, 2011 and has 346 pages.
Explore it on
Goodreads
or
Amazon
.
Other books by this author which I have reviewed include
Beyond the Dark, Hot Blooded, Beck & Call, Cherished, Insatiable, Lush, Laid Bare, Tempted, Precious and Fragile Things, Broken, The Space Between Us, Vanilla, Naked, An Erotic Collection Volume 1
An anthology of four short stories of reunions and erotic romances revolving around threesomes in some way, shape, or form.
The Stories
Lauren Dane's "dirty/bad/wrong" is a sweet tale of a woman coming home to bury her slut of an alcoholic mother. She ran away years ago from a threesome with her two best friends and now she's coming home again.
Megan Hart's "Just For One Night" is an odd one. Very sad and yet quite hopeful. Kerry's boyfriend, Jeremy, wants her to fuck her high school crush when she goes to her school reunion. Then he wants to hear all about it. When he realizes how much Kerry enjoyed it, he encourages her to continue seeing Brian and Kerry finally concedes, but she does confess to Brian why she's seeing him. Brian finally forces a meet and an ultimatum. This one is the antithesis of the threesome.
Emma Holly's "Flipping for Chelsea" is another sad and sweet story of a brilliant young woman heading off to college, leaving her two best friends behind, but only after they experience a night the three of them will never forget. A night one of them must process and come to a decision.
Bethany Kane's "On the Job" is different! Madeline's old boyfriend is back in town, and her current boyfriend has hired him as her bodyguard. It's a situation that quickly goes topsy-turvy, for Walker is there undercover for the Secret Service.
The Cover
The gray and fuchsia cover makes me think of a movie theater with its row of seats, a black lace-over-fuchsia bra tossed on one of the chairs except that the "screen" is above and behind the chairs displaying a woman with her white cotton shirt open, just hinting at the naked flesh underneath while on either side of her stands a man in faded blue jeans and naked from the waist up as they embrace her.
The title is rather obvious since all the stories are about threesomes so it would indeed take Three to Tango.
Related Posts