I received this book for free from the library in exchange for an honest review. This does not affect my opinion of the book or the content of my review.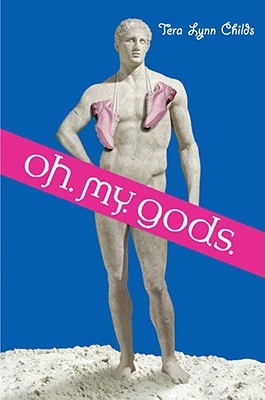 Oh. My. Gods.
by
mythic fantasy
that was published by
Dutton Juvenile
on May 1, 2008 and has 272 pages.
Explore it on
Goodreads
or
Amazon
.
First in the Oh. My. Gods. young adult mythic fantasy series revolving around Phoebe Castro, supposed to be a senior in high school in California, thank you very much!
In 2009, Oh. My. Gods. won the RITA Award by Romance Writers of America for Best First Book and was nominated for the Young Adult Romance. In 2008, it won the OKRWA National Readers Choice Award for Best First Book & Young Adult.
My Take
Teen angst and separation anxiety combined with having to try and fit in with a new school.
Oh please. Phoebe's mother is so ….oh, I can't even think of a polite word I can use to describe how cruel I think her mother is being and as for her lousy excuses! Well. Her mother claims that she's worried about Phoebe going off to college — in California — with her two best friends and having it be such a shock for poor Phoebe. So mom intends to "fix" this by giving Phoebe less than a month to pack up everything precious to her — uh, only four boxes — and move to a new school. In Greece. On a tiny island. Serfopoula. All because Mom just can't wait a whole year to be with her new boyfriend. But it's okay if she uproots Phoebe from absolutely everything she's ever known with almost no notice! Personally. I wouldn't have been nearly as nice as Phoebe was to her mother.
All of which is a lovely way to set the reader up for the drama and tension of the move, and Phoebe's attempts to make friends with a bunch of snobs.
The Story
Running is Phoebe Castro's life, and it's as she crosses the finish line at USC's final race for cross-country summer camp that she discovers her life is about to undergo major changes. Mom has fallen in love with some Greek guy at her dad's family reunion. And her mom is moving to Greece. With Phoebe.
Nothing Phoebe says sinks into her mother's head. She just doesn't get it. And there's worse yet to come. Well, worse than the evil stepsister. It turns out that the academy is strictly for the descendants of gods. Of which Phoebe is not one. She's also the only one without any powers, so she's defenseless against whatever her fellow students might want to do to her. The curriculum is just about over her head as well, and she needs that B-average and a successful season in cross-country, if she wants that full scholarship to USC next year!
Thank god for Nicole and Troy helping her navigate the tricky shoals of the cliques in this school too. It's the usual jocks, geeks, and freaks, but it's all divided by which god from whom you're descended. The Zeus and Hera set. Poseidon's bunch. Be sure to stay away from the Hades harem. As for Hephasestus' clique…
Phoebe has reason to still more grateful for her two new friends after she tries out for the cross-country team, and a fellow teammate plays some nasty tricks on her. She's about ready to give up when she overhears her coaches talking about her. It seems she might still have a chance. Probably her only chance as she still has to cope with the issues and problems inherent in her new school. The betrayals that Stella sets up. The demand her mother makes of her. The mockery. Phoebe just prays she can do well enough to get that scholarship and get out.
The Characters
Granola "Nola" and Cesca are Phoebe Castro's best friends. They've gone to the same schools since kindergarten, and they have firm plans to go to CSU when they graduate. Her mother is a widow and works as a therapist. Her dad, Nicholas Castro, the San Diego star running back, died while playing football. Damian Petrolas is the Greek hunk whom her mother met while she was at her dad's extended family reunion. He's also the headmaster of the academy. Naturally, Damian has a nasty daughter, Phoebe's new stepsister Stella.
Nicole is her first friend on the island soon followed by Troy who wants to be a musician while his parents expect him to follow in Asklepios' line of healers. Griffin Blake is on the cross-country team and heavily involved with Adara Spencer, a friend of Stella's and another bitch.
The coaches on the Academy's track and cross-country teams include Coach Zakinthos and Coach Leonidas "Lenny".
Jerky Justin is Phoebe's ex- and next-door neighbor in California. Him she won't miss.
The Cover and Title
The cover is a dead giveaway that this is strictly for fun with its bright blue background, the nude marble statue of a Greek athlete standing in white sand with the pink sneakers draped around his neck as a bright fuchsia sash angles across the naughty bits carrying the book's title in white.
The title is perfect in its teen-speak accurately reflecting Phoebe's reaction to learning that the descendants of Oh. My Gods. are the only students in her new school.
Related Posts