I received this book for free from the library in exchange for an honest review. This does not affect my opinion of the book or the content of my review.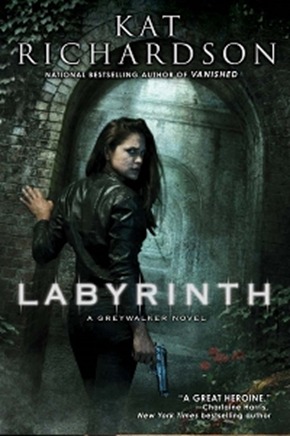 Labyrinth
by
urban fantasy
that was published by
ROC
on August 3, 2010 and has 368 pages.
Explore it on
Goodreads
or
Amazon
.
Other books by this author which I have reviewed include
Mean Streets, Greywalker, Poltergeist, Underground, Vanished, Downpour, Seawitch, Possession, Revenant, Indigo
Fifth in the Greywalker urban-fantasy series and revolving around Harper Blaine, a private investigator who walks between worlds.
My Take
I can't help it. I just love this series. Richardson has created such a unique culture in Greywalker with its vampires such a very minor part of it.
Instead, Richardson uses the magic of a world between ours and Other to build her scenarios and torture with tension…for she's shown us that she is not averse to killing off important characters. Nor does she hold back on the hurt even as she provides us with real world lives.
The Story
The prologue provides us with the action in Seattle on Quinton's end while Harper was pursuing Edward's problems in London. And the action is hell, for the vampires are pursuing Quinton and his stunner is no longer working as it should.
Almost the moment Harper sets down at Sea-Tac, she's heading to Edward's office but only Goodall is available who puts her off with the news that Edward isn't. Available that is. No one had planned on Harper surviving.
It's the siege at Harper's condo that sends them fleeing the astetem and seeking refuge with the Danzigers, but it's only partly safe for Harper is hearing voices. Voices that pluck away at her mind, whispering in her head, remembering, dropping hints in her ear to help Harper find her path, the labyrinth that would lead her to the solution.
It takes hints and gifts from those involved to find a relief for everyone.
The Characters
Turns out that Harper Blaine has died several times. All as part of Wygan's plot to use her. Quinton is an escapee from the NSA and applies his brilliance to his own projects; he's the guy Harper calls when she needs creative technology…and a booty call. Chaos is her tube rat, her fuzz butt, the little carpet creeper, a lovely kneesock of a chuckling ferret with a passion for shoes.
Edward Kammerling is the head of the Seattle vampire community as well as a power in the human side with his huge development company. He left all his European business holdings in a friend's hands and something's happened to him. Bryson Goodall is Edward's chief of security in Seattle. Carol Linzey is one of Edward's secretaries with a strong sense of self-preservation. Carlos Pires Ataíde is a vampire necromancer who has been mentoring Cameron. Harper has found the Lâmina que Consome as Almas, part of the disaster in Seville. The reason Carlos hates Edward. Sarah is Cameron's sister and friends with Lady Gwendolyn the Anorexic-no-More. Drusilla Cristoffer is Edward's blood mage; not a woman Harper wants to be around but she owns the other puzzle ball. She knows where the labyrinth is located.
Wygan is the Pharaohn, the leader of the astetem, a stronger but slower vampire. He's the white worm-man of her father's nightmares. Simondson is a ghost trapped by his own evil; only Harper can free him. Only Harper will free him providing he performs a service for her.
Ben and Mara Danziger are a professor of the paranormal and a witch while their son Ben can be a monster; they're friends of Harper's and help her understand the magic that twines about the Grey. Another of Harper's friends, Phoebe owns Old Possum's Books and Beans, a used bookstore.
Will Nolan is Harper's ex-boyfriend. In Vanished, 4, Alice kidnapped and tortured Will to destroy Harper. Now, he'll never recover but he can't keep away from Harper, needing her help. Charlie Rice is one of Will's friends and the owner of an antiques warehouse forced to call the cops on Will. Detective Rey Solis is with Seattle Homicide and is rather suspicious of Harper and her connections to some really odd cases. Harper's neighbor Rick and his dog Grendel come to the rescue.
The Cover and Title
The cover has a transparent black metallic sheen shading the greenish-silver background of arched brick openings from which Harper looks back at us as she prepares to enter the promenade. She's looking quite sexy in her fitted black leather jacket and form-fitting pants, her right hand holding a gun pointing down.
The title is a literal interpretation of a puzzle facing Harper, a Labyrinth she must tread to save her father.
Related Posts