I received this book for free from the library in exchange for an honest review. This does not affect my opinion of the book or the content of my review.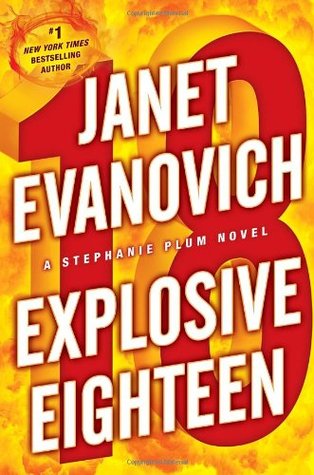 Explosive Eighteen
by
romantic suspense
in
a hardcover
edition that was published by
Bantam
on November 22, 2011 and has 305 pages.
Explore it on
Goodreads
or
Amazon
.
(This post contains affiliate links you can use to purchase the book. If you buy the book using that link, I will receive a small commission from the sale.)
Other books by this author which I have reviewed include
Smokin' Seventeen, Love in a Nutshell, Wicked Business, Notorious Nineteen, The Husband List, The Heist, Takedown Twenty, The Chase, Pros and Cons, Top Secret Twenty-One, The Job, Two for the Dough, Stephanie Plum #3 – #7, Visions of Sugar Plums, Wicked Charms, Love Overboard, Stephanie Plums, Plum Spooky, , Tricky Twenty-Two, The Pursuit, The Scam, Curious Minds, Turbo Twenty-Three, Dangerous Minds, Hardcore Twenty-Four
Eighteenth in the Stephanie Plum comedic romance suspense series revolving around a female bond agent and her sidekicks. The series is based in Trenton, New Jersey.
My Take
It's all about a photo of some guy that ends up in Stephanie's carry-on. Now all sorts of nasty people are after Stephanie. Including two separate teams of FBI agents.
Okay, it's taken a step up from the past three miserable installments and there were some laughs, but it's still feeling tired. Evanovich still hasn't put the heart back in this story. The sex was…hmmm…not as good as the earlier stories and Steph's still having it off with both Ranger and Morelli in the same story — even though she claims she's swearing off men. Evanovich is building more restraint into Morelli in this story. He's still interested in Stephanie, but he keeps talking about the stresses of his job and the frustration of Steph's work. Ranger seems to be mellowing into Stephanie.
There was only one cake and Stephanie never did get to eat it; there was more fast food eating than in Smokin' Seventeen. I only remember one dinner with company at her parents. We never saw Albert or Valerie. Vinnie was barely there. Heck, we usually get a lot more snarky comments about Vinnie.
Evanovich definitely kept the tension on as far as events in Hawaii. It was my main purpose in continuing on with the story. I was just dyin' to know what happened and Evanovich just kept dribbling it out in small chunks. Once the truth comes out…hoo, hoooo…Hawaii must'a been somethin' else! It's too bad we don't go much of anywhere with it. I guess Evanovich is savin' it up for Nineteen.
Oh man, wait'll you get to the scene where Stephanie whales on Raz…no one messes with our Steph!
What's with Stephanie's inability to say "no" to Barnhardt? Call the cops on her.
As much as I have enjoyed Stephanie and her ineptness in the past. I gotta wonder if she'll ever learn to keep her pepper spray handy and her car keys in her pocket.
The Story
Something went wrong in Hawaii. Two men. A tan line on her ring finger. And some really obnoxious fellow passengers on her flight back. And two different FBI teams trying to get into her apartment.
There is one bright spot in her day though, Joyce Barnhardt got arrested and now she's FTA. Stephanie and Lula can go after her. Now, if they could just keep Stephanie's RAV4 from being stolen by Buggy. And keep the bad guys from breaking into her apartment. Including a manipulative Joyce and a hungry Morelli.
All the rest, Ranger rescuing her including a little some-some in the closet and Morelli slipping naked into her bed, is just icing on the non-existent birthday cake.
The Characters
Stephanie Plum is a rather happy-go-lucky woman in lust with two really hot men. To pay the bills, she works as a bounty hunter and mooches a lot of dinners off her parents. Rex is Stephanie's pet hamster. And we don't get the interactions with him anymore either.
Joseph Morelli is a Trenton cop who has been in and out of Stephanie's life since she was 6. An incredibly sexy cop whom Stephanie figures could be good husband material. He's been buying Pepto by the case trying to cope with the trouble Stephanie keeps getting into. Ranger, a.k.a., Carlos Manoso, is former Special Forces and Superman as an enforcement agent and in bed. And definitely not husband material. So far, Morelli and Ranger have an odd relationship. They both love Stephanie and want her in their beds with Ranger depending upon Morelli to distract her from the whole marriage idea and Morelli depending upon Ranger to protect her. Until Smokin' Seventeen, Stephanie was with one or the other, never both at the same time. The love scenes were more suggestive then; now, it's simply a mention.
The Plum family appearing in this installment includes her father — he actually smiles in this one!, Mom is really knockin' back the liquor, and Grandma has taken up bowling and is thinking of becoming a cougar. Vinnie is her weasel of a cousin. He runs the bail bonds office where Stephanie works, but after some inadvisable choices, Vinnie is definitely under his father-in-law Harry the Hammer's thumb and his wife Lucille owns him.
Connie Rosolli runs the bail bonds office and knows all the New Jersey mob scuttlebutt — her family is connected. Salvatore DeAngelo is the contractor supposedly rebuilding the bail bonds office that got torched. He's a pretty scummy guy. Kind of a match made in heaven with Vinnie… Lula is a generously-sized woman whose hair color changes on a regular basis and whose clothes are usually letting her bust out all over. She's much too handy with her gun even if she can't shoot straight and all her problems can be handled with more food. And, lately, she's been missing in action as the really funny comic relief while Stephanie's straight man is getting pretty stiff.
Joyce Barnhardt has been the ultimate enemy since she and Stephanie were kids. She has no morals. Of any kind. Seems Joyce has been…*ahem*…officially naughty while Steph's been in Hawaii. Annie Hart thinks she's Cupid; she's also on Grandma's bowling team — the Ladies with Balls. Frank Korda is a missing jewelry who has been noticed spending time with Joyce. Joyce claims he was part of the Pink Panther jewel theft ring.
Magpie, a.k.a., Donald Grezbek, Lahonka Goudge, and Lewis "Buggy" Bugkowski are three of the FTAs that Lula and Stephanie are supposed to pick up. FBI agent team #1 is Lance Lancer, a.k.a., Mortimer Lancelot, and Sly Slasher, a.k.a., Sylvester Larder. Uh-huh, right. Team #2 is Bill Berger and Chuck Gooley — Morelli reckons Gooley "eats out of dumpsters and fucks feral cats".
Richard Crick is an unfortunate passenger who never got back on the plane in LA. Now his "grieving" fiancée Brenda Schwartz is after the photograph. For sentimental reasons. She's also trying to protect her son Jason. Manny Rosolli runs the junkyard, which seems to have a very quick turnover in compacted vehicles. Andy Kulicki works for Manny. Razzle Dazzle, a.k.a., Raz, a.k.a., Archie Ahmed, is bad guy #2 harassing Stephanie for the photograph; the FBI suggests that the next time Stephanie finds him in her apartment, she just shoot him. Chester Billings owns a gourmet food-distribution company, but that's not the end of his interests.
It was Tootie Ruguzzi's appearance in Hawaii that started Stephanie's issues. Vinnie's been looking for her and her husband The Rug, a.k.a., Simon Ruguzzi, as he's a high-bond FTA. But it's Sammy the Pig who started the brouhaha of this story.
The Cover and Title
The cover is a background of explosive yellow and oranges flames with a giant three-dimensional deep red and oranges eighteen with the author's name and tile in a shadowed white.
The title is accurate for Stephanie does have herself in an explosive situation.
Related Posts