I received this book for free from the library in exchange for an honest review. This does not affect my opinion of the book or the content of my review.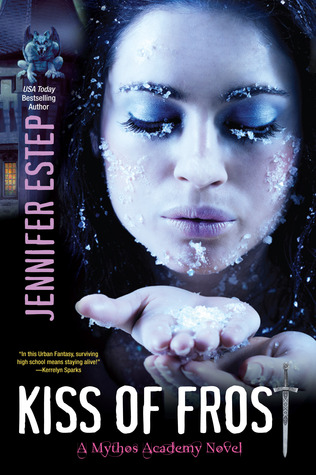 Kiss of Frost
by
urban fantasy
that was published by
K-Teen
on November 29, 2011 and has 337 pages.
Explore it on
Goodreads
or
Amazon
.
Other books by this author which I have reviewed include
Spider's Bite, Web of Lies, Jennifer Estep, Venom, Karma Girl, Tangled Threads, Touch of Frost, Spider's Revenge, Hot Mama, By a Thread, Dark Frost, Widow's Web, Crimson Frost, Deadly Sting, Midnight Frost, Heart of Venom, The Spider, Killer Frost, Tan­gled Dreams, Tangled Schemes, Spider's Bargain, "Poison", Spider's Nemesis, "Wasted", Web of Death, "Web of Deceit", Black Widow, Poison Promise, Cold Burn of Magic, The Spider's Trap, Dark Heart of Magic, Bitter Bite, Unraveled, "Nice Guys Bite", Bright Blaze of Magic, Snared
Second in the Mythos Academy urban fantasy series for young adults about a teen suddenly thrust into an elite boarding school.
My Take
Kind of felt like Estep is channeling Richelle Mead's Vampire Academy series. Instead of vampires, it's gods and goddesses as Gwen Frost learns more and more about the elite world into which she has suddenly been thrust.
The series' theme is Reapers against the Pantheon with the Reapers working at breaking Loki free to plunge the world back into the Wars of Chaos. The Pantheon, Gwen's side, works to police and preserve the world.
In Kiss of Frost, Gwen discovers a new power, clears up several emotional issues, and fights off yet more attacks. All within the hard, cruel world of high school! She also learns the truth about her mom and Nike explains the contest between the Reapers and the Pantheon, ending with a quest for Gwen.
Okay, I know that authors need to throw tension in and, in most genres, the author has the protagonist decide against sharing information with someone who can help him/her. But it makes me nuts! I don't know if I've simply read too many stories and that's what makes it seem so ubiquitous or it really is rife and overused.
Oops, funny how a legitimate reaction can have such far-reaching consequences. Especially when one is reacting from anger and hurt feelings. Then there's that scene where Logan and Gwen run off leaving Oliver behind…what's with that?
The Story
Well, that's one way to get a little oomph behind your arrow! Get angry when the guy you love starts making out with his latest girlfriend!
Then to add insult to injury, a black SUV tries to run Gwen down outside her Grandma's house followed by an attack in the library. Jeez, her Grandma and Professor Metis thought they were protecting her by putting her in Mythos Academy — it's more dangerous in the school!
Now, Daphne is insisting that Gwen needs to come to Winter Carnival. As if. She and Carson are the only people who even speak to her. She doesn't know how to ski. Why should Gwen make up a third wheel when there's no one else for her to hang with all weekend? But Daphne isn't taking 'no' for an answer and Gwen gets dragged off for a 'festive' weekend. With an opportunity to try out that new power she's been using in archery. Actually, Gwen gets several opportunities with a side benefit with the Fenrir wolf that attacks.
Still, there are some social benefits when Gwen meets a hot guy from the New York school. He wants to meet up at different parties, have lunch, go off to a secluded corner…and make Logan sit up and take notice.
The fun and games ends however. And Gwen learns the truth behind her mother's death that night. It's one way to start winter break. Knowing that everyone around you was lying.
The Characters
Gwen Frost is a touch sensitive, psychometric magic that allows her to "read" any object she touches. Seems her magic is growing, too, as she learns a powerful side benefit to her ability. We've learned that she's Nike's Champion. Vic is the name of her talking sword. Grandma Frost is Gwen's last living relative. A Gypsy, she sees into the Future and is a killer baker. Her dad, Tyr Forseti, died of cancer when Gwen was a kid; her mother, Grace Frost, was a cop when she died after a drunk smashed into her car some months ago.
Logan Quinn is a Spartan, a man-whore (there's a rumor that he's signed the mattress of every girl he's slept with so he can keep track), and Gwen's tutor in swordplay. Gwen fell in love with him in Touch of Frost. And was rebuffed as well. Savannah, an Amazon, is Logan's latest girlfriend. Oliver Hector, a Spartan, is in love and desperate to distract Gwen from the one with whom he's in love. Kenzie Tanaka is also a Spartan and best friends with Oliver and Logan; he's tutoring Gwen in archery.
Daphne Cruz is a Valkyrie and became Gwen's BFF in Touch of Frost; Carson Callahan, a Celt and a band geek, is Daphne's boyfriend. Morgan McDougall, another Valkyrie, is the school slut; Samson Sorensen is one of the hot guys on campus; and, Helena Paxton, an Amazon, is working for the title of top mean bitch.
Nickamedes is the head librarian where Gwen works part-time; the idea is that the library is a great place for Gwen to meet a lot of kids. Hah! Nickamedes hates Gwen! Professor Metis was one of Gwen's mom's best friends; she's also the Champion for Athena. Coach Ajax is also there to help.
Preston is one of the hot guys who shows up at the Powder hotel during the school's break for Winter Carnival. And he is very interested in Gwen. Could be a great rebound from Logan's rejection!
Reapers of Chaos are the bad guys, the followers of Loki. They are working to break the seven seals that prevent Loki from destroying the world. They've tortured and abused most of the monsters of the mythic world into working for them, including the Fenrir wolf (shades of Harry Potter!).
The Cover and Title
The cover is definitely Frost-y with Gwen closing her eyes and puckering up to blow the ice crystals off the palm of her hand. Just a glimmer of a building appears in the upper left corner with a scary-looking gargoyle snarling at us.
The title is a Kiss of Frost for Gwen discovers some kisses can bite.
Related Posts