I received this book for free from the library in exchange for an honest review. This does not affect my opinion of the book or the content of my review.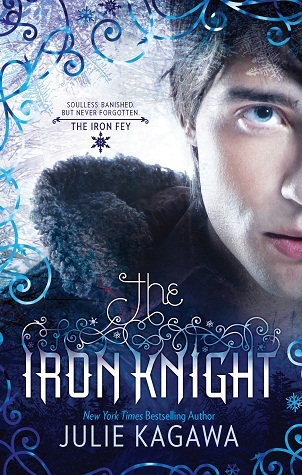 The Iron Knight
by
urban fantasy
in
Paperback
edition that was published by
Harlequin Teen
on October 26, 2011 and has 400 pages.
Explore it on
Goodreads
or
Amazon
.
Other books by this author which I have reviewed include
The Immortal Rules
Fourth in the Iron Fey urban fantasy series for young adults revolving around a young human who's become the Fae Queen and a Fae prince, desperate to be human.
My Take
Ash is desperate to become human — it's the only way he believes he can survive the Iron Realms. Through his search and the ordeals he suffers, he (and we) learn what it is to be human. A gauntlet that leaves us wondering until the end which way Ash will sway. It'll make you laugh; it'll make you cry.
It's the power behind the fae. The history and future of Ariella. A lesson in friendship. It is Ariella who holds the key to Ash's future. He must choose life with Ariella or life with Meghan. His choice will have a great personal cost. One that each of us must make at that pivotal point in our own lives.
An interesting twist on what happens to those fae that no one remembers anymore — gives more credence to the Big Bad Wolf's aims! The River of Dreams has a touch of the River Styx to it as well.
Puck has a very Indiana Jones line — "Spiders…Why does it always have to be spiders?" followed by another IJ throwaway — "You have chosen…correctly" when they have a very Indiana Jones-like set of adventures before they get to the real trials. In some respects, the whole trial by ordeals was feeling a little same 'ol, same 'ol, but Kagawa gave this a nice twist as well — that "fun house" of mirrors! — and even twistier when we finally got to the final set of trials.
Do read the Survival Guide to the Nevernever at the end of the book. Very practical advice and ya never know when you might need it! And the whole is a lively, adventurous tale of honor, love, and friendship.
The Story
It's one adventure after another as Ash and Puck trek, race, and storm throughout the Nevernever and into the Deep Wyld seeking a way for Ash to be able to survive the touch of iron. For Queen Meghan has banished Prince Ash from ever entering the Iron Realm again, and he has sworn himself to her service. Compulsion, let alone love, demands that he pursue this quest.
Nor is it merely the physical perils that Ash must face for there are also the dreams, the nightmares that haunt his sleep, foretelling possibilities, revisiting past horrors forced upon him by an unknown entity.
The Characters
Prince Ashallayn'darkmyr "Ash" Tallyn, the last son of the Unseelie Court and determined to not even be that, as he searches for a way to survive the fatal iron of Meghan's metal lands.
Robin Goodfellow, a.k.a., Puck, is Meghan's closest friend and was once Ash's only and best friend. He's also the origin of the term "puckish" for Goodfellow is indeed a naughty trickster to whom no one is sacred. Until the day Puck got Ariella killed. Now he and Ash are rivals over the love of Meghan.
Grimalkin is a Caith Sidhe (my imagination pictures a Cheshire cat) who embodies all the irritating-ness of a cat with all its curiosity. He's also very loyal despite his mouth! Ariella Tularyn was Ash's first true love, and she accompanied Ash and Puck on their adventures. The Big Bad Wolf chooses to join their quest, strictly for the heroic tale advantage. Fighting trolls, wraiths, hobyahs, and protecting Ash will energize the spirit of the BBW filling him with power and longevity. The Guardian puts Ash through his paces, the gauntlet of tests to determine his worthiness of a human soul.
Meghan Chase is half-human, half-fey making her the ideal candidate as Queen of Mag Tuiredh, sovereign of the Iron territories and queen of the Iron fey. Beau is her dog while Kierran is their son. Diode is the hacker elf in charge of the castle's computer systems while Glitch is Meghan's First Lieutenant. Fix is a packrat and her chief adviser.
Queen Mab is the ruler of the Unseelie Court in Tir Na Nog, and Ash is her last remaining son. Titania and Oberon, Meghan's father, are the queen and king of the Summer Court. Thornguards were once Rowan's elite personal guard who had followed him into treachery with the Iron fey.
The Cover and Title
The cover is consistent with earlier stories with its light feeling of a crystalline snowy effect and frosty tendrils forming a border around former-Prince Ash in his fur-lined coat and that devilish, hopeful look on the right half of his face that we can see.
The title is true enough as he is already Queen Meghan's Iron Knight.
Related Posts