I received this book for free from the library in exchange for an honest review. This does not affect my opinion of the book or the content of my review.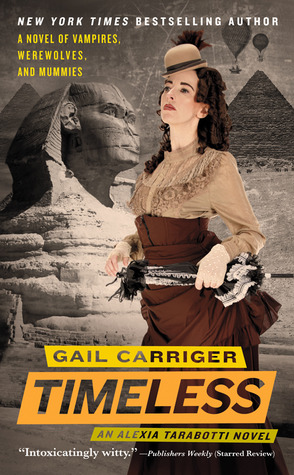 Timeless
by
steampunk
that was published by
Orbit
on March 1, 2012 and has 341 pages.
Explore it on
Goodreads
or
Amazon
.
Other books by this author which I have reviewed include
Heartless, Etiquette & Espionage, Curtsies & Conspiracies, Waistcoats & Weaponry, Manners & Mutiny, Soulless, Changeless, Blameless, Prudence
Fifth and last in the Parasol Protectorate urban fantasy series set in a steampunk London in the Victorian age.
My Take
I am so going to miss this series! Carriger constantly cracks me up with her comments and asides on Victorian high society as well as her observations on, well, everyone.
I love her description of the bathing chamber Lord Akeldama has created for Prudence. Then there's all the endearments Dama drops from "buttercup" to "dewdrop", "darling toggle button" to "puggle". I will so miss the giggles..!
Alexia is quite intellectual and looks forward to "subject[ing] her daughter to some controlled analytical tests". In some ways, she reminds me of Elizabeth Peters' Amelia Peabody with her matter-of-fact approach and her belief that she is always right.
The toddler couldn't be less interested in the importance of scientific discoveries, for all her mother tried to explain them. It was, Alexia felt, a troubling character flaw."
Poor Biffy!
It's an adventure of Prudence-catching and scientific discoveries for the Maccons. Biffy has his own life-changing [yes, more…] discoveries, but he does discover a new love. Just as Alexia learns that she must pay better attention to Prudence's words.
It looked — Biffy shuddered in utter horror — like an…umbrella!
I rather liked how Carriger wrapped this up. A tidy end for the Maccons with a promise of ongoing life for everyone.
The Story
We open on bath night…Prudence's. A tragi-comedy Lord and Lady Maccon sort of escape in time for the performance of The Death Rains of Swansea. And, here Conall didn't think he'd get to enjoy himself…
It even becomes a very useful cover when the Maccons are forced to Egypt with their daughter for an audience with that ancient Vampire Queen which is itself cover for a much-needed investigation of the God-Breaker Plague out in the desert. And there's a suspicion that Alexia's father had his hand in this somehow!
The Characters
Lady Alexia Tarabotti Maccon is a, in the crudest sense, a soul sucker, a preternatural. One touch and any vampire or shifter becomes mortal, vulnerable. Lord Conall Maccon is the alpha of the now-London Pack and very much in love with his wife. Prudence is their daughter and a metanatural. One touch from her and the abilities shift; the one Prudence touches becomes mortal while Prudence becomes a baby vamp or wolf pup. It's an adventure as they discover her limitations and powers. Professor Randolph Lyall is Conall's Beta. Floote was Alexia's father's valet and he has faithfully followed Alexia from childhood home to married one. However, he has his own agenda.
Lord Akeldama is one of my favorite characters — he just cracks me up. A gay, ancient vampire very concerned with the cut of his coat who surrounds himself with drones who reflect his interests and are the most efficient gatherers of information. Lord Akeldama has the very latest in anything to ensure the most up-to-date gossip! To protect Prudence from assassination, Lord and Lady Maccon had to accept Dama as her official guardian. Biffy, a.k.a., Wingtip Spectator, a.k.a., Sandalio de Rabiffano, is adjusting quite well to his changes in life. It's a brief encounter with Mrs. Colindrikal-Bumbcruncher that ensures we easily see his strengths. And Carriger has new insights on his character further along. Major Channing Channing of the Chesterfield Channings is the London Pack's toffee-nosed Gamma. He and Alexia don't quite get on.
Ivy Tunstell, a.k.a., Agent Puff Bonnet, is one of Alexia's oldest friends and without any taste. Just witness her hats!! After marrying Tunstell, Ivy threw herself into her husband's theatrical world. I do love the sound of Mr. Tuntrinkle who plays the villain for the troupe.
Lady Sidheag Kingair is a rather crude alpha — of the Scottish Kingair Pack — and rather inclined to slash and bash her way in at her slightest whim. Mind you, she does have some good reasons.
Madame Genevieve Lefoux is still an inventor of marvelous gadgets and a member of the Order of the Brass Octopus, but, alas, the life changes forced on her in Heartless have driven a wedge between her and Lady Maccon. Countess Nadasdy is the queen of the now-Woolsey vampire hive. Queen Matakara is the oldest living vampire and she has issued a very commanding demand to the Maccons. Chancellor Neshi is her representative in the outside world. Felicity Loontwill is Alexia's selfish bitch of a sister — I do hope Biffy makes good on his "promise"! Zayed is the Drifter who comes to Alexia's rescue at Goldenrod's orders.
The Cover and Title
The cover doesn't blend. It looks more as if Alexia has been posed against a giant poster of ancient Egypt with its sphinx on the left and one of the pyramids on the right. I did like the dirigible hovering over the pyramid's point!
The title sums it all up for it is a Timeless adventure.
Related Posts