I received this book for free from the library in exchange for an honest review. This does not affect my opinion of the book or the content of my review.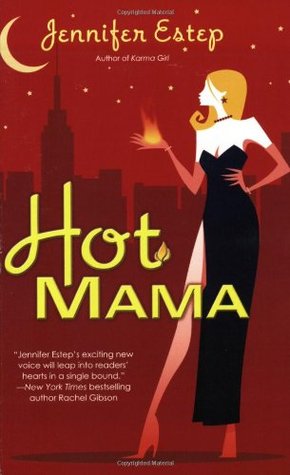 Hot Mama
by
fantasy
that was published by
Berkley Trade
on November 6, 2007 and has 356 pages.
Explore it on
Goodreads
or
Amazon
.
Other books by this author which I have reviewed include
Spider's Bite, Web of Lies, Jennifer Estep, Venom, Karma Girl, Tangled Threads, Touch of Frost, Spider's Revenge, Kiss of Frost, By a Thread, Dark Frost, Widow's Web, Crimson Frost, Deadly Sting, Midnight Frost, Heart of Venom, The Spider, Killer Frost, Tan­gled Dreams, Tangled Schemes, Spider's Bargain, "Poison", Spider's Nemesis, "Wasted", Web of Death, "Web of Deceit", Black Widow, Poison Promise, Cold Burn of Magic, The Spider's Trap, Dark Heart of Magic, Bitter Bite, Unraveled, "Nice Guys Bite", Bright Blaze of Magic, Snared
Second in the Bigtime comedic superhero series. The couple focus here is on Fiona Fine, a.k.a., Fiera, and Johnny Bulluci, a.k.a., Johnny Angel.
My Take
Oh shades of Batman and Robin! Biff! BAM!! Pow!
I really enjoyed Karma Girl, the first in this series. This one. Not so much. Mostly due to Fiona/Fiera's bitchy attitude. I don't want to know her. I don't want anything to do with her. Although. I sure wish I had her metabolism! The way that girl could eat!! I still have a craving for a big, juicy cheeseburger…preferably with some chocolate whipped cream for dessert. Ummm-hmmmm…that kind of dessert.
Yeah, Fiona is definitely better with the physical side of being a superhero. No one. And I mean NO ONE would ever mistake her for being smart. I'd figured out all the uber-villains and possible villains within the first few pages… And I can't believe Estep wrote so much whining into Fiona's poor me status. Get. Over. It. If only to put the reader out of their misery! I did crack up over the problems Fiona's appetite creates with people who don't know about her secret identity.
Estep does provide a variety of scenarios as we get a glimpse of Henry and Lulu's issues, the clashing between Lulu and Fiona, and the issues involved in the dressmaking business as well as the expectations that Bigtime's populace has of their superheroes — hey, ya gotta market those superhero dolls with their related merchandise to someone! There's also the interaction between the superheros and the media as well as the lovers — especially when they discover each other's secret identities.
Oh man, those fight scenes where Fiera and Johnny Angel clash over who gets to take out the villains are just tooooo lame…they don't deserve success! When Fiona has dinner over at the Bullucis and is confronted with all the clues in their home, Johnny's story about his dad…just confirms how stupid she is. I keep trying to tell myself, this is supposed to be funny.
The city of Bigtime is overflowing with superheroes — including Granny Cane. They practically need to take a number to help out at a crime scene. Think of it as a comic book in text format.
The Story
It's Karma Girl…oops, I mean Carmen Cole and Sam Sloane's wedding day. A day of joy and happiness…except that Fiona Fine just has to rain all over the parade with her whiny, bitchy, moaning over her lost love, Travis Teague.
Fortunately, her whining is interrupted by Johnny Bulluci's seduction and then Siren and Intelligal's descent upon the party. It's a race from here on out to trap the villains before Johnny Angel can take his revenge. And Siren and Intelligal can destroy the city…anymore than they already have.
All without the help of Karma Girl and Striker — they're on their very-long honeymoon. –How no one manages to notice that two of the Fearless Five are missing in action, I'll never know.
The Characters
The Fearless Five consists of…
… Fiona Fine, a fabulously creative fashion designer in Bigtime. By day. By night, she's Fiera, the fiery superhero. Very concerned with her image and her carefully orchestrated posing. Chief Newman is in charge of the Bigtime Police Department, Fiona's dad, and Mister Sage, the psychic superhero. Henry is also Hermit, the tech superhero; he's got his very own groupie, a fellow computer nerd, Lulu. Carmen Cole is Karma Girl while Sam Sloane is Striker.
Piper Perez is the very OCD and extremely capable chief financial officer for Fiona Fine Fashions; she keeps leaving pamphlets about bulimia on Fiona's desk.
Bella Belluci is Fiona's only other rival fashion design-wise in Bigtime with her more understated classics. Her brother is Johnny Bulluci, a.k.a., Johnny Angel, a sorta superhero. Bobby Bulluci is their grandfather.
Siren and Intelligal are the uber-villains for this installment. Siren's voice melts men and women into puddles who will do anything to please her while Intelligal is the brains in the outfit. Erica Songe is the really nasty news reporter for Superhero News Network who thinks she's god's gift to men; she's working hard to push aside Kelly Caleb, another SNN reporter. Irene Songe is a scientist at the Obeservatory.
The Cover and Title
It's a cartoony two-tone burgundy and red background of a city silhouette with a sickle moon and stars shining while the very snooty Fiera is garbed in one of Fiona Fine's creations, a fireball just sitting in her hand, posed in her designer shoes and over-the-elbow opera gloves.
The title certainly reflects how Fiera sees herself. As one Hot Mama.
Related Posts