I received this book for free from the library in exchange for an honest review. This does not affect my opinion of the book or the content of my review.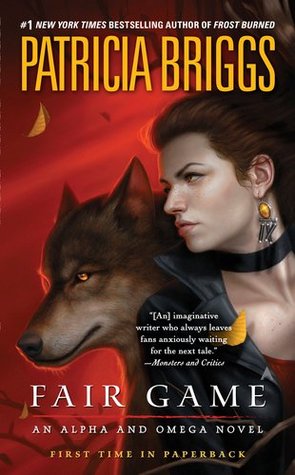 Fair Game
by
It is part of the , series and is a
urban fantasy
in
Paperback
edition that was published by
Ace Books
on January 29, 2013 and has 280 pages.
Explore it on
Goodreads
or
Amazon
.
Other books by this author which I have reviewed include
When Demons Walk
,
Steal the Dragon
,
Home Improvement: Undead Edition
,
Frost Burned
,
Night Broken
,
Shifting Shadows
,
Dead Heat
,
Bone Crossed
,
Silver Borne
,
River Marked
,
Hunting Ground
,
Iron Kissed
,
Cry Wolf
,
Fire Touched
,
Silence Fallen
Third in the Alpha & Omega series; ninth in the overall Mercyverse. Essentially, Charles is in crisis and Anna is terrified. The werewolves have been outed for a year and Mercy is still in a wheelchair recovering from events in River Marked (Mercy Thompson, #6; #9 overall). And the fae are still a part of society.
If you're interested, there is a chronological listing of both the Alpha & Omega and the Mercy Thompson books on my website.
My Take
Fascinating, yet somewhat hollow. I was so excited to pick up Fair Game. I put a good movie on the telly, fixed an easy all-fingers dinner, and retired to the couch with it. I'd put off reading it for a couple days because I knew I'd blow through it too fast.
And the magic was missing. Oh, there was definitely fae, wolf, and Charles' particular magics. What was missing was Briggs' special magic.
Still, it was an absorbing tale of serial killers and doubt. The doubt of a good man only trying to do the right thing. Please his father. Love his wife. Be true to himself.
It's confusing as to why Anna and Charles are doing this two-step at first as they step into the case and back out again. It's like a series of introductions where no one fully commits. Beauclaire provides some uncomfortable background on the fae and on their protective instincts. Then the witches. Yuck. They were pretty disgusting and I just loved Charles' warning. I also loved his invulnerability…bitchy witch. Oh, brother. That scene of doubt on the island was just too lame. What? Briggs got a sudden urge to include a sex scene and this was the easiest way to make it happen?
Hmmm, I'm wondering if Charles and Anna will find themselves helping out the FBI more often??
The Story
Bran was being an ass, too condescending for words when Anna came to him with her fears. But when those same fears were couched in terms of music, it broke through. Enough that Bran realized what he had allowed to wither.
Then the perfect opportunity, a change in mission focus comes up. The FBI needs werewolf help on a case in Boston and Bran decides to send Anna with her personal bodyguard. Which raises all sorts of etiquette issues, especially when you consider how extremely protective Charles will be of anyone getting near his Anna.
The serial killer case could be the opposite end of that murderous spectrum. Maybe it could be enough to right the wrongs and help his son.
The investigation is certainly enough to force Charles to start taking a different approach with what is haunting him. And Leslie Fisher finally has the occasion to use the Gift card granted her back when she was a child. But it's Isaac's perspective that clears up Charles' predicament.
Only, it seems that hate and fear continue to rule…
The Characters
Charles is the Marrok's Enforcer, the Wolfkiller. He kills bad wolves and it's been too bad ever since the werewolves came out of the closet. Brother Wolf is his other half and he has a mischievous sense of humor. Anna is married to Charles and she is the Omega wolf. Part of her purpose as such is to calm the emotions of wolves. That includes not being overpowered by Alphas. Including the Marrok. Part of her makeup is protection and it is never so strong as when she is protecting her mate.
Bran Cornick is the Marrok of all werewolves and the Alpha of this particular pack. He's also Charles' father and Anna's father-in-law. Leah is his mate. Samuel is his oldest son and Charles' brother. Tag is a berserker and Anna's friend. Asil is a retired, widowed Alpha who had been married to an Omega.
Isaac Owens is the new local Alpha for the Olde Towne Pack (of Boston). Caitlin is a witch Isaac knows who is willing to view the child's body that was found and interpret the markings found on him. And she is nutso-cuckoo. Another witch, Sally Reilly, proves to have played a part long ago. Hally Smith is the black witch Isaac warns everyone about; that she expects payment and not to trust her. Oddly enough, he trusts her enough to sleep with her…a trust Charles is careful to knock down. Malcolm is the Boston wolf who pilots the boat.
Special Agent Leslie Fisher of the FBI Violent Crimes Unit is not looking forward to working with this consultant, but too many are dead and she'll work with the devil himself to stop this rampage. It does help that her husband Jude was a linebacker and a really big guy. Nick Salvador is her boss and he points out to her the many reasons why she is the ideal choice. Reps from other agencies include two people from CNTRP, a.k.a., Trippers, which sends Special Agent Patrick Morris and Agent Les Heuter, their poster boy (his dad is a senator); Homeland Security sends Jim Pierce and Dr. Steven Singh who believes the fae and wolves are domestic terrorists; and, the local Boston Special Agent Craig Goldstein with their Violent Crimes Unit. All these agencies are interested because Hauptman, their usual go-to guy, said they were sending someone higher up than him. And they all thought you couldn't get higher up than an Alpha.
Alistair Beauclaire is a lawyer whose daughter Lizzie is abducted. Her abduction has all the hallmarks of their serial killer. Treasach was a very powerful and wonderful fae who gave the young Leslie a wish as "poor compensation" for her loss. The Gwyn ap Lugh, Prince of the Gray Lords, proclaims against the mockery of justice.
Mrs. Cullinan knows something of the fair folk. Adam Hauptman is another Alpha and Mercy Thompson is his mate.
Bright Future is a hate group against all shifters and fae. Benedict is a crazed half-fae who shifts as a deer. Uncle Travis leads this small group of killers with a most hateful intent.
The Cover and Title
The cover is a metallic orange-y burgundy with leaves flitting through the air and the focus is on Charles as Brother Wolf and a freckled, yellow-eyed Anna in black leather and a choker with a burgundy scoop neck on underneath. She has on a very nice amber, black, and silver earring.
The title is a play on another term for the fae, the fair folk. And it seems that they have become Fair Game in this hunt.
Related Posts