I received this book for free from the library in exchange for an honest review. This does not affect my opinion of the book or the content of my review.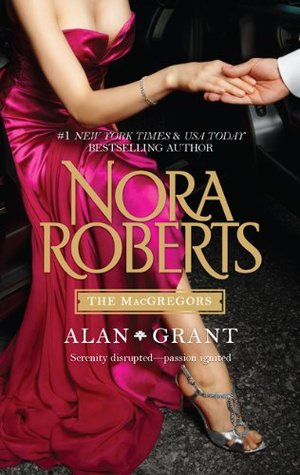 Alan * Grant
by
It is part of the , series and is a
romance
that was published by
Silhouette
on January 25, 2011 and has 496 pages.
Explore it on
Goodreads
or
Amazon
.
Other books by this author which I have reviewed include
Irish Hearts, Montana Sky, Carnal Innocence, Playing the Odds, Second Nature, One Summer, Nora Robert, Serena * Caine, Daniel * Ian, Rebellion, The Witness, The Search, Time and Again, Shadow Spell, Blood Magick, The Next Always, The Last Boyfriend, The Perfect Hope, Irish Rebel
Third and fourth in the MacGregor romance series revolving around the MacGregor family and their friends. These two stories are contemporary and revolve around art.
This series is a mess chronologically and has a number of stories combined into single books, so you may want to explore my list of the MacGregor family saga.
Series (chronologically):
All the Possibilities, 5
One Man's Art, 6
The Stories
All the Possibilities finds Shelby Campbell very happily creating her pottery and running her shop in Georgetown. The daughter of a political figure assassinated when she was young, Shelby exists by two rules: never date a politician and have fun. Only, she reckons without the young senator from Massachusetts and his very determined pursuit.
This was such fun and Roberts gave a delightful twist to Alan MacGregor's pursuit of Shelby. A man who really pays attention and makes an effort to genuinely appeal to his target.
One Man's Art invades Grant Campbell's retreat from life in his lighthouse in Maine. Oh, it's strictly a physical retreat as he has the world brought to him on a daily basis — he has to find the fodder for his cartoon strip somewhere! It probably doesn't help Grant that his visit to the MacGregor castle has opened his psyche to possibility. When a world-renowned artist invades his space determined to paint the scenery around his lighthouse, Grant is on a downhill slide from his safe tower.
Cute. It was interesting to read how Grant processed the information he took in although Roberts didn't delve too deeply whereas she did spend more time exploring how Genviève Grandeau thought about her art. Grant is practically a misogynist and excessively protective of his privacy while Genviève just can't resist poking and prodding.
The Cover and Title
A woman is being helped out of a car and it's the dress that has me totally fascinated. A gorgeous fuchsia silk satin in a bustier style. The engineering it took to build the top so it looks like it's just floating in front of her breasts and then all that lovely draping as the fabric sweeps over her leg and pools on the ground. Mmm-mmmm-mmmm.
I can't decide if I like or dislike the titles of these combined novels. On the one hand, it says nothing about the actual story titles inside, and yet, if you know the male characters involved, it's quite short and sweet with the first story involving Alan and the second about Grant.
Related Posts