I received this book for free from the library in exchange for an honest review. This does not affect my opinion of the book or the content of my review.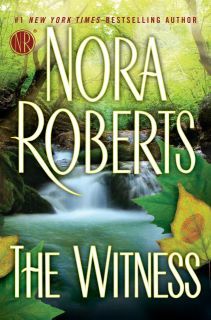 The Witness
by
romantic suspense
that was published by
G.P. Putnam's Sons
on April 17, 2012 and has 757 pages.
Explore it on
Goodreads
or
Amazon
.
Other books by this author which I have reviewed include
Irish Hearts, Montana Sky, Carnal Innocence, Playing the Odds, Second Nature, One Summer, Nora Robert, Serena * Caine, Daniel * Ian, Rebellion, Alan * Grant, The Search, Time and Again, Shadow Spell, Blood Magick, The Next Always, The Last Boyfriend, The Perfect Hope, Irish Rebel
A romantic suspense regarding a young girl in the wrong place in Chicago, Illinois.
In 2012, The Witness won the Library Journal's Librarian's Best Romance Books of the Year for Best Romance Books.
My Take
It flips back and forth between Abby and Brooks' perspectives and their flashbacks.
Oh, jesus. This poor girl. I want to kill that so-called mother of hers!! In some respects this was the best thing that ever happened to Abby. As you read Abigail's dialog and her thoughts, her awkwardness in any social situations just break your heart even as you fall in love with Brooks, the people of Bickford — his family! — and her space. Gawd, I want Abigail's house, garden, and woods!!
There's the main theme of Brooks worming his way under her fear with that underlying horror of the Volkhov threat. While we're patiently — sort of — waiting for Brooks' next move, Roberts keeps things interesting with the town bully and his crazy son, an old romance, and getting to know Brooks' family. All interspersed with descriptions of a lovely sounding town. Heck, it made me want to move there if only for Sunny's huckleberry pie and a peek at her house!
Curious and terrified, it all gives Abigail an insight into what friends and family are like for "normal" people. Both these norms are so far outside her own experience. I did love Abigail's honesty and practicality. her very intellectual approach is both charming and sad. I could hope Roberts writes a sequel with the mother getting hers!
Brooks is so supportive of everyone. he uses his office to help people, not bully. A nice treat.
Why have a safe room on the second floor?
Nice story Brooks came up with for the private investigator…whew…
I did love how Abigail and Brooks eased on out of that hotel! And Abigail's plan for the Volkhovs? Brilliant. Absolutely brilliant! I wanna be a fly on that wall!
The Story
Dr. Fitch is a mother in name only. There is no love, no affection, only schedules and plans, rules and routine. And Elizabeth rebels one weekend. A rebellion she will have cause to regret for the deaths that follow in its wake.
The attack — the betrayal — sends Liz on the run for her life. Survival and her computer skills eventually find her with a refuge in Bickford, Arkansas. Secure on her property, Abigail rarely comes to town preferring the safety of her isolated property. But Brooks Gleason has recently returned home since his father's heart attack. As chief of police, he's curious about anomalies and that concealed gun on a woman shopping for raspberry vinegar has his radar humming.
When he checks her out, well, no one needs that many guns!
Abigail's reluctance and the curiosity Brooks inherited from his mama make him determined to uncover Abigail's secrets. And he has the patience to work his way into her heart. Into her confidence.
The Characters
Elizabeth Fitch, a.k.a., Abigail Lowery, is rebelling. She's 16 and has spent her entire life following her mother's rules on dress, acceptable acquaintances, nutrition, and now entering Harvard for a medical degree — just like mama. "A product of her mother's meticulous and detailed agendas." Bert is her very well-behaved attack dog.
Brooks Gleason took up the recently vacated position as chief of police when his father suffered a heart attack. Ash Hyderman and Boyd Fitzwater are his deputies. Alma is their dispatcher. Sunny O'Hara is a painter and free spirit still living in the '60s. She's also the gun-toting Chief Gleason's very warm and friendly mama. She don't take "no" for an answer. Loren Gleason is a high school math teacher and recovering nicely from the scare he put the family through. He and Sunny adore each other AND their kids. Chief Joseph Anson was Brooks' boss before he came home. Honest as the day is long and close to retirement with a lovely family. Special Agent Elyse Garrison is the Chicago FBI agent Abigail has been feeding tips to over the years.
Detectives Sean Ripley and Brenda Griffith with the Chicago PD get the case and pass Liz on to US Marshals Terry Norton and John Barrow. Their backups are Bill Cosgrove who teaches Liz how to play poker, Lynda, and Keegan.
Tybal Crew and his wife Missy were the golden couple at Bickford High until they had to enter the real world. Now he's an abusive drunk with an enabling wife and Brooks ain't gonna take it much longer. Kim is the waitress at the local café. Sylvie is Brooks' old, very sexy, high school sweetheart. Grover runs Ozark Art and is a sucker for a pretty face. Justin Blake is a spoiled rich kid whose daddy Lincoln thinks his power/position/money will bail his kid out of anything. And usually does. However, the town is sick of it. Chad Cartwright and Doyle Parsins are Justin's usual crew. Doyle's mama, Mojean, is as bad as Lincoln. Harry Darnell is the Blake lawyer who gets very happy later on. Roland Babbett is the private investigator hired to find dirt on Brooks and Abigail. And he's good at his job.
Russ Conroy is Brooks' childhood friend and he runs the family hotel, a jewel in the town of Bickford. His parents, especially his mom Seline, are just heartbroken over the damage.
Dr. Susan L. Fitch is perfect and slightly disappointed that her carefully "shopped for" sperm didn't yield a child at least as beautiful as herself. Julie Masters is a schoolmate Elizabeth encounters at the mall and they make a deal. One that will benefit each in their preferred rebellions.
Sergei Volkhov owns the nightclub and heads up the Volkhov bratva. His son Ilya and nephew Alexi Gurevich run it. Yakov Korotki is the man who takes out the initial victims. Now they're after Liz.
The Cover and Title
The cover is gorgeous with its woodland waterfall — one of Abigail's favorite places on her property.
The title says it all. Abigail is The Witness on the run.
Related Posts