I received this book for free from the library in exchange for an honest review. This does not affect my opinion of the book or the content of my review.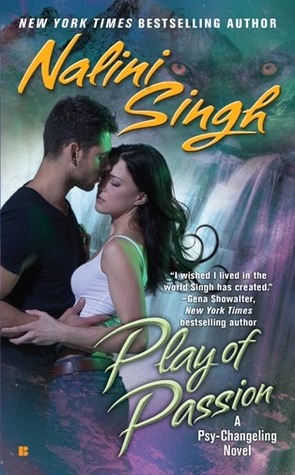 Play of Passion
by
paranormal romance
that was published by
Berkley
on November 2, 2010 and has 321 pages.
Explore it on
Goodreads
or
Amazon
.
Other books by this author which I have reviewed include
Must Love Hellhounds, Kiss of Snow, An Enchanted Season, Archangel's Blade, Angels of Darkness, Lord of the Abyss, Desert Warrior, Angels' Flight, Tangle of Need, Archangel's Storm, Wild Invitation, Heart of Obsidian, Archangel's Legion, "Hide and Seek", "Making Dinner", Shield of Winter, A Conversation, "Home", Angels' Pawn, "New Year's Kisses", Night Shift, "Weapons Training", "Zoë's Workshop", "Wild Night", Archangel's Shadows, Archangel's Enigma, Shards of Hope, "Fairy Balloons", "An Unexpected Guest", Allegiance of Honor, "The Song of the Wolf", Archangel's Heart, Archangel's Viper
Ninth in the Psy-Changeling paranormal romance series based in the Sierra Nevadas near San Francisco. The couple focus is on Drew and Indigo.
In 2010, Play of Passion won the Romantic Times Reviewers' Choice Award for Shapeshifter Romance and was nominated for the Goodreads Choice for Romance.
My Take
Whew! An interesting view into the relationship of two dominant people who are ruled by their inner wolves.
I do love this series! Singh has created a home and cast of characters that make you want to move in. It's not a group in which you can hide. All the better as this is a family that supports the individual as well as the whole. They lavish love, understanding, and they'll kick your ass when you need it. It's a good example of socialism with everyone taken care of and everyone pitching in. Each person performing the task that makes them happiest and fulfills their potential. I do love the teasing that goes on between everyone. It's a practical way to inform the reader of character backgrounds, helps with the homeyness of the story, and avoids the dreaded "info dump" (yeah!).
I see Play of Passion as more of a bridge novel in the overall series. Singh is building up the tension for whatever it is the Scotts have planned for destroying the wolves, the cats, and San Francisco. And she's done it beautifully! This one is a re-read as I didn't note down that I had read it and now I'll just have to re-read Kiss of Snow since, dang it, Singh, I want to re-experience Hawke and Sienna's romance! Nor do I remember exactly how they fought off the Scotts' final attack!!
I love how Singh points up Drew's humanity with the incident with young Joshua. It just shows how very caring the whole pack is. All the little things that Drew does to show Indigo how well he pays attention are so amazingly romantic. Sigh. Definitely a cheeky boy! Hmmmm, those kisses, the cheesecake, the give and take.
The Story
As far as Andrew Liam Kincaid is concerned, it's mate or leave time for him. He's been in love with Indigo Riviere for what seems his entire life and he is determined to capture her heart.
In between seduction and apologies, the pack must fight off Psy incursions — covert and overt — while ensuring the health and safety of the others.
The Characters
Drew is the pack's tracker. His job is to find a wolf who has gone rogue and either bring him /her back to their senses or exercise mercy. Not someone others can cozy up to and, as a wolf, Drew needs the touch, feel, and acceptance of pack. Riley is his brother and one of Hawke's lieutenants; he's mated to Mercy Smith, a DarkRiver cat. They're in South America meeting her grandparents. Brenna is their little sister and she's mated to Judd.
Indigo Riviere has shut herself off. The two relationships closest to her, the ones that have influenced her beliefs, are too contrary and their examples will prevent her accepting someone she sees as less dominant than herself and, as a lieutenant in the SnowDancer pack, Indigo is very much a dominant wolf. Her parents are Abel (soldier) and Tarah; Evie is her sister.
The rest of the Snow Dancer wolves
Hawke is the SnowDancer alpha. Strong, yet insightful. Ben is a very sympathetic little pup — he keeps bringing "guards" to Drew. Other SnowDancer lieutenants include Judd Lauren who is an escaped Psy and a former Arrow. Now he's mated to Brenna Kincaid; he's also Sienna, Toby, and Marlee's uncle and Walker's brother. Matthias has the wrong end of the stick. Riaz is one of Indigo's former lovers. He's just returned from his mission in Italy. (His story is coming up in Tangle of Need). The rest are Cooper, Kenjui, Tomás, Jem, and Alexei.
Walker Lauren is also an escaped Psy. He's Marlee's father and Sienna and Toby's uncle. Sienna Lauren is a very young Psy to whom Hawke has been very attracted, but their relationship in this story is very stiff. Quite different from earlier stories. Lara is the pack healer.
DarkRiver cats
Lucas Hunter is the DarkRiver alpha and mated to the pregnant Sascha Duncan, an escaped Psy and a cardinal empath. Mercy Kincaid is one of his sentinels even though she's mated to a wolf, Riley.
Teijan is the Rat alpha in San Francisco. Adam is the alpha for the WindHaven falcons; Jacques will be their liaison to SnowDancer with Drew the SD equivalent.
Psy
Anthony Kryiakus is one of the Psy Councilors and Faith's father. Nikita Duncan is Sascha's mother and another of the Psy Councilors. Both have allied themselves more with the SnowDancer and DarkRiver packs than their own Psy. Ghost is a Psy rebel. Part of me is dying to know who he is while a tiny bit of me thinks he might be Krychek. Max Shannon is a human and he's Nikita Duncan's chief of security. He's married to Sophia Russo, a J-Psy.
Henry Scott and his "wife" Shoshanna are Psy Councilors and they firmly believe in Silence and head up the Pure Psy terrorist group.
We met Devraj Santos in Blaze of Memory. He's one of the Forgotten Psy. Father Xavier Perez is a human priest caught up in the Psy rebellion with Judd and Ghost.
The Cover and Title
The background of the cover is purples and greens with a waterfall in the background…an appropriate metaphor considering how often water plays a part in the courtship between Drew and Indigo. What really captures your attention is Drew and Indy embracing. I dunno, Singh talks about how big Drew's hands are…Indigo's aren't that much smaller.
The title brings together what Drew and Indigo have — his playfulness and their desires. Together, they are a Play of Passion.
Related Posts