I received this book for free from in exchange for an honest review. This does not affect my opinion of the book or the content of my review.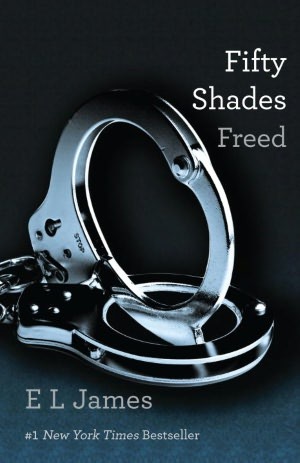 Fifty Shades Freed
in
Paperback
edition on April 17, 2012 and has 579 pages.
Explore it on
Goodreads
or
Amazon
.
Third and last (thank god) in the Fifty Shades erotic romance trilogy revolving around Christian and Ana Grey.
There are a couple of short stories at the end: "Fifty's First Christmas" is about the first Christmas Christian experiences with his new family while "Meet Fifty Shades" is Christian's side of his first meeting with Ana. Too bad James didn't come up with this when she first wrote Fifty Shades of Grey.
My Take
Of the three, this is probably the best written from a technical standpoint. It's also the most boring as it is essentially a "day in the life" and we trip along, la-la-lah, until the story is interrupted by a few dramas: Ray's car accident, a kidnapping, a pregnancy, and Kate's worries. Yes, we finally learn how Elena came into Christian's life and there's a tidy-up with a couple of old "girlfriends". Superfluous padding that serves to point up how easy it is to rile up Christian.
We get to see Ana get a backbone and take action to protect her own. Unfortunately, the backbone is only partly accompanied by any maturity. She and Christian are fairly well matched in that they are mature in different areas so they can figure out how to balance the weaknesses of the other. If only they can match that balance with responsibility and understanding. They trade-off on being the child in this relationship.
James misses a number of opportunities to make this a better story. Taken as a whole, the Fifty Shades Trilogy falls down. I really enjoyed the first one as James played my emotions, caused me to empathize with her characters. The second was a disaster. As though James got too cocky and thought she could do without an editor. This one. The last is the equivalent of a broom and dustpan sweeping up the loose ends.
I thought Ana was pretty stupid with her ultimatum to Christian. She knows how vulnerable he is. And she still hasn't matured enough to allow anyone to explain anything to her. She expects so much from Christian but isn't prepared to offer him the same. Admittedly, Christian has his own problems he needs to work on. But at least he tries which is more than I can say for her.
Romance is blossoming on several fronts in this story. Besides Ana and Christian, that is.
I do enjoy their emails!
The Story
It's Christian and Ana's wedding day and we enjoy their honeymoon. It's their return to the real world with Ana wanting to continue to work even as Christian freaks out about her safety and Ana's desire for some independence that provides the excitement as they struggle to mesh their separate personalities into a couple.
Ana has her issues with Christian's overly controlling nature with additional drama from Hyde as he pushes for his revenge on several fronts.
It's Ana's surprising news that really brings their problems to a head.
The Characters
Christian Grey is a self-made billionaire who has combined the control he learned from Elena Lincoln with his own innate intelligence to create his empire. Jason Taylor is his main security; he has a young daughter, Sophie, who lives with her mother. Ryan is additional security. Gail Jones is his housekeeper and she cooks during the week. The parents who adopted him are Dr. Grace Trevelyan-Grey and Carrick Grey. Elliot is his older brother who is involved with Ana's best friend, Kate, and Mia is his younger sister who is involved with Ethan, Kate's brother. Ros is his second-in-command at Grey Enterprises.
Anastasia Steele is the new Mrs. Grey and determined to continue with her career in book publishing at SIP. Nor does she want Christian to "give" her a job. Lucas Sawyer and Prescott are her security people. Ray Steele is Anna's stepfather and the man she considers Dad. Carla is her mother on her xth husband, although Bob seems to be a keeper. José Rodriguez is her best friend from college, although he'd prefer to be more; Rodriguez Senior is his father.
Gia Matteo is the architect who is revamping their new house and she has designs on Christian. Jack Hyde is Ana's former boss at SIP; Christian had him fired for sexual harassment of Ana when he tried to put the moves on Ana in Fifty Shades Darker. Elizabeth is one of the editors at SIP. Hannah is Ana's secretary at SIP. Leila Williams is Grey's nutso former sub; Susannah is another.
Detective Clark is handling the case. Dr. Greene is her gynecologist. Elena "Mrs. Robinson" Lincoln is the older woman who initiated Christian into the world of BDSM. Dr. John Flynn is Christian's psychiatrist.
The Cover and Title
The cover continues the theme of the black background shading into a speckled charcoal at the bottom. This time the featured image is a set of shiny new metal handcuffs — one of Ana's favorite toys. I can't help but think it would have been more appropriate for the handcuffs to be open, reflecting the title.
The title is very accurate as Christian is Fifty Shades Freed, letting go of his secretiveness and acknowledging what has shaped him in the past.
Related Posts