I received this book for free from the library in exchange for an honest review. This does not affect my opinion of the book or the content of my review.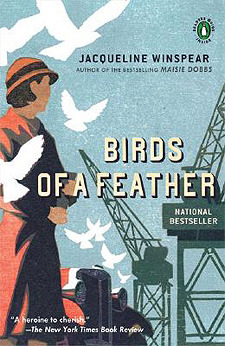 Birds of a Feather
by
historical mystery
in
Paperback
edition that was published by
Penguin
on 2005 and has 320 pages.
Explore it on
Goodreads
or
Amazon
.
Other books by this author which I have reviewed include
Maisie Dobbs
,
Pardonable Lies
,
Messenger of Truth
,
An Incomplete Revenge
,
A Lesson in Secrets
,
The Mapping of Love and Death
,
Among the Mad
,
A Dangerous Place
,
Journey to Munich
,
In This Grave Hour
Second in the Maisie Dobbs historical mystery series which takes place in England just after World War I.
In 2004, Birds of a Feather won the Agatha Award for Best Novel, and in 2005, it was nominated for the Dilys Award and the Bruce Alexander Memorial Historical Mystery Award.
My Take
It's fascinating to watch Dr. Blanche's psych techniques in action. Mimicking body postures and movements to understand the underlying thoughts of another. The playacting in character roles. A bit of introspection, an understanding of human nature, and a knowledge of a person's back history is enough to yield many ideas.
How Maisie uses open areas and walks, body positions and movements to open up any person or know when questioning is futile. She opens her mind to sense the atmosphere, spirits, tension left behind at crime scenes.
You can't help but like Maisie Dobbs — the character and the concept. As a detective, her use of a more spiritual and observant approach is a fascinating twist on the usual. As the character, she is beautifully strong-willed and compassionate.
Winspear takes you back in time as she captures the nuances of that era. Its manners, its dress, and the interactions of the different classes whether in the heights, the gutters, or the pub.
Be warned, you will cry.
The Story
Maisie's detective agency is doing well and, at first glance, the commission from Mr. Waite doesn't appear all that out of the ordinary. It's that notation on the card from Maurice that has her wondering. When she and Billie meet with Mr. Waite in his home, interact with the staff, and sees Charlotte's bedroom is when the first whiff of curiosity arises.
It's the small things that lead to bigger that causes Maisie to begin to see strands tying together seemingly disparate deaths that leads to the truth behind Miss Waite's running, running, and running.
She has cause. Both good and bad. A father's preference over another can result in very bad reactions.
The Characters
We meet Maisie Dobbs living in a second floor suite at Ebury Place and using yoga. She rose above her working class roots after she started as a thirteen-year-old tweeny and gained a formal education at Cambridge. Her practical psychological education was with Dr. Blanche and Khan. Maisie has now moved her office to Fitzroy Square. Lady Rowan fell during a hunt, and she gave Maisie her MG. Successful at a time when most of the world is in breadlines, she's on her own now as a detective with Billie Beale as her faithful sidekick. Doreen is his very worried wife — Billie's leg is acting up, and he's taking cocaine.
Maisie is welcome upstairs and downstairs, but is having trouble connecting with her dad, Frankie, who is running the stables down in Kent for Lord and Lady Compton. It takes a nasty accident to pull father and daughter back together. Frankie and Lady Rowan have plans to raise Derby winners. Mrs. Crawford, the cook, keeps saying one more year.
Dr. Maurice Blanche has retired and bought the Dower House from the Comptons. Khan is a blind Ceylonese mystic who taught Maisie to see without her eyes. Detective Inspector Stratton is more interested in Maisie as a woman than as a detective. Sergeant Caldwell is a pricker in Stratton's backside.
Joseph Waite is a self-made man who rose up from being the sole support of his mother and siblings as a butcher's boy to a man with a string of successful grocery stores — Waite's International Stores. He's generous with those he feels deserve it, and he must be in control at all times. Mr. Harris is his butler; Mrs. Willis is the housekeeper with her own burden; Miss Arthur is his secretary; and, every one of his employees respects him. It doesn't mean that they like him.
Charlotte Waite is Joseph's daughter with her own shameful secrets. Ones she won't face. Perkins acts as Charlotte's maid. Gerald Bartrup is Charlotte's former fiancé and happy to be out of it. Joe Junior died in 1916 in the war along with a lot of Waite's Boys. Mr. Jempson at Waite's warehouse remembers all the boys from there who enlisted. As well as the why.
Lydia Fisher drinks, and Magnum married her for her money. Phillipa Sedgewick seeks solace in her garden, and her poor hubbie John is distraught. Maisie suggests opening windows and walking in Phillipa's garden. Dame Constance Charteris is a Benedictine nun whom Maisie knew at college. She is now the abbess at Camden Abbey in Romney Marsh.
Rosamunde Thorpe reads to battered vets. Mrs. Hicks was Mrs. Thorpe's housekeeper. She doesn't believe it was suicide. It also seems that Mr. Waite paid Mrs. Thorpe a visit. Dr. Andrew Dene is a Bermondsey boy, a student of Dr. Blanche's, and attracted to Maisie. He's the physician in charge at All Saints' Convalescent Hospital in Hastings, and he knew Rosie Thorpe from her visits there. He doesn't believe it was suicide either. Maisie consults him regarding Billie's problem and later her father's.
Gideon Brown, formerly Günther Brown, uses exercises devised by an American, Joseph Pilates, to help the wounded. I just thought this was an interesting bit of trivia.
For the past six months, Maisie has been visiting Simon at the nursing home.
The Cover and Title
A very 1920s cover with the style of the design, Maisie's hat and coat, and the grille of the car behind her. The greyed-out colors are perfect for the depressing times along with the idle cranes. White birds flit through the sky. Just another reminder.
The title is so appropriate for Birds of a Feather did once hang together. And they die together.
Related Posts