I received this book for free from the library in exchange for an honest review. This does not affect my opinion of the book or the content of my review.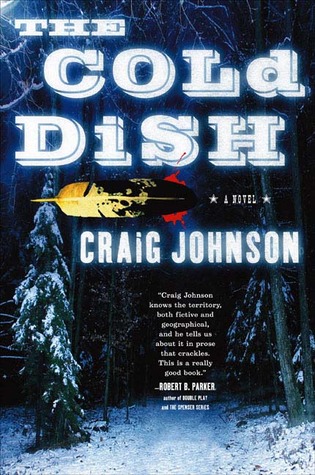 The Cold Dish
by
It is part of the
Walt Longmire #1
series and is a
mystery
in
Hardcover
edition that was published by
Penguin
on December 29, 2004 and has 384 pages.
Explore it on
Goodreads
or
Amazon
.
Other books in this series include
Wait For Signs
Other books by this author which I have reviewed include
Death Without Company
,
Kindness Goes Unpunished
,
Another Man's Moccasins
,
Christmas in Absaroka County
,
Dark Horse
,
Junkyard Dogs
,
Hell is Empty
,
As the Crow Flies
,
Spirit of Steamboat
,
A Serpent's Tooth
,
Any Other Name
,
Wait For Signs
,
Dry Bones
,
The Highwayman
,
"Eleven/Twenty-Nine"
,
An Obvious Fact
,
The Western Star
First in the Walt Longmire mystery series set in Durant, Wyoming and revolving around Walt, the sheriff, and those he considers friends. If you're interested, there is a chronological listing of the Walt Longmire books on my website.
In 2006, The Cold Dish was nominated for the Dilys Award.
My Take
A very nice introduction to this series with this story. Johnson creates a range of characters you just love with enough suspense to keep you wondering as he writes, pushing you to think in one direction. Only to twist it back.
Johnson also does a good job of filling us in on the backstory, weaving it into the storyline where it's appropriate. I do enjoy Walt and Henry's relationship. They're comfortable with their ethnic backgrounds and have flipped the Lone Ranger on his back. Their friendship is casual, honest, and deep. They know each other, their strengths and weaknesses.
Henry has a deeply spiritual side to him, he's caring, he's intelligent. And he does like to have his fun! I do love the way he answered the phone early on in the book: "It is another beautiful evening here at the Red Pony bar and continual soirée, how can I help you?"
I like Walt's character as well for his balance. He recognizes talent and he uses the skills of his people well. He's open enough to realize where he's lacking and where Vic is a definite asset — heck, he wants her to replace him as sheriff when he retires.
Johnson has a great sense of humor. Dry, realistic. "…in my experience, most things from Cheyenne whined." Then there's the comment about women and trees in Powder River.
I don't understand why George keeps trying to escape. I'm also a bit confused as to who it was there at the end. Henry is the most likely one, but that last line…mmm-hmmm, it has me wondering.
I have definitely got to read me some more Craig Johnson!
The Story
It's been four years since Martha died, and Henry thinks it's time that Walt re-embraced life. Fix that damned cabin so the bathroom has a door. Get some furniture. Date Vonnie.
Then there's that first killing. Well, it mighta been an accident. Leavin' aside that he's one of those who got off too light on Melissa's rape. Then there's another murder. Another boy.
One of the clues points out a small group of people capable of such a feat: Roger Russell, the retired electrician; Mike Rubin, a gunsmith; Carroll Cooper (along with Roger), a reenactment enthusiast; Dwight Johnston who was on the NRA National Shooting Team back in the day; Phil La Vante may be seventy-two, who can still shoot; Stanley Fogel, a dentist; Artie Small Song; Omar himself; Walt; and, Henry Standing Bear. It's a testament to Walt that he's willing to consider his friends as possible suspects. As badly as he wants to ignore it.
It's the worry and search for the third boy that finds Walt and Henry in a life-or-death situation. One that requires the aid of ghostly guides.
The Characters
Sheriff Walt Longmire got through college and then got drafted into the military. Vietnam. Where he learned all about law enforcement. Cady is his little girl. Not so little anymore. She has a law practice in Philadelphia, although Walt still can't see his little baby with her own secretary. Martha is the wife for whom he was building a log cabin. The one who died with the hope in her heart.
Henry Standing Bear runs a bar, the Red Pony, just outside town; it's part of a community effort. He's also Melissa's uncle. He and Walt have been friends since grade school and he is a Special Forces and political activity veteran. Dena Many Camps is his current lady friend.
Vic is a real find for Walt. She's highly skilled at investigative work and has got some mouth on her! Her husband, Glen, got transferred out to Wyoming, and Vic had to quit her police job back in Pennsylvania to follow him. And she got bored.
Jim Ferguson is the head of Search and Rescue and sorta thinkin' of runnin' for sheriff. Turk, a.k.a., Brian Connally, is former Sheriff Connally's nephew and is ill-suited to police work. I did enjoy Johnson's assessment of how Turk's car with all its bumperstickers described Turk to a T. Lucian Connally is/was a legend in the area, and he organized it so that Walt would take over as sheriff. Seems that Lucian just might be back. Ruby is their dispatcher and secretary. T.J. Sherwin is the director of the Division of Criminal Investigation in Cheyenne.
Melissa Little Bird is a product of her mother's overindulgence in I-90 cocktails. Fetal Alcohol Syndrome. And no excuse for four older teens — Cody Pritchard, Jacob and George Esper, and Bryan Keller — to brutally gang rape her. Mr. and Mrs. Jim Keller seem to have a difference of opinion on their son Bryan's conviction. Lonnie Little Bird is Melissa's disabled dad. He owns an original Sharps rifle. Not as nice as Omar's, but…
Vonnie Hayes is old school Wyoming. She made it big as an artist back east and returned to Durant to help her mother. Omar Rhoades is a hunting outfitter with a huge ranch and a bigger reputation. A man with style whom Vic hates for some reason. Dorothy runs the Busy Bee café. Jules Belden's current career is as an alcoholic; back in the day, he'd been a hardworking cowboy and a good carpenter. Ernie Brown is the reporter and editor of the Courant. Vern Selby is the judge who presided over the boys' trial. What he was thinking, I'd sure like to know!
The Cover and Title
The cover is chilling in blues and whites with its lonely road leading into the deep, dark forest. I did like the touch of the feather pointing to * A NOVEL *! Even as that feather tries to hide the blood spatter
Revenge is indeed The Cold Dish served up here, and it couldn't get any colder.
Related Posts