I received this book for free from the library in exchange for an honest review. This does not affect my opinion of the book or the content of my review.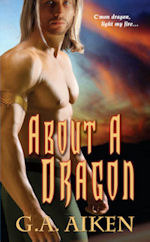 About a Dragon
by
paranormal romance
in
Paperback
edition that was published by
Zebra
on December 1, 2008 and has 360 pages.
Explore it on
Goodreads
or
Amazon
.
Other books by this author which I have reviewed include
Dragon Actually
,
What a Dragon Should Know
,
Last Dragon Standing
,
The Dragon Who Loved Me
,
How to Drive a Dragon Crazy
,
Supernatural
,
Light My Fire
,
Feel the Burn
Second in the Dragon Kin hysterically funny, fantasy, paranormal romance series revolving around a family of dragon shifters. The couple focus is on Briec the Mighty and Talaith. There is a minor focus on Morfyd and Brastias.
Originally published as The Distressing Damsel.
My Take
Aiken did a good job of teasing us along. Withholding just enough to provide a twist as to Talaith's purpose, another twist as to why these two are attracted to each other — which makes it truly funny, but leaves us in the dwark as to how Iseabail was running around the country.
Aiken cracks me up with her dragon perspective: snacks that run! I love the brothers' interactions with Talaith and between themselves. They are so individually draconic and brotherly in every smack down sense of the word. All those "accidents" will leave you laughing!
Talk about turn and turn about!? The assassination attempt that turns into a rescue. Briec's misery. Iseabail's excessive mouthiness and the identity of her real protection!? Aiken knows how to throw those twists. I've already ordered up What a Dragon Should Know!
I think Izzy and Éibhear are going to end up together. She will not leave that boy alone. The fun will be in how she gets him!
One of the main attractions is how incredibly honest and humanish they all are which only sets the stage for how incredibly funny it is to read.
The Story
Careful and conflicting plotting finds Briec — the dragon! — rescuing the fair maid from angry villagers. Too arrogant to realize the "fair maid" is NOT going to fall for his beauty, Briec is too stubborn to release her. Something about that non-stop, argumentative mouth has him enthralled.
Sudden storms force him to take refuge in his brother's cave and they find two wildly different brothers already there. Briec expects his demands to be met by Talaith while Gwynvael simply roars with laughter at his pathetic efforts, teasing his brother as well as Talaith. Éibhear eases her, almost courting her with chivalry, books, and food. It's an incredibly rare opportunity for a human to watch one dragon let alone three. Useful as a time to learn how to court this human; Love, however, makes people careless and so it goes that Talaith is captured by the bitch goddess and set on her doom.
Naturally, the doom undergoes its own twist and just when that happily-ever-after seems about to appear, Rhydderach Hael twists a new one.
The Characters
Talaith is a mouthy, sarcastic Nolwenn witch held hostage to a goddess' plans. Her missing daughter is the sixteen-year-old Iseabail "Izzy" who is precocious and cheeky. She's spent the last nine years roaming the countryside with her Protectors. Never staying long anywhere. She talks w-a-y more than her mother. Acahaius is the Protector in charge.
Briec the Mighty is a silver dragon and the most arrogant being anyone has ever met. And the most downhearted when Talaith leaves him!
Arzhela is the goddess of Light, Love, and Fertility and all her lightness and love is obviously already used up in her title. Talaith is her weapon, honed and kept in readiness.
Lord Hamish is king of Madron and a mortal enemy of Alwynn's. He's also promised to Arzhela.
Éibhear the Blue is a blue dragon and the youngest of the three dragon brothers. He's also the most studious and the most gentle. And totally fascinated by humans. Gwenvael the Handsome is a Gold. And a whore. "I never touched her!" seems to be his battle cry. Although he still has a way to go to catch up with the reputation of their grandfather, Ailean the Slag (see Everlasting Bad Boys: "Can't Get Enough", 0.5). Keita the Red Viper Dragon of Death and Despair is their slut of a little sister.
Fearghus the Destroyer is a black dragon and mated to Annwyl the Bloody of Garbhán Isle. Queen Rhiannon of the House of Gwalchmai fab Gwyar is their mother; Bercelak the Great is their father (read their story in Chains and Flames). Morfyd the White is a dragonwitch and Rhiannon's first daughter. She's also Annwyl's battle mage and secretly in love with Brastias.
General Brastias is Annwyl's second-in-command and damned grateful he ambushed her wedding cavalcade all those years ago. He is so in love with Morfyd, he can't see straight.
Rhydderach Hael is the dragon god. Just as Arzhela has been plotting, so has he.
The Cover and Title
The cover's background is an aurora borealis of colors with a half-naked Briec, well muscled and wearing an engraved gold armband. With straight blond hair that hangs to his shoulders and a bit of a flip at the ends, the monkey-stubbled Briec is walking in profile, his head turned so that he looks out at us.
The title is innocuous as the story is About a Dragon.
Related Posts