I received this book for free from the library in exchange for an honest review. This does not affect my opinion of the book or the content of my review.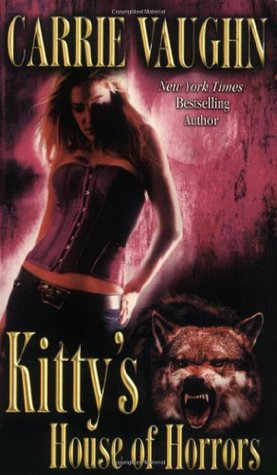 Kitty's House of Horrors
by
It is part of the
Kitty Norville #7
series and is a
urban fantasy
in
Paperback
edition that was published by
Grand Central Publishing
on January 4, 2010 and has 292 pages.
Explore it on
Goodreads
or
Amazon
.
Other books by this author which I have reviewed include
Dark and Stormy Knights
,
Kitty Goes to Washington
,
Kitty and the Midnight Hour
,
"Kitty Meets the Band"
,
Hex Appeal
,
Kitty and the Silver Bullet
,
Kitty and the Dead Man's Hand
,
Kitty Raises Hell
,
Kitty Goes to War
,
Kitty's Big Trouble
,
Kitty's Greatest Hits
,
Kitty Steals the Show
,
Kitty Rocks the House
,
Kitty in the Underworld
Seventh in the Kitty Norville urban fantasy series about a radio talkshow host and werewolf in Denver. This particular story takes place in Montana.
My Take
You know the reality show is gonna have a glitch, but it's oh, so much more than I would have expected! It'll make you cry. Especially with all the set-up for this reality show and the games the producers play, the hoops they want the participants to jump through. The ugly truth of why.
All the paranoia at the beginning was rather annoying, although as events progressed, it seemed downright understated!
Vaughn really does this well. It starts out so beautifully that I want to take up residence in that cabin surrounded by nature. When I finished reading this, my first thought was how useful a hate bomb would be. Except I had to figure that I'd be one of the victims since I hate people who can't tolerate others. Hmmm, how intolerant of me!
About the only positive is Garrett. Well, and Cormac. Although, I can certainly see where Vaughn is setting us up for new problems. Ah, well, it wouldn't be a Kitty story without 'em…
The Story
A reality show? It takes a bit to talk Kitty into doing this, but she can understand the value involved. Educating America about supernaturals. It won't hurt her show either.
Besides, it'll give Kitty a chance to visit with friends and make new ones. Until everything goes to hell, literally.
The Characters
Kitty Norville, who hosts a weekly radio show about the supernatural, and her lawyer/husband/fellow werewolf, Ben O'Farrell, are about to take a vacation from each other. Kitty to explore two weeks with another group of high-powered supernaturals and Ben to ensure that Cormac's parole hearing goes well (see Kitty Takes a Holiday). Ozzie is KNOB's manager and handles the legal stuff while Matt is her engineer.
Kitty's fellow show participants include:
Jerome Macy is a boxer-turned-wrestler when his lycanthropy was exposed. Tina McCannon from Paradox PI (we met her in Kitty Raises Hell) is a psychic with automatic writing skills. Jeffrey Miles is a TV psychic we met in Kitty Goes to Washington while we met Odysseus Grant, the magician, in Kitty and the Dead Man's Hand. Ariel, Priestess of the Night, hosts a radio show similar to Kitty's. Lee Ponatac is a were-seal and a state legislator from Alaska. Conrad Garrett is an author who has made it his mission in life to debunk supernatural claims. Anastasia and Gemma are vampires while Dorian is their cabana boy.
The show's producers include:
Joey Provost, Ron Valenti, and Eli Cabe are handling the technical work. Skip, Amy, and Gordon are production assistants.
The Cover and Title
The cover is a very textured pinkish purple sky with a vague full moon, Ben as his wolf snarling out at us, and a cocky Kitty posed full-on in her hip-hugging blue jeans and eggplant corset top.
The title is a bit inclusive as Kitty's House of Horrors encompasses more than just Kitty.
Related Posts