I received this book for free from the library in exchange for an honest review. This does not affect my opinion of the book or the content of my review.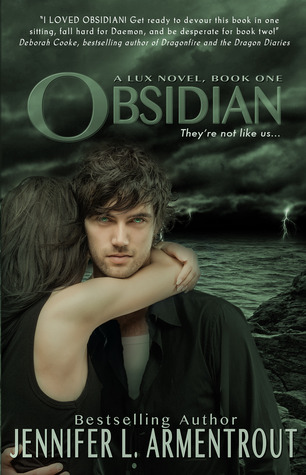 Obsidian
by
romance
,
science fiction
that was published by
Entangled Teen
on May 8, 2012 and has 335 pages.
Explore it on
Goodreads
or
Amazon
.
Other books by this author which I have reviewed include
Onyx, Opal, Origin, White Hot Kiss, Opposition, The Cage, "Ice Cream", Obsession, Stone Cold Touch
First in the Lux urban fantasy series for young adults about the clash between a group of alien teens and a newcomer to the school. Set in Ketterman, West Virginia.
My Take
Why do parents do this? It's been three years since her husband died and mom suddenly gets this bug up her butt to drag her daughter off to the back of beyond in her senior year? Although, I do have to admit that it doesn't seem as though Katy is all that broken up about leaving her old high school.
I get why Dee, Daemon, and their clique avoid the townspeople. I don't get why the townspeople react so nastily to them. Do they smell bad? Did they take out an ad in the paper? If they all toned down their reactions, they'd pass a whole lot easier. I'm rather irritated with how obvious Armentrout makes her protagonists, which makes me want to rate it at "3", but then again she's created something different and I want to up it. And at least it got proofread! But then that whole too-obvious vibe hits again…
Daemon is such a hot-cold, immature jerk. What is with all that pencil poking? He's the one who keeps saying he doesn't want to know her. I was irritated with Katy's own hot-cold reactions, but I do realize they were very real emotions.
Mmmm, I am envious of their metabolisms. Aren't doctors generally addressed as "Dr." instead of "Mr."? Or am I wrong in thinking Michaels is a doctor? Maybe he's a nurse.
I do like this series. Of course I'd like it better if Armentrout had tried for some subtlety, but I guess she was in a hurry.
The Story
It's all the little things about moving into a new town. Find the grocery store, get a library card, buy some plants to spruce up the flower beds. Meet the neighbors. Only these are some really odd neighbors. Their parents are never around and Dee is practically a poster child for ADD and her need to be friends with Katy. While Daemon. Well, let's just say that he can switch from nice to vicious in the blink of an eye.
The trouble is Daemon is so hot and Katy is so attracted in spite of her desire not to be. Life just gets more complicated with Daemon and Dee's closest friends' reactions to Katy.
Between them all, it's just too confusing.
The Characters
Katy Swartz is starting her senior year far from her home state of Florida with its beaches and her friends. She's a pretty self-reliant girl carrying a 4.0 average and loves to read, posting book reviews about what she's read. I do like this girl! Mom is Kellie Swartz and she works as a nurse at a nearby hospital. She used to be more of a homebody but with her dad's death, mom does anything to not be home. Dr. Michaels works at the same hospital.
Daemon and Dee Black are twins, Dawson is their dead third, and in Katy's year at school. Dee is way friendly and Daemon is the complete opposite. Nor does he pass up an opportunity to insult or denigrate Katy. Matthew Garrison is the school biology teacher. Ash is one of a set of triplets with Andrew and Adam Thompson. She used to be Daemon's girlfriend and, hoo-boy, is she nasty! The whole group are aliens, Luxen, with various powers and no one can know who they are. Between their enemies, the Arum, and the Department of Defense, anyone who learns about them will be in deep, life-altering trouble.
Lesa and Carissa are human students and friendly with Katy. Simon is on the football team and makes a move on Katy.
The Arum are "children of the shadows". They do their best to find Luxen and absorb their powers, killing them. Baruck and Sarafeth are two of the four Arum who attack Daemon and Katy.
The Cover and Title
The cover is shades of black with a flash of white lightning over the pond where Daemon takes Katy for a swim and the flesh tone of Katy's arms wrapped around Daemon.
The title refers to a weakness, for Obsidian can kill.
Related Posts