I received this book for free from in exchange for an honest review. This does not affect my opinion of the book or the content of my review.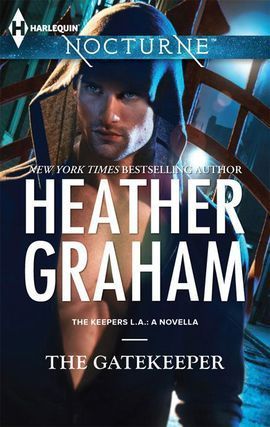 "Gatekeeper"
on November 13, 2012 and has 53 pages.
Explore it on
Goodreads
or
Amazon
.
The prequel to The Keepers: L.A. paranormal romance series. The couple focus is on Kirby Saxon and Calleigh McGowan with the story taking place in Las Vegas.
This copy was provided by the publisher, Harlequin.
My Take
Oh brother, this was a touch dorky and much too dramatic, always on highly revved. I don't know if Graham did this on purpose to keep readers reading, or if it's just how it turned out. She keeps the action flying so fast that I barely caught who was what. I'd like to see what Graham could do if she slowed down a mite and filled in with a softer pace. I swear I think Saxon solved the case in just hours as he rushed here, there, and everywhere.
I want to like the characters, but, again, Graham rushed us through the story so fast, I didn't have a chance to get past the soap opera-ish dialog.
Saxon has just come to Dirk's to meet Calleigh only to learn she's disappeared and he automatically thinks it's payback for his hassling Jimmy? He just had him arrested. WTF.
We never do learn anything more about Joe Moore. Who is Marston Greenwood? Well, other than dead. He is supposedly the reason why the mayor is so upset and his name only appears twice.
The Story
A partially eaten corpse is found and sets off a frenzy of killing, resulting in the mayor demanding resolution. The pressure is on Saxon to solve this crime, but he's more concerned with a series of mysterious disappearances and deaths. And he knows who did it. We don't actually get handed any clues, so we can think alongside him. I reckon we'd be too slow for the pace Graham sets.
Ends with a large group of Keepers insisting on forming a worldwide council of Keepers with Saxon leading.
The Characters
Calleigh McGowan, a.k.a., Candy Laughton, half-elf and half-werewolf, is also hunting for vengeance for Angie Sanderson, her half-sister, a full elf, who disappeared after singing one night. They're both from San Francisco where the Keeper is Larry Miller. Their father is Theo McGowan, a former congressman, lawyer, and werewolf. Dirk is the man who loves Angie.
Detective Saxon Kirby is an elf and Bailey hates him. Captain Clark Bower has three months before retirement; he's betrayed everyone for more money from Bailey. Lieutenant Keeghan McMurtree is a tall leprechaun and a cop, who takes Bower's place at the end. Art Krill is the Las Vegas medical examiner.
Monty Reilly is the owner and CEO of the Wolf and Crown casino as well as the Keeper of the Vegas werewolves, responsible for keeping order. Only, he's too weak to do the job. Brad Thierson is Keeper of the NYC wolves. Eamon MacDonald is a leprechaun Keeper in Dublin.
Carl Bailey, billionaire and werewolf, is trying to own all of Vegas and he's planning a takeover.
Jimmy Taylor, a tough werewolf, is new in town from Toronto.
Reginald Holland, a New York City vampire, is a big investor in the Rock Candy Club.
Joe Moore is the lynching victim while Marston Greenwood has been cannibalized.
The Cover and Title
The cover is confusing. Sure he's a good-looking guy, but what's with the hood? It feels more like a science-fiction tale than a cop drama in Vegas.
The title, which doesn't appear on the cover, is The Gatekeeper. I'm gonna guess that its referring to the supernatural community's plans for Saxon Kirby at the very end of this novella.
Related Posts