I received this book for free from the library in exchange for an honest review. This does not affect my opinion of the book or the content of my review.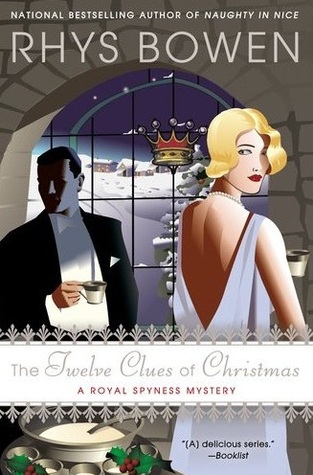 The Twelve Clues of Christmas
by
historical mystery
in
Hardcover
edition that was published by
Berkley
on November 6, 2012 and has 311 pages.
Explore it on
Goodreads
or
Amazon
.
Other books by this author which I have reviewed include
Evans Above
,
Evan Help Us
,
Evanly Choirs
,
Bless the Bride
,
The Last Illusion
,
Evan and Elle
,
Naughty in Nice
,
Evan Can Wait
,
Evans to Betsy
,
Evan Only Knows
,
Her Royal Spyness
,
A Royal Pain
,
Royal Flush
,
Evan's Gate
,
Royal Blood
,
Evan Blessed
,
Evanly Bodies
,
Rhys Bowen, Hush Now, Don't You Cry
,
The Family Way
,
Heirs and Graces
,
Queen of Hearts
,
Malice at the Palace
,
Crowned and Dangerous
,
On Her Majesty's Frightfully Secret Service
Sixth in the Her Royal Spyness historical mystery series revolving around Lady Georgiana and a country house Christmas in 1933 in Tiddleton-under-Lovey.
In 2013, The Twelve Clues of Christmas was nominated for the Agatha Award for Best Historical Novel and in 2012 for the Bruce Alexander Memorial Historical Mystery Award.
My Take
I do enjoy the setting Bowen has created for this series. It's a treat to read about a noble family that has fallen on hard times and the straits to which they're reduced…ooh, that sounds kind of nasty. It's not that I enjoy their "poverty" so much as it's a change from the usual billionaire romances. And it gives us an inside look at the upper class with their mores and expectations. And how they cope with their change in circumstances.
This story had everything going for it to be at least a "4" with its dash of Agatha Christie-ishness, but Bowen has stuck in too many silly clichés for my taste as well as a number of flopping threads that didn't add up. It's just not as funny as previous stories. The colonel's excuse still doesn't explain his lack of knowledge or seat. Oh. They can't find Mr. Barclay even though Georgie knows he'll be giving them a concert at the church. What? Was Bowen in such a hurry that she couldn't take the time to remember what she wrote? If Queenie's so sorry about barging in, why didn't she just sneak out without getting loud and obnoxious about it the night before?
Its saving grace is Georgie's romancing with Darcy. Although, even here, Bowen is falling back on cliché with Georgie's whining on about his being Catholic. Duhhh.
Bowen has a lovely cast of characters whom I mostly enjoy: Georgie does whine a bit about her poverty, but it's very reasonable and she is a very realistic lass; Binky cracks me up with his obtuseness (I look forward to Podge growing up just to see how his parents affect him); Fig and her family are, ohmigod, whackos; Mummy has her own intriguing lifestyle; not knowing what Darcy does keeps me cracking that book as well as to see if Georgie has figured out what's what yet; and, then there's Granddad, a rock in this stream of craziness.
On the negative side, Queenie makes me nuts; she's so amazingly incompetent. I don't understand Georgie's mother. She has all this money and she does nothing for her daughter. I just don't get it. I don't get Newcombe in this, either. It's pretty rare for a cop to accept Georgie's help and he does so too easily in this story.
Turns out, a number of Lady Hawse-Gorzley's guests have their own sob stories while several others may be getting hitched.
For all Georgie's whining on about solving the case, she doesn't really do much. Even I could think of a number of things to check on!
The Story
The coming Christmas promises to be absolutely miserable with Georgie trapped in Scotland at the freezing cold Castle Rannoch, especially now that Lady Wormwood has shown up. At least until Mummy calls up to announce her celebrating Christmas in England; seems Max has to spend Christmas with his family and this isn't the time to tell his prim and proper family about his bit on the side. It starts Georgie thinking, reading, and inquiring about a position.
An ad in the The Lady has Georgie hoping and praying. A prayer that's answered with Georgie and Queenie off in a rush. Seems Lady Hawse-Gorzley has guests to whom she's promised an olde fashioned English Christmas. It's a bit of a tug between the old-fashioned and the Yanks' complaining that it's not like home.
The food, the parlor games, the caroling and snowball fights, the hunt, the costume ball, and the very human Lovey Chase.
The lovely part of this house party is that it is very self-contained with no great emphasis on material things. They provide their own fun and games with some interaction with the village.
Of course, murder for Christmas does add an unexpected thrill. Then there are the prison escapees. The sultanas in the pudding??
The Characters
Lady Georgiana Rannoch, the daughter of the late Duke of Rannoch and sister to the present duke, is thirty-fifth in line to the throne (Queen Victoria was her great-grandmother). Queenie is her absolutely hopeless maid. Claire Daniels is Georgie's mother, aka The Bolter, a former actress, who is currently involved with Max Von Strohheim, a German industrialist; her father, Albert Spinks, is a retired Cockney policeman and Georgie adores him. Mrs. Huggins is granddad's next-door neighbor (Queenie is her great-niece), and she's got her eye on him. (They played butler and cook for Georgie in A Royal Pain and will be playing the same roles in this story.) Noel Coward is one of Claire's friends and she's spending Christmas writing a play with him.
Binky is the Duke of Glen Garry and Rannoch. Fig, a.k.a., Hilda, is his bad-tempered duchess. Hector, a.k.a., Podge, is the son and heir and a little sister has arrived, Adelaide Gertrude Hermione Maude Rannoch. Lady Wormwood is Fig's mother, and she's worse than Fig! Matilda, a.k.a., Ducky, is Fig's sister, her husband Foggy, and their daughter Maude are coming to Scotland for Christmas (we first met them in Naughty in Nice). Even better reasons to be anywhere but Scotland!
Darcy O'Mara, is an Irish peer's heir and, Georgie speculates, a spy who has to make his own way. AND he's Catholic! Turns out Lady Hawse-Gorzley is his aunt. The Crash of 1929 has forced a number of noble families to sell off, out, or hunker down. Darcy's father has sold off the family estate and the stables and now lives in a house on his former property.
The Party at Gorzley Hall in Tiddleton-under-Lovey, Devonshire
Lady [Camilla] Hawse-Gorzley needs someone of rank to help her host her paying-in Christmas party; she's also a magistrate. Sir Oswald is her down-to-earth husband. Monty is the son and heir. Hortense, a.k.a., Bunty, is their daughter who's in love with Darcy. Dickson is the butler.
Freddie Partridge is an obnoxious neighbor always playing pranks. Ted Grover is the local mechanic. Willum is the village idiot. Wild Sal is their local nutjob; she's said to be a descendant of the witch they burned, the one who laid the Lovey Curse. There are three spinster Ffrench-finches: Miss Effie, who rules the younger two. Miss Prendergast moved to the village some five years ago, and she's a bit of a busybody. Gladys Tripp is a telephone switchboard operator in the nearby market town of Newton Abbott. Mr. Skaggs is the butcher delivering the geese. Mr. Klein runs a jewelry shop where Georgie finds some last-minute gifts.
Badger is one of Monty's friends from Oxford. Colonel Reginald and Mrs. Rathbone plan to enjoy an English Christmas on their leave from India. Mr. and Mrs. Upthorpe are coming with their daughter Ethel; he's in trade. The ugly Americans: Mr. Clyde and Mrs. Wexler with their children Cherie and Junior. The dowager Countess Albury. Locals include navy Captain and Mrs. Sechrest, Johnnie Protheroe is a letch, Major Wesley-Parker is the local master of hounds, and Mr. Barclay is the very fussy organist.
Detective Inspector Harry Newcombe is on his own investigating the murders and tracking down the escapees; he's not very competent. One of the escaped convicts is Robert Robbins, a music hall entertainer put away for murder and swindling. His wife, Trixie Robbins, is said to have drowned herself.
King George and Queen Mary are Lady Georgie's relatives.
The Cover and Title
The cover has a chilly promise with the snow-covered landscape viewed through the tall, arched window in front of which a tuxedo-clad Darcy is having a cup of punch while Georgie is clad in a backless lilac chiffon with her own cup of cheer. Just under the white and silver picot-edged ribbon showcasing the title and the series is a punch bowl trimmed with holly.
The title is the clue and there are The Twelve Clues of Christmas to help you count down.
Related Posts