I received this book for free from the library in exchange for an honest review. This does not affect my opinion of the book or the content of my review.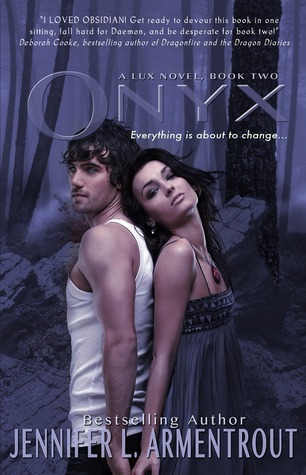 Onyx
by
romance
,
science fiction
that was published by
Entangled Teen
on August 14, 2012 and has 366 pages.
Explore it on
Goodreads
or
Amazon
.
Other books by this author which I have reviewed include
Obsidian, Opal, Origin, White Hot Kiss, Opposition, The Cage, "Ice Cream", Obsession, Stone Cold Touch
Second in the Lux urban fantasy series for young adults.
My Take
Oh, I am enjoying this. Intelligent teens! Yeahhhh! It's begun to seem rather rare. Sure, Katy has her stupid moments, but who doesn't. And she doesn't have the emotional maturity that an adult should have when it comes to relationships. So those moments are perfectly reasonable.
For a simple conflict between two boys and a girl, Armentrout has hit this out of the ballpark with the twists she continues from the first story, Obsidian. She's taken this story further with a believable expansion on Daemon and Katy's relationship, with all the aches and pains of a teenage girl. Daemon's reactions could be a bit more believable, since he is supposedly more mature. It's possible that the love he feels for Katy is interfering with his thinking.
Parents will appreciate Katy's moral stance, although it is a bit overtaken by Dee's actions. She's having sex with Adam, although Armentrout excuses it with a "requirement" for the Luxen to build up their population.
Part of what helps Blake penetrate Kat's careful protections is the interest he takes in what interests Kat. Guys, take notice. Girls like this sort of thing. Daemon makes fun of Kat's interests, and it simply doesn't help his case.
I don't get it. Daemon hates Biff, Bob, Bart, Brad, no, it's Blake, so much, why doesn't he Google him? Okay, another thing I don't get? Why is Katy avoiding Dee and all her friends?
Arghhh, I hate the ending…I wanna know!! Thank god Opal is being released in December!
The Story
It's Daemon wanting Kat to understand that he does love her as he pursues her in school, in class, and everywhere else. That he only wants to protect her. But his earlier actions in Obsidian have scarred Kat. She can't, she won't believe him. No matter how obvious it is to the rest of us, she simply doesn't trust him.
It's tailor-made for the newest student to Ketterman High School: Blake Saunders. He's a welcome respite. An easy date who is only interested in her.
There's just one problem. Initially. Things are moving around Kat. Doors are opening. Branches stopping in mid-air. Then Simon starts trash-talking her.
The Characters
Katy Swartz is mostly on her own as her mother is one of the newer hires at the hospital and works a lot of shifts. Kat is torn between wanting her mother around and taking refuge in her books. She's a blogger, writing about the books she loves. I love this about her! Since Daemon came into her life, she hasn't had as much time for reading. Especially after the laptop incident! Carissa and Lesa are Kat's friends along with Dee at school.
Daemon Black is a Luxen. A being made of light able to assume the persona of a human. His people are refugees and under the observation of the Department of Defense (DoD); any human who penetrates their secret existence is removed by the DoD. The Lux are born as triplets and Dee is Daemon's sister. Their brother, Dawson, and his human girlfriend Bethany were killed last year. Or so they are led to believe.
Blake Saunders is the new kid at school—he's just moved here with his Uncle Brian—and he takes an interest in Kat. Simon Cutters is the football player who took Kat to the prom in Obsidian. A total jerk who simply proves it again in this story.
Ash Thompson is another Luxen and had been dating Daemon. She and her brother, Andrew, hate Kat. Brother Adam, Dee's boyfriend, is cool with her knowing. Matthew Garrison is the "adult" Luxen who is masquerading as their biology teacher.
Dr. Will Michaels is a doctor at the hospital where Kat's mom works. They've been dating, and Kat is trying to come to terms with this new man in her mom's life.
Lane is with the Department of Defense and charged with overseeing the Luxen in West Virginia. Nancy Husher and Brian Vaughan are also officers with the DoD. Residon is one of the Arum dealing with Daedalus, a division within the DoD in charge of overseeing mutated humans. Daedalus is taking humans saved by Luxen, using them for their own ends. Mo is one of their captives.
The Arum are enemies of the Lux. A people of shadow, they crave the energy that makes up the life of a Lux.
The Cover and Title
The cover feels so right, even though the models look a lot older than seventeen…ahem… I do like the dress the girl is wearing. Very pretty with the tiny pleats falling away from the wide band of intricate embroidery that spans her almost-non-existent bust. (It's how we know it's not actually Kat, since Kat has a rather generous bust according to the story.) Daemon is wearing an expensive-looking, white wifebeater, and he is gorgeous with his five o'clock shadow and icy blue eyes, that wild, black, curly hair, standing back-to-back with the woman in the dark, blue-gray woods. Protective of each other and in love. Wonder if Kat knows about this other woman…meow…
The title is the weakness. The Onyx that puts them all at risk.
Related Posts