I received this book for free from the library in exchange for an honest review. This does not affect my opinion of the book or the content of my review.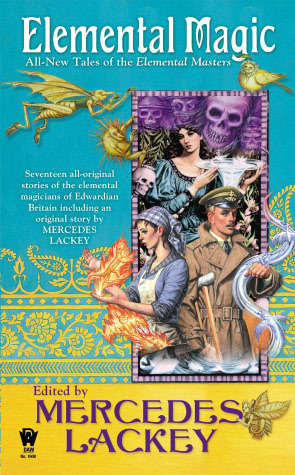 Elemental Magic: All New Tales of the Elemental Masters
by
It is part of the
Elemental Masters #8.5
, series and is a
fantasy
that was published by
DAW Books
on December 4, 2012 and has 311 pages.
Explore it on
Goodreads
or
Amazon
.
Other books in this series include
Elementary: All-New Tales of the Elemental Masters
Other books by this author which I have reviewed include
Unnatural Issue, "The River's Gift", Finding the Way and Other Tales of Valdemar, Foundation, Intrigues, Gwenhwyfar: The White Spirit, Owlknight, Charmed Destinies, Changes, Beauty and the Werewolf, Invasion, Home From the Sea, Dead Reckoning, Conspiracies, Bedlam's Edge, Crown of Vengeance, Redoubt, Harvest Moon, World Divided, Sacrifices, Steadfast, Burdens of the Dead, Bastion, Victories, Blood Red, The House of the Four Winds, Games Creatures Play, Closer to Home, Born to Run, Wheels of Fire, When the Bough Breaks, Chrome Circle, Changing the World: All-New Tales of Valdemar, Under the Vale and Other Tales of Valdemar, Arcanum 101, A Tangled Web, Winter Moon, Moving Targets and Other Tales of Valdemar, Elementary: All-New Tales of the Elemental Masters, No True Way: All-New Tales of Valdemar, From a High Tower, Hunter, Closer to the Heart, Silence, A Study in Sable, Elite, Closer to the Chest, Tempest: All-New Tales of Valdemar, A Scandal in Battersea
Fifteen short stories revolving around Lackey's theme from her Elemental Masters series none of which are in a time period later than 1919.
I have to confess that I found these stories to be uneven in quality. A range of twos to fives. Unless you have a passion for several of the authors, consider carefully before you spend the money to buy this collection. The way authors in general are going, they'll release these stories again. Hopefully, in a group that merits the purchase.
I don't see any of these stories as essential to a series.
The Stories
Diana L. Paxson's "A Song of the Sea" is a song of Sirens and sea travel as Kyria sails off with the man her parents have chosen for her.
If the captain knew this could be an issue, why wasn't he prepared? This is a short blip in Kyria and Meto's voyage.
Samuel Conway's "Fire Within Him" uses the tale of Icarus flying too close to what we thought was the sun. Instead it's a tale of trickery and a set of double bluffs.
Mostly sad.
Fiona Patton's "Makana" was cute and takes place in old Hawai'i as an orphaned young man discovers the truth of his family, his destiny, and helps to rescue a beleaguered chief.
Rosemary Edghill's "War to the Knife" is a tiny, unsatisfying blip into Captain Sir Beverly St. John St. Andrew Laoghaire Darwen's life as one of Wellington's Exploring Officers when he tries to set straight an untutored Fire Mage using power wrongfully.
This really was just a wink in the captain's life with most of the story his whining about not knowing as much about his magic as he'd like. When we finally meet up with the Fire mage using power against the rules, it's what? A few pages with no resolution at all. Don't even get me started on the title. Edghill does tie it loosely to Lackey's Elemental Masters.
Elizabeth A. Vaughan's "Stones and Feathers" was an interesting idea that lasted long enough to get started and then dropped us. Wellington wants sweeping changes in how promotions are handed out while Tom Davies, an Earth Master, has applied to work in the one place an earth master should never consider. All because he feels called. To what we are left to imagine.
Elisabeth Waters' "Fire's Children" is another sad tale of a father not valuing his children or their individuality and a mother who is shortsighted, believing in conformity. A scandalous upbringing for the adept twin girl with disgust and narrowmindedness aimed at the twin boy. Until, finally, the boy figures out the truth of his ability.
Waters does tie it loosely to Lackey's Elemental Masters. I was tempted to give it a "4", but I'm so annoyed that the boy (and everyone else) could be so stupid.
Cedric Johnson's "For the Sake of Clarity" is a rather clumsy fairytale-like story of a failed miner being manipulated into a rescue.
Dayle A. Dermatis's "To Ride the River-Horse" is a Rapunzel wanna-be combined with a wicked stepmother-like character manipulating all around her.
Another dorky tale that had me questioning why Myfanwy would stay in the tower when she has a servant willing to help her leave. Dermatis has tied it loosely to Lackey's Elemental Masters.
Michele Lang's "Phoenix of Mulberry Street" takes place in 1885 New York City with a series of arson fires that Jane Emerson is investigating. It pulls a bit of fairytale in with its inclusion of the "little match girl".
Lang is creating tension in an uneven manner in this. Lamely by pushing Emerson into wanting to expose her idea of who the bad guy is with her "editor"(?) insisting on mortal proof and then having the bad guy — who has proven quite intelligent to this point — suddenly act like an idiot.
It's as though Lang suddenly realized that she only had so many pages to bring it to an end and couldn't be bothered to rework it. Lang throws bits and pieces in but doesn't really connect anything. Oh, yeah, they make sense. Individually. Lang includes a very loose connection to Lackey's Elemental Masters.
Jody Lynn Nye's "Air of Mystery" is one of the best. An entire story in this anthology with a unique approach. Who knew? Aurelia Degard has been left in charge while her employer is off in the wilds of somewhere looking for rare ingredients for La Parfumier Rupier.
It's a special commission of a custom scent that almost destroys a life unless Aurelia can create a counter-scent.
I do wish the rest of these authors would take note as to what a real short story does. *grin* At least in my mind!
Gail Sanders and Michael Z. Williamson's "A Flower Grows in Whitechapel" involves the Elemental Masters' Harton School for Expatriate Children when three of their students are needed to rescue the King of England at Lord Alderscroft's request.
After this incident, the school moves out into the country. Another of the good stories in this anthology.
Tanya Huff's "Tha Thu Ann" finds Dr. Harris fleeing the bad memories of Scotland for Nova Scotia. His wife's death eleven years ago is still too close and his daughter Ellie is too much of a reminder. And another instance of a child whose power is not understood or wanted by the parent.
This is a blip in Ellie's life, but a satisfying peek. We're provided the background, some social niceties, a bit of racism, and a dilemma that we get to see resolved. Although I'm still a bit confused about the twinned ghost.
Ron Collins' "Collector" was a pip! I like Collins' perspective using a poor black man, angry with the world and William McKinley in particular. Nathaniel is struggling to survive this post-Civil War world with its prejudices and racism. Nor does he have a problem with working for a meal.
I don't understand why Tilly collected magicians. What was her purpose? Nathaniel has very reasonable thoughts about "King Billy" and I liked how he resolved the issue of using his magic for revenge. I'd sure like to hear more about his exploits.
Kristin Schwengel's "Queen of the Mountain" is another one I liked. Partly for the strong female character who gets herself out of a hole she never knew she was in, but also because, while Schwengel only gave us a peek into Lasair's life, she did provide some background and gave us resolution. A whole story in miniature.
I suspect that Schwengel's story has a loose connection with the Elemental Masters back in London.
Mercedes Lackey's "I Have Heard the Mermaid Singing" is a tale of a young woman doing a favor for an old friend of her father's. In a way, it leads to Miriam Tayler's retirement plan, eventually. It's a message delivered by brownie that finds Miriam traveling to Solace, Maine, where her father's friend "needs her aid" with what I see as some silly "missions". Tasks that I just don't see as being necessary to make Miriam close up her shop.
Lackey provided a suggestion of a reason why this was all necessary. And it could simply have been an old friend doing another a favor.
The Cover and Title
The cover is fantastical with its solid yellow border at the base turning into an elaborate yellow lace edging against a turquoise background. A striped frame tries to encase a collage of characters and events from the stories even as critters escape its confines.
The title is the theme, Elemental Magic.
Related Posts