I received this book for free from in exchange for an honest review. This does not affect my opinion of the book or the content of my review.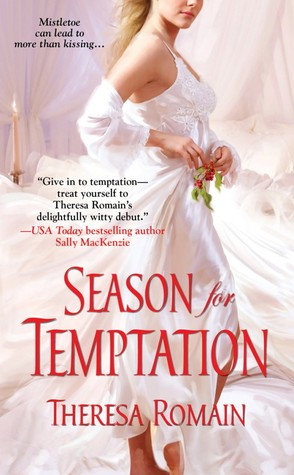 Season for Temptation
on October 4, 2011 and has 362 pages.
Explore it on
Goodreads
or
Amazon
.
First in the Holiday Pleasures historical romance series in 1817 Regency England. The couple focus is on Julia Herrington, Louisa Oliver, and James Matheson.
My Take
This was…interesting. I still can't really make up my mind about this. Romain did a lovely job of creating an interesting conflict with great characters. And I'd have enjoyed it so much more if it hadn't felt like such a huge disconnect from the time period she stuck it in. Nor did the "reason" James had to get married seem plausible. I kept reading, hoping I'd find out the real reason for the rush. Nope, that was it. If Romain had a clue about the society of the time period, she would have realized that the mourning period alone would have seen gossip quashed. It's really a shame she had to wreck a good idea by not doing her research. Then there was the "big scandal" at the end… Oh, brother.
Disclaimer: I do have issues with historical novels that barely try to fit in with their time, so you may want to take my whining with a grain of salt…
Why would Julia even imagine that James would have run his own household? This and other comments in the story make me wonder if Romain is too caught up in the novel idea of having staff. And what to do with them. Why doesn't Louisa or Julia have maids? Why are they all relying upon Aunt Estella's Simone? Why does the maid travel in their carriage?? Nor does Romain have a clue on how to title/address half the people in this story. A little research would not have come amiss.
I did enjoy the cute chapter comments as well as James' barbs he slams back at Aunt Estella.
The Story
James Matheson must get married. I kept wondering if he was pregnant… The Honorable Louisa Oliver appears suitable and her father Lord Oliver has given his consent to their marriage.
It's a visit to her parents' home in the country that sets it all awry.
The Characters
Louisa Oliver prefers books and the country to town and society. She also realizes she has an obligation to marry. The Oliver household (they don't seem to go to town ever) is quite informal and both Lord and Lady Oliver are delightful. The younger siblings include Elise, Emilia, Anne, and Tom.
Julia Herrington is Louisa's younger, very forthright stepsister. Lady Irving is Aunt Estella and a very forthright, loud woman. Simone is her very capable French maid.
James is the Viscount Matheson. Augusta Matheson is his bitch of a mother. Interesting how long it takes before James puts her in her place. Gloria is his widowed sister and and the Viscountess Roseborough with two daughters: Anne and Sophia.
Lady Charissa Bradleigh is one of the girls James' mother is throwing at his head. Lord Xavier is a mischief-making friend of James'. The Honorable Frederic "Freddie" Pellington is a bit of a boob, and James introduces him as a possible husband to Julia. Sir Stephen Saville is quite taken with Julia. And, no, his behavior is not typical for a gentleman such as he is portrayed to be nor the typical manners for his class within society.
The Cover and Title
The cover is very bridal with Julia seeming to rush by in her form-fitting white gown amidst all that white satin and drapery as she appears to be picking at a bunch of mistletoe.
The title is what James and Julia feel in a Season for Temptation when Louisa insists on her younger sister accompanying her to London.
Related Posts