I received this book for free from in exchange for an honest review. This does not affect my opinion of the book or the content of my review.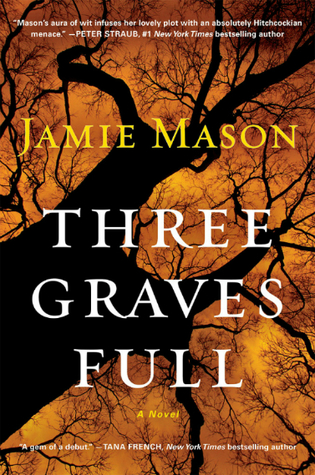 Three Graves Full
in
Hardcover
edition on February 12, 2013 and has 307 pages.
Explore it on
Goodreads
or
Amazon
.
A thriller with more twists in and out of the dark than the Takabisha rollercoaster.
My Take
Mason certainly pulled me in and then spit me back out. The twists and turns from the original worry of discovery to the truth of Jason's life. The truth of Leah's feelings. The identities and whys of Jason's body.
It's an amazingly simple story. Well, three simple stories which Mason weaves together until they meet one night and the most terrifying night of Keystone Kops ensues, ramping up my anxiety and heart rate. I simply couldn't read fast enough to find out what happens next!
The police are clean, sharp, and the type you want out there. Everyone else? They're like nothing you'd expect with more truth than you want.
What a weasel?!! Why not just move? I mean, duh. Why does he put up with this?
Well, I'm just happy the baddies didn't get a chance to reproduce.
Why did Boyd and Leah keep calling Harris "Phil"??
The Story
One man with too many bodies; one woman without one.
She's grateful for the easy out; he's still content.
The Characters
Jason Getty buried a man in his backyard; Patty is the wife who intended to leave him, but died before she got round to it. Gary Harris is Getty's body. A man who taunted and bullied, setting Jason up.
Leah Tamblin discovers the difference between knowing and not-knowing when it comes to her missing fiancé, Reid Reynolds. Dean is his pot-smoking brother; Sheila is his mother — a built-in family.
Katielynn Montgomery was just Reid's type. Boyd Montgomery appears to be dead; his twin, Bart, is scuzzy but really good with dogs.
Detective Tim Bayard investigates the first skeleton found. Lyle Mosby is the Carter County lead crime-scene investigator; Valerie is his assistant. Ford Watts is a fellow detective; Maggie is his wife while Tessa is a volunteer dog who adores meat loaf.
The Cover and Title
The cover is a ground view of a naked tree against a vividly orange sky. Considering the subject matter, it could well be a classy (and spooky) metaphor for Halloween and the ensuring Fright Night!
The title is what it's all about — Three Graves Full.
Related Posts