I received this book for free from the library in exchange for an honest review. This does not affect my opinion of the book or the content of my review.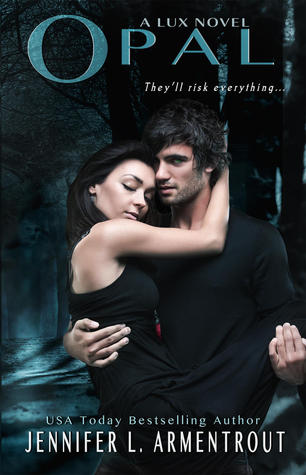 Opal
by
romance
,
science fiction
in
Paperback
edition that was published by
Entangled Teen
on December 11, 2012 and has 382 pages.
Explore it on
Goodreads
or
Amazon
.
Other books by this author which I have reviewed include
Obsidian
,
Onyx
,
Origin
,
White Hot Kiss
,
Opposition
,
The Cage
,
"Ice Cream"
,
Obsession
,
Stone Cold Touch
Third in the Lux urban fantasy series for young adults and revolving around a group of young aliens who have just rescued one of their own.
CAUTION: You may want to wait until Origin comes out as the ending is…well…absolutely horrifying. I had to dive into another, lighter book to ease off the shakes!
My Take
Whoaaa. Armentrout had me up in arms. I just wanted to kill the little schmuck! He was so totally clueless about why anyone would be angry. I mean, he said he was sorry… Arghhh.
Armentrout provides a series of twists that kept me wondering, hoping, fearing, and all on the edge of my seat in spite of what is really a basic storyline — it wasn't until I started looking over my notes that I realized how really basic the story was.
Her characters felt much more real in this one. Or maybe I'm just enjoying a less-stupid Kat…hmm…
Armentrout is setting the series up for some new issues, well, besides Kat's latest problem, and Dawson's return to school triggers a whole mess of new problems.
I am curious…if Daedalus changes the codes every other day, then how is it that the passwords they use one day are still good months later? What's the deal with the club? The bouncer has me questioning things and Kat feels something off there? Then there's Luc's comment that last time. Whose side is he on?
I dunno why no one is questioning who turned their classmate. Why is everyone just hanging around waiting for the DoD to show up? Why not hit the road and hide? Then there are those changes that Kat is terrified of.
Gawd, a good example of why you shouldn't let pride make your decisions. Get brave and just suck it up.
The Story
They've just rescued Dawson, and no one is really sure how to deal with this new, changed triplet. Worse, Dee is furious with Kat. The lies. Adam. Blake.
The Characters
Katy Swartz, a high school student and book reviewer/blogger, was changed when Daemon saved her life (Obsidian, 1). Now, if the Department of Defense (DoD) finds out about her new powers, she'll be a target for them. Kat's mom is a nurse at the hospital where she met Will.
Daemon Black is a gorgeous, prickly Luxen. A triplet along with the miserable Dee and the just-rescued Dawson (Onyx, 2) obsessed with rescuing his human girlfriend, Bethany.
Blake Saunders was only posing as the new kid at school. He actually works for Daedalus, and they wanted Kat. Luc is a hybrid who got away; he's willing to help. For a price. Paris is the Luxen who saved him.
Ketterman High
Carissa and Lesa are Kat's friends at school; Dee refuses to speak to any of them since events in Onyx. Simon Cutters was the football player who took Kat to the prom in Obsidian. A total jerk who has gone missing, and the good guys believe Blake killed him.
Ash Thompson is another Luxen and had been dating Daemon. She and her brother, Andrew, hate Kat. They hate her even more since she caused Adam's death in Onyx. Matthew Garrison is the "adult" Luxen who is masquerading as their biology teacher. Ethan Smith is an Elder in the Luxen community, their president.
Luxen are beings made of light able to assume the persona of a human, and they are refugees under the observation of the Department of Defense; any human who penetrates their secret existence is removed by the DoD.
Daedalus is a division within the DoD in charge of overseeing mutated humans and appears to be run by Nancy Husher. They are taking humans saved by Luxen, using them for their own ends. If they can't find those who voluntarily save a human, Daedalus will set them up to be turned, arrange for life-threatening injuries, force the couple to work for them. Officer Lane is with the DoD and charged with overseeing the Luxen in West Virginia, turning a blind eye as he looks forward to his pension. Dr. Will Michaels, a doctor at the hospital where Kat's mom works, had used her mother to get to Kat. He's an implant working for Daedalus and tortured Kat to force Daemon to heal him. Make him like Kat and Blake.
The Arum are enemies of the Lux. A people of shadow, they crave the energy that makes up the life of a Luxen. Some are working for the DoD.
The Cover and Title
The cover is a great metaphor of events in the story and indicative of where their relationship is going — intimate at the lake. Both all in black and a gorgeous, five-o'clock-shadowed Daemon is carrying a very content Kat. I do like that light in his blue eyes; it seems very Luxen.
The title is the key to enhanced Luxen powers — Opal.
Related Posts