I received this book for free from the library in exchange for an honest review. This does not affect my opinion of the book or the content of my review.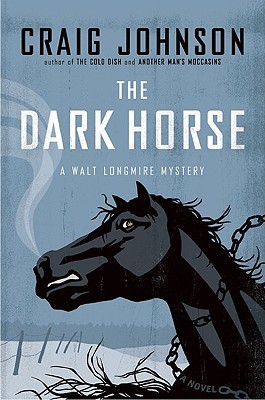 Dark Horse
by
It is part of the
Walt Longmire #5
series and is a
mystery
that was published by
Viking Adult
on May 28, 2009 and has 318 pages.
Explore it on
Goodreads
or
Amazon
.
Other books in this series include
Wait For Signs
Other books by this author which I have reviewed include
The Cold Dish, Death Without Company, Kindness Goes Unpunished, Another Man's Moccasins, Christmas in Absaroka County, Junkyard Dogs, Hell is Empty, As the Crow Flies, Spirit of Steamboat, A Serpent's Tooth, Any Other Name, Wait For Signs, Dry Bones, The Highwayman, "Eleven/Twenty-Nine", An Obvious Fact
Fifth in the Walt Longmire mystery series about a Wyoming sheriff and his own sense of justice.
In 2010, Dark Horse won the Publishers Weekly Best Book of the Year and was nominated for a Dilys Award. If you're interested, there is a chronological listing of the Walt Longmire books on my website.
My Take
This one was a pip. Sure, it's your typical mystery in that the good guy is investigating a murder. It's not so typical for a Walt Longmire as he's hunting around, undercover, in another man's jurisdiction, without much backup.
The flashbacks were odd — be sure to read the chapter starts as Johnson flips back and forth between present-day and ten-days, eight-days, four-days back as he progresses through the story. It can be confusing.
What comes through — as it does with every Walt Longmire story — is the down home warmth and caring of a core group of people. I'm beginning to see that I'm particularly attracted to stories that make me consider moving to a place! Yeah, totally impractical, but it does make me stop and think about how a writer crafts his story, what he puts into it that tugs at me and wants me to become a part of it.
In this story, it's hostile territory, and what's confusing about it is that nobody even liked the SOB! That ride with Wahoo Sue…whew…exciting and terrifying at the same time.
What appears to be a complex plot actually boils down to the simplest: just another scumbag cheating his way through life. It's the extras that Johnson adds as he fleshes out the supporting and minor characters in The Dark Horse that creates all the buzz and warmth.
There's a bit of back story on Walt's family and their ranch. And it makes me sad. I suspect it'll color how I see Walt in the future…
Yeah, I wonder too…did Custer wear Arrow shirts, LMAO
Dang it, Johnson kept dropping these clues all over the place, and I just didn't put it together. Although, I think Walt slipped up with that canteen. Just how trusting would you be in those circumstances?
It's hard to believe that such a small backwater as Absalom could be such a hotbed of activity.
The Story
She's confessed to murder, but it doesn't set right with Walt. There's a falsity to the circumstances, and just why would Sheriff Sandberg send her to him, if he wasn't uncomfortable with the situation?
The Characters
Walt Longmire is the sheriff in Absaroka County in Wyoming and up for re-election. Problem is he just can't decide if he should run or not. (Kyle Straub, the current prosecuting attorney, has signs up everywhere.) Walt still has Dog whom he inherited from the last sheriff, Lucian Connally. Henry Standing Bear is Walt's best friend and always has his back. As evidenced by his signing up for that Powder River Pound Down Tough Man Contest. He does crack me up referring to Henry as "the Cheyenne Nation"; sure sounds like he's big enough!
Mary Barsad is suicidal. Any one would be after what she's confessed. Wade Barsad's death can only be considered a blessing. Wahoo Sue is the most remarkable horse and belongs to Mary. Joey "Suits" Veneto is just one of Barsad's not-so-happpy employers. Wendell Barnecke is a dentist in Youngstown and Wade's fed-up brother.
Victoria Moretti is Walt's undersheriff with whom Walt had a very short affair in Philadelphia. He's still not sure where or what to do. Santiago "Sancho" Saizabitoria is still recovering from his injuries. Sandy Sandberg is sheriff over in Campbell County, and he knows what Walt's made of. Joe Meyer is the state attorney general with a warning and a possibility.
In Powder River…
Bill Nolan is part of Walt's past. Juana Balcarcel is the illegal immigrant bartender with the precocious young son, Benjamin. I'm hoping Juana shows up again in a Walt Longmire story. Hersel Vanskike works for Barsad as did Cliff Cly, a rough and tough rodeo cowboy.
Eric Boss represents the insurance company investigating the fire.
Minor characters in this story include:
Mike Niall is a pretty tough rancher. Ruby is the weekday dispatcher and department secretary. T.J. Sherwin is "the chief forensic pathologist for Wyoming's Division of Criminal Investigation". Dorothy Caldwell runs the Busy Bee Café where Walt eats a lot of meals. Ernie Brown is still editor-in-chief of the local paper. Dr. Isaac Bloomfield works very quickly.
Catching up…
Cady, Walt's attorney daughter who recently went back to Philadelphia after recovering from the beating she underwent in Kindness Goes Unpunished, 3, has gotten engaged. Michael Moretti, Vic's younger brother and a street cop in Philadelphia, just asked her. Lana Baroja from Death Without Company, 2, is doing well with her bakery and buying up more property. Rumors abound.
The Cover and Title
The cover is in white, grays, and blacks in a woodcut effect with a wild Wahoo Sue whirling and snorting against a bleak Wyoming winter sky. Do check out the chains flying up around her neck — that a novel is quite clever.
The title applies to several points in the story…see if you can find The Dark Horses.
Related Posts